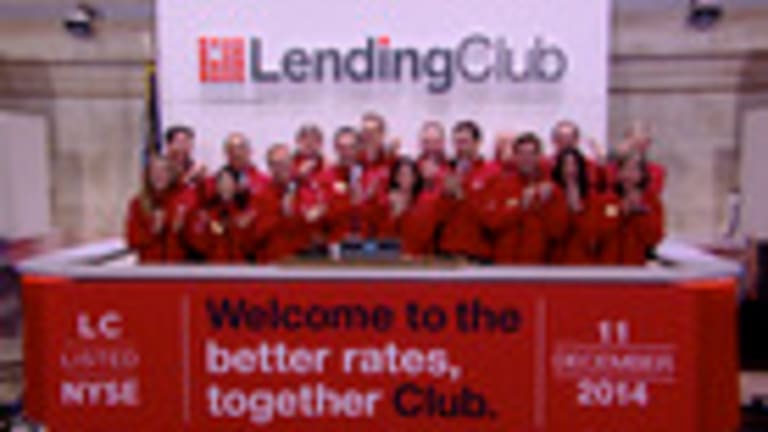 Publish date:
For LendingClub, a Sale Would Avoid Fight With Wall Street Titans
The online lender may be forced into battle with industry giants for primacy in a niche the upstarts once ruled. It might avoid the battle by finding an acquirer.
The online lender may be forced into battle with industry giants for primacy in a niche the upstarts once ruled. It might avoid the battle by finding an acquirer.
NEW YORK ( The Deal) -- LendingClub (LC) - Get Report may soon be forced into battle with the lending industry's giants for primacy in a niche the upstarts once ruled, but it is a battle that the company might be better off avoiding by finding an acquirer.
LendingClub, founded by Renaud Laplanche in 2006, is one of the trailblazers in the online-lending market, orchestrating loan transactions between borrowers and lenders in what is known as peer-to-peer lending where anyone can become a lender.
The company's model has allowed it to offer loans at lower rates than traditional banks through proprietary analytics technology and personalized underwriting that evaluates the borrower's data to determine an appropriate interest rate. LendingClub doesn't have a brick-and-mortar presence, which also keeps costs low.
The company has facilitated more than $5 billion in loan originations since 2007, according to an August regulatory filing.
A June Morgan Stanley research report stated that marketplace loan origination in the United States has doubled every year since 2010, to $12 billion in 2014.
But trouble is brewing for LendingClub. Its stock is trading below its December initial public offering price of $15 at a little more than $14, well below a high of $29.29 reached just days after the company went public.
The online-lending industry and LendingClub's business model were exciting to investors and they became overly enthusiastic, according to one industry watcher.
Reality set in just as LendingClub's IPO lockup expired last month, resulting in strong downward pressure.
A bigger concern for LendingClub is that Wall Street has taken notice of Main Street's demand for online-administered loans. In an attempt to crash the online-lending party, Goldman Sachs Group (GS) - Get Report said last month that it plans to begin administering small loans to individuals and small companies next year.
JPMorgan Chase (JPM) - Get Report Chief Executive Jamie Dimon is also interested in the business, stating in his annual letter to shareholders in April that "the ones you read about most are in the lending business, whereby the firms can lend to individuals and small businesses very quickly and -- these entities believe -- effectively by using big data to enhance credit underwriting."
These companies "can make loans in minutes, which might take banks weeks," he wrote, adding that JPMorgan Chase is "going to work hard" to make its services "as seamless and competitive as theirs."
The company is also "completely comfortable with partnering where it makes sense," Dimon wrote.
JPMorgan Chase will "learn what they are doing and develop strategies accordingly," he wrote.
The online-consumer-lending sector will continue to draw new participants, the industry observer said.
The barriers to entry are much lower than they used to be now that LendingClub has proven that the business can be transparent and regulated by the Securities and Exchange Commission, the observer said.
Goldman Sachs is going to shake things up in the sector, the observer said.
Amid low interest rates, it would make sense for larger banks to come up with new ways to earn yield on their capital.
The technology to underwrite loans on the Internet is easy to replicate, the observer said.
Banks such as Capital One Financial (COF) - Get Report as well as credit card companies know how to underwrite consumer credit and therefore could easily enter the consumer-lending sector and create more competition for companies such as LendingClub.
LendingClub management may be open to a sale because the company and its venture capital backers were reportedly running a dual-track sale/IPO process before it went public.
Founder Laplanche previously established TripleHop Technologies, an enterprise software company that was acquired by Oracle (ORCL) - Get Report in June 2005. Goldman Sachs, which served as underwriter on the IPO, was also retained to advise on a potential sale.
At its share price of about $14.10, LendingClub's market capitalization is about $5.3 billion. That is a significant figure but not out of reach for a big bank seeking a quick foothold in a growing business.
Read more from
: