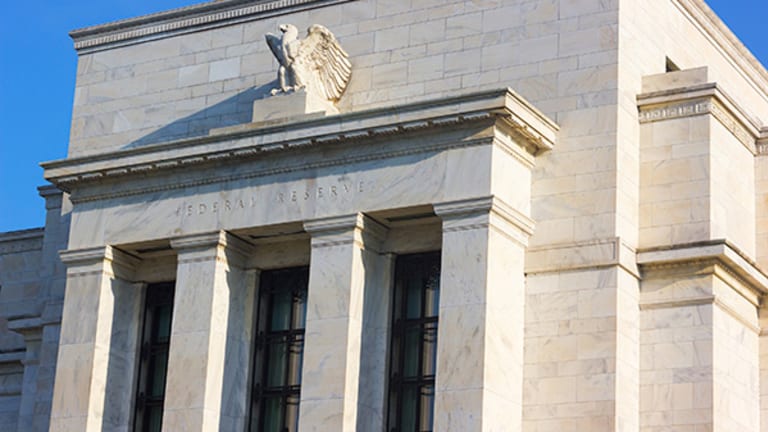 For Banks, Era of 'Too Big to Fail' Is Also Era of 'Too Small to Succeed'
The Federal Reserve has been on a roll approving regional bank acquisitions with more to come, even as the Department of Justice is cracking down on mergers.
The Justice Department, Federal Trade Commission and Treasury Department have made splashy headlines of late, taking actions to block mega-deals. But, out of the spotlight, one regulatory body has quietly started moving in the other direction.
The Federal Reserve recently has begun blessing a growing number of bank mergers, particularly when it comes to regional mid-size banks bulking up through acquisitions. And while mergers among the largest six U.S. banks seems out of the question for now, other types of deals are being approved by the central bank.
"As long as a proposed merger does not create new systemic risks, regulators are open to approving deals," said Brian Gardner, director of Washington research at Keefe, Bruyette & Woods. Gardner specializes in the intersection of politics and financial services regulation. 
The statistics back up this assertion. According to a Federal Reserve semi-annual report on banking application activity, the central bank approved 279 bank deals in 2015, up from 248 in 2014 and 190 in 2013. In addition, there were only 21 bank deals withdrawn in 2015, down from 25 in 2014 and 40 in 2013.
This comes in contrast to the rest of the federal government. Using data from the Federal Trade Commission and The Deal, a subsidiary of TheStreet.com, TheStreet has discovered a pattern of increased regulatory actions challenging mergers that dates back to the Reagan administration. Under President Obama, the FTC, DOJ and other regulatory bodies have challenged and blocked a higher proportion of U.S. deals than ever before. At the same time, deals are getting bigger and more complicated. Call it "Big Business vs. Big Government."
But in the case of banks, it's much more confusing. The era of "too big to fail" has also, paradoxically, become the era of "too small to succeed." 
While most bank deals involved smaller mergers, a growing number have involved larger deals. A number of the approved deals involve smaller so-called "Systemically Important Financial Institutions," or SIFIs, which are banks above $50 billion in assets that regulators subject to tougher capital and liquidity rules as part of their efforts to limit economic fallout from their collapse.
One deal, CIT Group's (CIT) - Get Free Report $3.5 billion acquisition of OneWest Bank last year, created a SIFI because the combined business collectively controlled over $50 billion in assets. The combination was criticized by some consumer groups in California who argued that it created another "too-big-to-fail" institution. The Fed held a hearing in Los Angeles to discuss those concerns but approved the deal nonetheless.
In addition, the Fed has approved a series of acquisitions by BB&T (BBT) - Get Free Report , which has been on a buying spree, acquiring Susquehanna Bancshares and National Penn Bancshares in $2.5 billion and $1.8 billion deals last year. In February the Winston Salem, N.C.-based bank acquired CGSC North America Holding for $500 million.
"The Fed does appear to be more willing to approve acquisitions by regional banks, with BB&T an excellent example, as the regionals bulk up in size," said Bert Ely, banking analyst at Ely & Co. in Alexandria, Va. "I think we're going to see the Fed OK a lot of consolidation activity up to a particular size. After a certain size the line gets drawn and the biggest banks aren't going to be able to acquire any depository institutions."
In addition to BB&T, which has been leading the acquisition wave and is aggressively trying to do more deals, Regions Financial (RF) - Get Free Report , another SIFI, has also expressed a willingness to buy. Both BB&T and Regions do well on their annual regulatory stress tests, a strong indication that the Fed won't oppose them when they come seeking approval for more deals. The next round of stress tests are set to be released by June 30 -- most likely in the first half of that month. Look for regional SIFI banks with strong results to be more likely to be on the acquiring side of the equation.
The Fed last year even approved M&T Bank's (MTB) - Get Free Report $5.6 billion combination with Hudson City Bancorp (HCBK)  -- a deal which had been languishing for three years over money-laundering concerns. Other SIFI buyers include Huntington Bancshares, which agreed to acquireFirstMerit Corp. in January in a $3.4 billion deal and KeyCorp (KEY) - Get Free Report , which combined with First Niagara Financial Group (FNFG) in a $4.1 billion October transaction. 
Banks in the $3 billion to $50 billion range will be the prime targets in 2016 for acquisition by regional SIFIs such as BB&T and Regions Financial. Columbus, Ga.-based Synovus Financial (SNV) - Get Free Report , with about $27 billion in assets and a $4 billion market capitalization, is a potential target, according to an activist fund manager who focuses on financial firms. Some believe First Horizon National (FHN) - Get Free Report , of Memphis, could make a good acquisition candidate.
The Rise of New 'Too Big to Fail' Banks?
It's possible, says Ely, that some of the smaller regional banks might try to combine with each other in what would be the first SIFI to SIFI combination in the post financial crisis era.
"I don't know where the threshold is and I don't think regulators know, but we might see smaller SIFI to SIFI deals," he noted.
Activist hedge funds are agitating for deals in this space. Hudson Executive Capital LP reported a 0.8% stake in SIFI Comerica (CMA) - Get Free Report . According to people familiar with the fund, the activists would like to see Comerica combine with another mid-sized regional banks, a move that they believe would reduce the institution's regulatory burdens and be approved by the Fed. An April 19 analyst report by BMO Capital Markets suggests the mid-size bank will be pressured to sell itself if it fails to meet profitability goals. The report adds that it is possible an acquirer could come in sooner and make the argument that it can help the bank achieve higher profitability faster. Another SIFI that some believe could be up for a merger is Zions Bancorp (ZION) - Get Free Report , which is one of the smallest banks with more than $50 billion in assets. 
Hudson Executive is also targeting CIT Group though in that situation, according to people familiar with the activists, the insurgent managers want to see it sell its rail business and lending operators to cut regulatory burdens. In March, the bank said it was considering setting up joint ventures for its rail assets but wouldn't sell the whole unit.
A key factor impacting the future of Fed review of deals involves whether legislators ever move forward to raise the $50 billion threshold for being designated a SIFI, as some top Republican lawmakers have sought to do. Deep Dive: Will the Next President Be as Tough on Mergers and Acquisitions as Obama?
Donald Lamson, of counsel at Squire Patton Boggs in Washington, specializes in financial services regulations. He said a higher threshold could make some banks with around $50 billion in assets more comfortable in their size, especially if they don't have to worry about additional regulatory burdens. However, Lamson said any move to raise the $50 billion threshold will have to wait until 2017.
"Rolling back the $50 billion threshold is unpopular in an election year," he said.
Currently, Lamson notes, he expects banks are carefully examining the three major regulatory thresholds -- $10 billion, $50 billion and $250 billion in total consolidated assets -- inscribed in Dodd-Frank and the additional compliance costs associated with crossing each one of those levels. "Some banks are doing everything they can to stay below the $10 billion threshold," he said. "And if they decide they want to go over it, they would then try to really bulk up well above the limit."
-- For Banks, Era of 'Too Big to Fail' Is Also Era of 'Too Small to Succeed'
-- Will the Halliburton-Baker Hughes Deal Survive Government Opposition?
-- Obamacare Has Big Government Fighting Itself Over Hospital Mergers -- And Winning
-- Will the Next President Be as Tough on Mergers and Acquisitions as Obama?
-- Antitrust Regulators Are Getting Smarter and More Aggressive
-- Top Antitrust Regulator Debbie Feinstein Q&A
-- Tax Inversions: Explaining What They Are, How We Got Here and What's Next
-- Are Activist Hedge Fund Managers to Blame for Mega-Deal Failures?
-- Government Oversight on Mergers Is Taking Longer Than Ever, Delaying Deals
-- With New Treasury Department Rules, Is This the End of Tax Inversion Deals?
-- Treasury Department Was 'Targeting' Pfizer-Allergan Deal