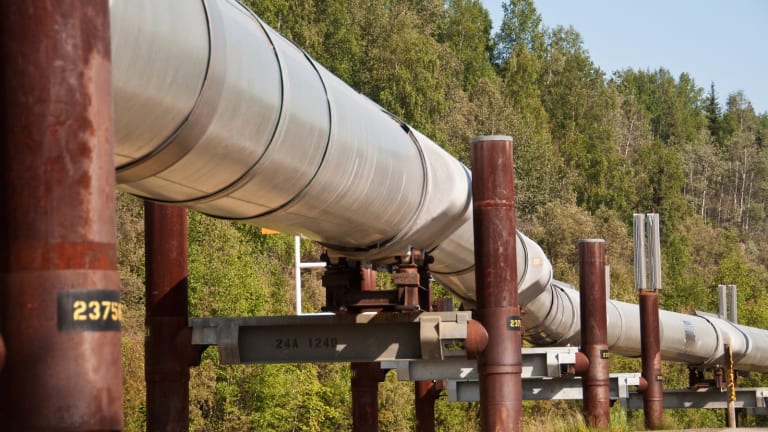 Five Oil and Gas Stocks to Dump Before You Go Away in May
Approach Resources, Halcon, Triangle, Transocean and Goodrich are hard-hit. For some, bankruptcy talk is swirling. For others, it's a matter of being in the wrong place at the wrong time.
NEW YORK (The Deal) -- The old investment adage "sell in May and go away" refers to the fact that stocks typically underperform between May Day and Halloween. And so it may be for some oil and gas companies.
Oil and gas stocks had a nice little run-up recently, with oil prices rising to more than $60 per barrel this week on the expectation that production will drop because of less drilling, geopolitical turmoil around the world and Saudi Arabia raising prices for its crude. But which oil stocks are weakest? Analysts are usually reluctant to issue "sell" ratings lest they find their access to management cut off, so it's not exactly easy to come up with a definitive list. But five are worth considering, whether you're in the money or not: Approach Resources (AREX) - Get Approach Resources Inc. Report, Halcon Resources (HK) , Triangle Petroleum (TPLM) , Transocean (RIG) - Get Transocean Ltd. Report and Goodrich Petroleum (GDP) - Get Goodrich Petroleum Corporation Report.
1. Approach Resources (AREX) - Get Approach Resources Inc. Report
Fort Worth-based Approach Resources, led by Ross Craft, owns oil and gas properties primarily in West Texas but also has some in the eastern part of the state. While Approach has made the right moves in a lower-priced commodity environment, including shrinking capital expenditures, Global Hunter Securities analyst Mike Kelly continues to see stressed economics for the name at $50 to $60 oil and reiterated his $5 price target and sell rating in February. (The stock traded at $8 Thursday, close to double its 52-week low of $4.28.) Last month he put the company on his "potentially at risk" list in anticipation of its first-quarter earnings release.
Approach reported weaker earnings, with revenue down 46% compared to a year ago.
2. Halcon Resources (HK)
Halcon Resources, the Houston explorer led by the entrepreneurial Floyd Wilson, is active in the Rockies' Bakken Shale and South Texas' Eagle Ford Shale. It's currently in "hunker down mode," Kelly says, as it's overspending cash flow, adding more debt to an already over-levered balance sheet and shutting wells in the Bakken.
Bankruptcy rumors are flying. The company lost $587.4 million in the first quarter, or $1.43 per share, on half of the revenue it booked in the same period last year -- with sales coming in lower than expectations. Its stock was trading Thursday at about $1.35 per share, down more than 80% over its 52-week high of $7.50. Kelly also has Halcon on his "potentially at risk" list, a sell rating on the stock and a price target of $1.
3. Triangle Petroleum (TPLM)
Denver-based Triangle Petroleum, headed by former hedge fund investor Jon Samuels, is one of the few pure-play Bakken explorers and producers in the industry, which prompted takeover talk in better days. But it's an expensive place to explore and produce, even at $60 oil, and the company's earnings and sales have been dropping, with losses expected next year.
Triangle Petroleum has a heavy debt load. Its stock is trading around $5.40 Thursday, up from its 52-week low of $3.10 but down from its 52-week high of $12.48. On April 7, Kelly maintained his sell rating and a $2.50 price target.
4. Transocean (RIG) - Get Transocean Ltd. Report
Houston offshore contract driller Transocean, meanwhile, has been hit hard, like other oil equipment and services providers. But it is often criticized for having a lower return on equity than its peers. It's also nicked for having an older, "increasingly marginalized" fleet -- so said Morgan Stanley analysts Ole Storer and Jacob Ng last month. 
Transocean reported first-quarter earnings Wednesday of $1.10 a share, far above analyst estimates of 60 cents per share. Nonetheless, shares are down 3.6% to about $18.40 Thursday, a drop of more than 60% from the 52-week high of $46.12.
There might be some hope for Transocean. Last month, the company named Jeremy Thigpen as its new CEO, replacing Ian Strachan, the interim CEO since Steven Newman stepped down in February. Thigpen is the former CFO of National Oilwell Varco (NOV) - Get NOV Inc. Report, and some analysts like a financial guy taking the helm. But the 40-year-old has spent his entire career working his way up at NOV, and thus is an untested CEO.
There's also the remaining overhang from the BP (BP) - Get BP Plc Report oil spill in the Gulf of Mexico five years ago -- will its cash flow cover its share of the costs? Plus Transocean ordered some expensive new rigs just before oil prices began to tumble last year.
Edward Jones, Credit Suisse and Susquehanna all rated the company a "sell" last month.
5. Goodrich Petroleum (GDP) - Get Goodrich Petroleum Corporation Report
And then there's Houston-based Goodrich Petroleum, which is led by Walter "Gil" Goodrich, the son of founder Henry Goodrich, who died last year. The company is active in the Eagle Ford, the Tuscaloosa Marine Shale and the Haynesville.
While the company raised $150 million in the equity and debt markets earlier this year, Moody's downgraded the company's corporate family rating in March to Caa1 --  the C means possible default -- citing low commodity prices and the additional leverage. The company is also on Global Hunter's "potentially at risk" list and has one of the lowest reserve growth ratios in the industry. It gets poor marks for production growth as well.
Here again, bankruptcy rumors abound.
Goodrich's stock is about $3.45, down about 90% from its 52-week high of $30.52. Kelly has the stock at sell and a price target of $3. The company announced a $21.1 million loss Wednesday, or 58 cents per share, on lower-than-expected revenues. While the company's results topped Wall Street expectations, there's still not a lot of dancing around the maypole for this name -- or for the others.