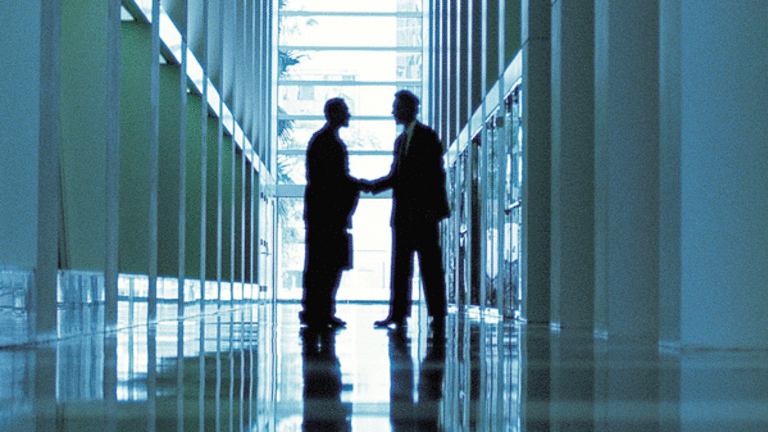 Publish date:
First-Quarter Deals Near $1 Trillion Mark Highest Value Since 2007
Mega deals from strategic players across a variety of industries pushed first-quarter deals to the highest value since 2007.
Mega deals from strategic players across a variety of industries pushed first-quarter deals to the highest value since 2007.
NEW YORK (The Deal) -- On the heels of last year's strong M&A market, 2015 is off to a healthy start, driven by deals from strategic players in a wide swath of industries with the highest first-quarter value since 2007.
Big-ticket acquisitions fueled deals in the first three months of the year, with 14 announced transactions valued at more than $10 billion. Such deals pushed the total value globally to $902.2 billion in the first quarter, up 23% from the corresponding period last year, according to data from Dealogic.
And two deals early in April --Royal Dutch Shell plc's $70 billion acquisition of BG Group plc and Mylan Inc.'s (MYL) - Get Report $29 billion purchase of Perrigo Co. plc -- pushed the total for 2015 over the $1 trillion mark just as the second quarter began.
The quarterly figure is the highest M&A total in eight years.
"It was broad-based by sector, as well as by geography," said Jim Ratigan, co-head of Americas M&A at Deutsche Bank AG.
Capital remains available and corporate executives remain willing to pull the trigger on mergers and acquisitions, he added.
"Positive reception by equity markets continues to be a really positive sign for M&A," Ratigan said.
The number of deals slowed from the same period a year ago, totaling 9,478 globally compared to with 9,830 in 2014.
"The one thing that's curious about global M&A activity is even in the quarters when deal activity is up by value, there is a relatively smaller number of deals," said George Casey, head of the global M&A group at Shearman & Sterling LLP. "Acquirers are disciplined and focused on large, strategic deals that would actually make a difference to them."

Health care, which ranked fourth in global deal volume during last year's first quarter, led the M&A parade this year with about $127.2 billion in deal value, according to Dealogic. In fact, four out of the top 10 transactions during the first three months came from health care.
Drugmaker AbbVie Inc. (ABBV) - Get Report agreed to acquire Pharmacyclics Inc. (PCYC) for approximately $21 billion in the fourth-largest deal of the quarter.
In the sixth-biggest transaction, pharmaceutical giant Pfizer Inc. (PFE) - Get Report struck a deal to buy Hospira Inc. (HSP) for about $17 billion after dropping a nearly $117 billion offer for its U.K.-based peer AstraZeneca plc  (AZN) - Get Report last year.
Meanwhile, Salix Pharmaceuticals Ltd. (SLXP) went to Canadian drugmaker Valeant Pharmaceuticals International Inc. (VRX) for about $15.8 billion. For Valeant, which pushed aside Endo International plcin a heated bidding war for the maker of treatment for gastrointestinal disorders, the deal came after its unsuccessful $52 billion attempt to take over Botox maker Allergan Inc. (AGN) - Get Report last year.
In one of the last health care deals of the period, UnitedHealth Group Inc. (UNH) - Get Report snapped up pharmacy benefits manager Catamaran Corp. (CTRX) for $12.8 billion.
"Any time an industry is hot, everybody is looking at transactions in that industry," said Alison Ressler, a partner at Sullivan & Cromwell LLP. Ressler, who advised Valeant in its purchase of Salix, said some transactions have led to other deals as companies focus on their strategies.
"In the health care space, you see acquisitions in one space where a company wants to be leading to dispositions of businesses they want to exit," Ressler said.
Within the health care sector, the pharmaceutical and biotech segments had a "banner first quarter" in both the number of deals and deal volume, said Stuart Cable, a partner with Goodwin Procter LLP, who is advising Teva Pharmaceutical Industries Ltd.in its $3.2 billion purchase of Auspex Pharmaceuticals Inc."The valuations in the sector generally have been very, very favorable," Cable added, explaining that the availability and low cost of capital bode well for buyers.
Available cash and favorable debt market are fueling deals in sectors beyond health care, too.
"What's behind all of [the M&A] is the continued confidence and conviction in the C-suite and the boardroom," said John McLaughlin, head of M&A at Wells Fargo Securities LLC. "Corporations and boardrooms are comfortable. They feel like they've moved into a better phase in the domestic economy."
Also supporting the healthy deal market is shareholders' positive response to M&A, according to McLaughlin.
"Organic growth is still hard to come by. Companies are looking for inorganic opportunities to add value through acquisitions. When they have done that, their shareholders have tended to reward smart deals," he said.
"I think some of the headline deals clearly got people excited about momentum in the deal market," McLaughlin added.
The largest first-quarter deal was the agreed merger between Kraft Foods Group Inc. (KRFT) and H.J. Heinz Co.to create the world's fifth-largest food company in a deal valued at about $45 billion.
The merger between Kraftand Heinzis "a smart, strategic deal that perfectly expresses what is going on [in the market]," said Bob Profusek, head of global M&A practice at Jones Day.
"A lot of people raised their eyebrows at the multiples," he said, pointing to the ratio of 23 times Ebitda Warren Buffett's Heinz agreed to pay for Kraft. Profusek explained that the multiple is less a function of low financing costs than a reflection of a synergistic play.
"What's driving this market is capital allocation in an environment in which companies have tons of money," Profusek said. "We've got the financial crisis behind us. More importantly, capital allocation is the key issue in every boardroom in America."
While falling oil prices also grabbed headlines in the first three months of the year, dealmakers are still waiting to see how such volatility will affect M&A.
"The dislocation of oil prices ... is dramatic." said Mark Gerstein, who chairs the M&A practice at Latham & Watkins LLP. "Dramatic dislocation results in substantial M&A, but it takes time for that to sort out. No one is prepared to sell a business for cash in this environment, but we expect to see stock-to-stock consolidations in that market."
Among the largest oil and gas industry transactions in the quarter was Energy Transfer Equity LP's acquisition of Regency Energy Partners LPfor $17.9 billion.
"We expect to see more consolidation transactions in the energy sector," said Vito Sperduto, head of U.S. M&A at RBC Capital Markets. "Large strategic buyers will take this opportunity to go after smaller, attractive targets to balance their portfolio of assets, same as the last time we saw a prolonged dip in commodity prices."
"Commodity price uncertainty always chills M&A in the short term but spurs additional activity once the market is inured to lower commodity prices," he said, adding that there will be a pick-up in M&A in the remainder of 2015.
Real estate, technology and telecom players also wrote big checks from January through March.
Simon Property Group Inc. (SPG) - Get Report offered to take over its rival Macerich Co. (MAC) - Get Report for $22.4 billion in the third-largest announced acquisition of the quarter. After increasing its offer twice in March, the real estate giant walked away from its bid March 31 after the target declined to engage in talks. Simon Property later announced a $2 billion stock buyback.
Continuing its acquisition spree, cable operator Charter Communications Inc. (CHTR) - Get Report began the year by agreeing to pick up peer Bright House Networksfor $10.4 billion. John Malone-backed Charter's latest deal is contingent on the closing of the merger between Comcast Corp. (CMCSA) - Get Report and Time Warner Inc. (TWC) , which is awaiting regulatory approvals.
Verizon Communications Inc. (VZ) - Get Report struck a deal to offload almost $16 billion worth of assets by divesting its wireline operations in California, Floridaand Texas to Frontier Communications Corp. (FTR) - Get Report for $10.5 billion and selling a portfolio of wireless towers to American Tower Corp. (AMT) - Get Report for $5 billion.
Such multi-billion dollar deal announcements have been coming at a blistering pace, said John Huwiler, global head of M&A at Jefferies LLC. "Across the board, there have been a number of large-scale consolidation plays, either consolidating a space or adding geographic reach," Huwiler said. 
Big, strategic combinations can breed confidence, and "unless there are some external shocks to the system, the M&A market will likely continue to perform at a healthy pace," Huwiler said.
In fact, RBC Capital Markets' Sperduto pointed out that the greatest growth right now is among transactions worth $5 billion or more.
"$1 billion or less is down about 4%, whereas transactions above are up 40.5%," Sperduto said, adding that in his internal pipeline, most transactions are also "larger-cap strategic related."
Technology, which ranked second in deal volume last year, came in third in deal value in the first quarter. It still led in global M&A by the number of deals, as well as cross-border activity.
The largest tech deal in Q1 was the Netherlands' NXP Semiconductors NV's agreed acquisition of Freescale Semiconductor Ltd. for $16.7 billion. The transaction was also the largest cross-border technology deal involving a European buyer or target, according to Dealogic.
"Cross-border activity has continued to grow over the last few years," said Cole Bader, co-head of M&A at Stifel Investment Banking. "Dollar/euro parity and other favorable currency-exchange rates are certainly having an impact, but it's also the general globalization trend.
"Ultimately, it makes strategic sense as companies look for scale to broaden their target universe from just the U.S. to international targets as well," he added.
Shareholder activism has also continued to spark transactions.
"Returns are better for activist funds than for more passive hedge funds. That's encouraged a lot of investors to be more active, which in turn has spurred more M&A transactions," Bader said.
Consider, for example, the merger between Office Depot Inc. (ODP) - Get Report and Staples Inc. (SPLS) . The retailers agreed to a transaction valued at $6.3 billion following a push for the combination from Jeffrey Smith's activist fund Starboard Value LLP.
Then there's the $8 billion deal between MeadWestvaco Corp. (MWV) and Rock-Tenn Co. (RKT) - Get Report, which will create the world's second-largest packaging manufacturer. For packaging company MeadWestvaco, the deal came after it decided to spin off its specialty chemicals business under pressure from Starboard.
"Cash on balance sheets is at almost an all-time high, and that is burning a hole in a lot of strategic buyers' pockets right now," Stifel's Bader added. "Combine that with shareholder activism, where hedge funds have become extremely proactive in pushing management teams and boards to think about those cash balances," 
Middle-market companies may have been immune to shareholder activism in the past but that is changing, said Jeff Maxwell, head of M&A at Raymond James Financial Inc.
"In years past, more shareholder activism was focused on much larger companies," he explained. "Now, there is a proliferation of activist investors who are focusing on the middle market, taking positions and looking for change."
Shareholder activism isn't the only factor trickling down to the middle market.
"The environment has been very conducive to deal making," Maxwell said. "Whether you look at the broader market as a whole or middle market activity specifically, many of the same forces are driving M&A."
The private equity market, meanwhile, was a mixed bag in the first quarter. M&A volume involving financial sponsors was down 31% from the same period last year, reaching $40.4 billion, according to Dealogic.
The largest transaction involving a financial sponsor was the $4 billion buyout of Life Time Fitness Inc. (LTM) - Get Report, in which a consortium of investors including Leonard Green & Partners LP, TPG Capital LPand LNK Partnersagreed to take the fitness-center operator private.
Still, volume from private-equity exits through M&A and initial public offerings totaled $127.6 billion in the first quarter, representing an increase of 12% from the same period a year ago.
The biggest exit was the $16.7 billion sale of Freescale Semiconductor, which had been backed by Blackstone Group LP, TPG Capital, Carlyle Groupand Permira. Three of the top five financial sponsor-backed IPOs were European: Sunrise Communications AG, Auto Trader Group plc and GrandVision SA.
"There are very few true private-equity consortium deals. That was all the rage in 2007, with four to five large private equity firms coming to bid to take corporations private," said Wells Fargo's McLaughlin. "That's not happening anymore."
Before 2008, private-equity buyers were frequently outbidding strategic buyers, added Stifel's Bader.
"Financial sponsors have been active in unloading assets, either by selling to other private-equity firms or to strategic buyers," Bader said. "But LBOing of public companies has been hard. There are still bright spots, but it's hard for them to go [after] public companies when there are other strategic buyers with strong currencies and synergies they can bring to bear."
In the first three months of 2015, the deal market continued to ride the momentum from last year, thanks to extension of healthy trends, such as confidence of corporations, favorable equity markets and strong cross-border M&A activity.
"We continue to be very bullish about the market. The economy is on a positive trend," said H. Hiter Harris, managing director of Harris Williams & Co., pointing to high levels of strategic interest, capital from private equity and overall strength of the financial market as factors that will contribute to a positive 2015.
And there are other factors that are setting the stage for another strong year of M&A.
"We're getting into 2015 where the dollar is strong, in particular to the euro. For U.S. buyers, Europe is on sale," said Wells Fargo's McLaughlin. "Buyers are getting more comfortable with recovery in Europe."
Gerstein of Latham & Watkins noted that regulatory and tax law changes have become "a limiter on some transactions."
"Cross-border transactions that aren't driven in part by tax considerations will continue, though," he said. "There were very big ticket deals written last year, a number of which had inversion structures. I expect you're going to see fewer of those transactions."

Read more from: