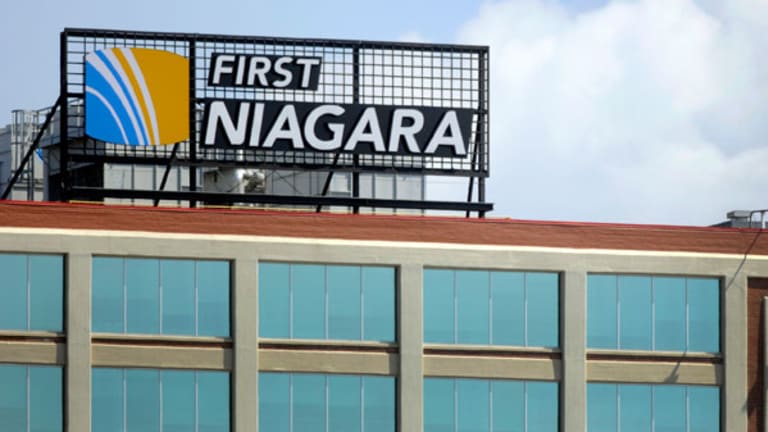 First Niagara Is a Long-Term Bargain After M&A Mess
The failed merger strategy of First Niagara's former CEO may have set up an opportunity for investors.
NEW YORK (
) --
First Niagara Financial Group
(FNFG)
may be a strong turnaround investment after the architect of the bank's aggressive merger and acquisition strategy, John Koelmel,
.
The Buffalo, New York-based lender may be undervalued after Koelmel was unable to deliver on a effort to opportunistically grow First Niagara in the wake of the financial crisis, according to investors and industry analysts.
Koelmel orchestrated a series of acquisitions culminating in a
for
HSBC's
(HBC)
bank branch network in upstate New York and New England.
Although the acquisition indicated First Niagara was a rare U.S.-based lender using the deconsolidation of struggling European banks to grow its business, the move was quite a tough pill to swallow. To fund the acquisition, First Niagara cut its dividend 50% to 8 cents a quarter, and the bank also undertook
.
Roughly a year into the acquisition, First Niagara has been unable to prove its value to investors, who've suffered a drop in the company's earnings per share to go along with the lower dividend and uncertainty about the company's strategy.
First Niagara's operating earnings per share declined to 75 cents in 2012 from 98 cents in 2011.
In addition to Koelmel, top executive Oliver Sommer left First Niagara, after coming over from consulting firm
Aston Associate
to help the bank execute on its aggressive M&A plans.
For investors, the HSBC branch deal and Koelmel's recent exit underscore a painful couple of years mired by the stock's underperformance. First Niagara shares are down 11% over the past 12 months, in contrast to a gain of over 15% for the
Financial Select Sector SPDR
(XLF) - Get Free Report
exchange traded fund.
Larger and better capitalized banks that have grown market share by way of acquisitions, including
Capital One
(COF) - Get Free Report
,
PNC Financial
(PNC) - Get Free Report
,
Bank of Montreal
(BMO) - Get Free Report
and
Wells Fargo
(WFC) - Get Free Report
, have shown much stronger execution and a more coherent story for investors.
But Koelmel's seeming opportunism may eventually pay off.
"Koelmel was shaping up to be a 21st-century version of the legendary Hugh McColl," Tom Brown, who runs
Second Curve Capital
,
, referring to the former
NationsBank
head who orchestrated its late 1990s takeover of
Bank of America
(BAC) - Get Free Report
.
Brown went on to say that although Bank of America's expensive buying spree did nothing for its shareholders, it did help cause a rise in bank stock valuations. "Part of me is disappointed," Brown wrote. "On the other hand, First Niagara's board did absolutely the right thing in shutting down Koelmel's growth-via-acquisition-no-matter-the-price strategy."
Looking ahead, Brown thinks the bank is in a strong position in Northeast markets, which can return it to a position of earnings growth and stability.
"The right CEO there has an opportunity to add real value," wrote Brown, who suggested former Bank of America CFO Al de Molina, as a possible candidate, along with Cathy Nash, who prepped
Citizens Republic
( CRBC) for its pending sale to
First Merit
(FMER)
. Brown also listed former Fleet/Boston head of retail operations Brad Warner, as a possible successor to Koelmel.
In the interim, First Niagara has said Gary M. Crosby, the bank's former operations head, will be its acting CEO as the bank looks for a permanent replacement.
A strong permanent appointment and a clear strategy going forward, could unlock value in First Niagara's shares, which Deutsche Bank and Barclays analysts call undervalued relative to small-and-mid-cap banking peers.
"While we expect investors could continue to assign a valuation discount to the shares versus peers given a relatively weaker capital position, we believe this discount will shrink over time more than we had originally anticipated given Koelmel's departure, and would expect this news to serve as a positive catalyst for the stock in the near-term," Dave Rochester, a Deutsche Bank analyst wrote in a note to clients reacting to the CEO change.
Given what is likely an end to First Niagara's merger strategy, Rochester added, "this event could ultimately meaningfully increase the pool of investors willing to take a fresh look at the stock (depending on the view of Koelmel's permanent replacement), which continues to stand out as one of the cheapest mid cap banks on a
price-to-earnings basis."
Rochester gives First Niagara shares a $11 price target.
A new CEO with high credibility among the bank investing community may help First Niagara, however, the bank's financial picture remains hazy in the near-term. Investors betting on First Niagara's shares are likely to be focused on the bank's discounted valuation over quick results on a financial turnaround.
"Although we do not expect much in the way of EPS growth this year, we continue to believe that First Niagara's valuation discount vs. peers (11x vs. 14x 2013 EPS) will narrow over time as its demonstrates ongoing comparatively healthy organic commercial loan growth and its capital ratios rebuild," Barclays analyst Matthew J. Keating wrote in a March 20 client note.
For First Niagara investors, former CEO Koelmel's opportunism in cutting post-crisis M&A deals may have been a disappointment. Investors taking a new look at First Niagara's sub-$9 share price, however, may eventually see differently.
-- Written by Antoine Gara in New York