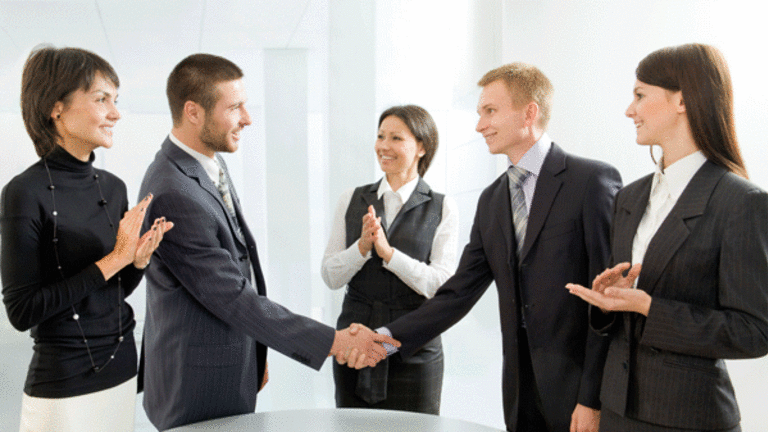 Publish date:
Few Options Remain on Apollo-backed CEC Entertainment's Menu
The operator of Chuck E Cheese could look to Texas for its next deal.
The operator of Chuck E Cheese could look to Texas for its next deal.
After announcing its acquisition of Peter Piper Inc. on Oct. 16, Apollo Global Management LLC (APO) - Get Apollo Global Management Inc. Class A Report does not have to look too far for more targets to add to portfolio company CEC Entertainment Inc.
Industry sources said Peter Piper was a natural fit for CEC, which operates the Chuck E. Cheese chain, as the two run similar businesses consisting of pizza chains combined with entertainment venues. In addition to having similar business models, both chains needed resources for growth.
Apollo may not be done with add-ons for CEC, but industry sources emphasized there are not many targets available that fit as logically as Peter Piper. Apollo took CEC private in January for about $1.3 billion in cash, after CEC hired Goldman, Sachs & Co. last year to look for buyers.
"I don't expect that there are too many easy add-ons like Peter Piper. They are direct competitors with almost identical business models," said Adam Birnbaum, a managing director for New York's Grandwood Capital LLC.
Though CEC's acquisition options are limited, the two companies can look locally in Texas for their next bite.
Industry sources pointed to pizza and entertainment chains such as Austin, Texas-based Mr. Gatti's LP, the operator of Gatti's Pizza, America's Incredible Pizza Co. LLC of Springfield, Mo., and Entertainment Properties Group Inc. as possible targets for CEC. If any of the three privately held chains are seeking buyers is not known. None of the companies returned calls seeking comment.
Mr. Gatti's, founded in 1964, operates about 160 restaurants in 10 states, including Texas, Florida, Indiana and Kentucky. In addition to pizza, the chain offers arcade games and bumper cars. Mr. Gatti's is backed by Austin-based Blue Sage Capital LP which acquired it in December 2004 for $24 million.
Management-owned America's Incredible Pizza operates 15 restaurants in Louisiana, Missouri and Oklahoma. Aside from an all-you-can-eat pizza buffet, the company has entertainment attractions such as go karts and mini golf.
Dallas-based privately held Entertainment Properties has six restaurants in New Mexico, Texas and Colorado under the iT'Z brand that offers bowling, rock climbing and laser tag in addition to a dining menu that consists of pizza, pasta and salads.
CEC acquired Peter Piper from Washington, D.C.-based Acon Investments LLC. Financial terms were not disclosed, but industry sources valued the transaction up to 8 times the target's $15 million in annual Ebitda, or around $120 million.
Peter Piper hired North Point Advisors LLC in the summer to look for buyers. The target did not attract that much interest from private equity firms because they were not impressed with the chain's financial performance, according to sources.
Irving, Texas-based CEC operates 575 Chuck E. Cheese restaurants, while Peter Piper operates 147 restaurants mostly in Arizona, New Mexico, Texas and Mexico under the Peter Piper brands. Both brands are expected to remain independent for now.
An Apollo spokeswoman declined comment.