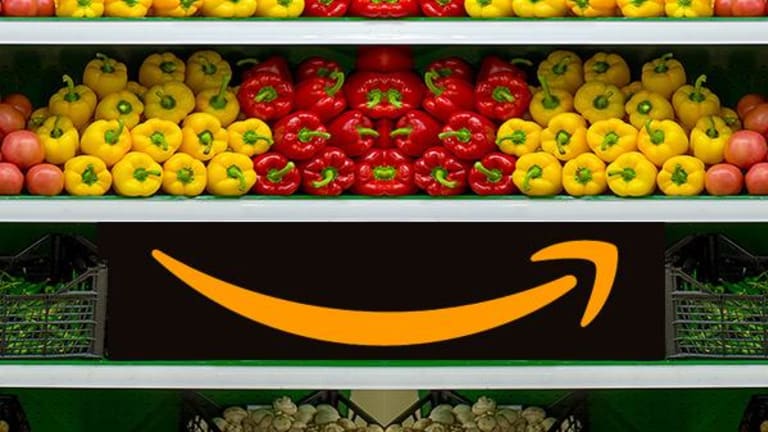 Fed Scrutiny of Amazon-Whole Foods Likely to Focus on Wholesaling
Amazon's wholesale Marketplace is why antitrust regulators might take action on its Whole Foods deal.
Amazon.com Inc.'s (AMZN) $13.7 billion deal to acquire Whole Foods Market Inc. (WFM) has provoked a lot of hand-wringing over the prospect that the deal will kill margins and jobs among brick-and-mortar grocers like Kroger Co. (KR) , Supervalu Inc. (SVU) and Target Corp. (TGT) . 
But Amazon has no presence in brick-and-mortar retail groceries now and there's little chance either the Department of Justice or the Federal Trade Commission will view the core part of the deal as a violation of antitrust law. Nor do the competition enforcers have authority to challenge a deal because it might lead to job losses. In fact, job losses are sometimes seen as a positive in antitrust circles because smaller payrolls and lower overhead can mean lower prices for consumers.
But one expert on the Internet's transformation of the global economy sees one area where competition enforcers will want to give extended scrutiny and maybe even impose some novel obligations on Amazon.
That's in Amazon's MarketPlace, which is the company's platform for online retailers—including grocers—which buy products at wholesale and then sell to consumers at a markup.
"This transaction could be the first antitrust risk to the Amazon MarketPlace's mothership monopoly model," wrote Scott Cleland, president of the consultancy Precursor LLC in a blog post. Amazon already competes to a degree with the retailers on its MarketPlace platform, but the acquisition of Whole Foods would increase that competition dramatically, he said.
"Most of the antitrust concern will come with the exceptional market power that Amazon wields online, combined with the under-appreciated conflict in its business model where half of its retail revenues come directly from consumer-customers, and the other half come from its MarketPlace offering where Amazon is the mall and gatekeeper for around 15 of its top 20 grocery competitor-customers," Cleland explained.
Amazon is predicting the deal will close in the second half of 2017, a timeline that suggests competition officials will not carry out anything more than the obligatory one-month review of the deal and won't issue a second request for information, which would extend the antitrust review well into 2018.
"They made a mistake telling investors there are no antitrust issues," Cleland said in an interview with The Deal. "I wouldn't be surprised if Amazon had to commit to some conditions to gain antitrust approval, so that Amazon could not leverage the market power it has online through Amazon Prime into the offline grocery-delivery and retail markets."
(The companies' merger contract sets the initial termination date at February 15, 2018 and that can be extended to an outside date of May 19, 2018.)
Amazon "simultaneously is a direct retail competitor overall, at the same time it is the dominant online broker that has disintermediated its competitors from their customers when they are in the online world," Cleland said.
Cleland said MarketPlace customers routinely criticize Amazon for not being an "honest broker" or for being a "non-neutral platform" that routinely self-deals to their detriment.
"The Whole Foods transaction is the first genuine opportunity and powerful legal process for those alleging anti-competitive harm by Amazon to have antitrust authorities' full ear," he wrote.
Others have fretted that the government antitrust regulators should take a more expansive view of their legal authority and consider trying to block the deal because too many jobs are lost as a result of the game-changing combination of the global Internet giant with the pioneering operator of organic and and specialty grocery stores.
"With every move of this Goliath, Amazon is inviting a thorough antitrust investigation by the Department of Justice or the Federal Trade Commission," consumer advocate Ralph Nader said in a statement. "This company is breaking records for destroying Main Street and hollowing out communities through such mechanisms as predatory pricing, and for many years in the past, avoiding state sales taxes."
Representative Ro Khanna (D-Calif.), said he is "concerned about what this deal means for suppliers and neighborhood grocery stores" in a statement soon after the deal was announced June 16.
But well-known antitrust experts have cast doubt that conventional antitrust analysis account for the potential to cost jobs or put pressure on competitors. "There has to be some kind of injury to competition ... I don't really see an antitrust concern," Herbert Hovenkamp, a professor and an antitrust scholar at the University of Pennsylvania law school, told CNN.com. Eleanor Fox, a professor at the New York University School of Law, also told CNN that whatever antitrust concerns by the deal raises are not likely to increase market power sufficiently or raise prices to the consumer, leaving little reason for officials to be concerned.