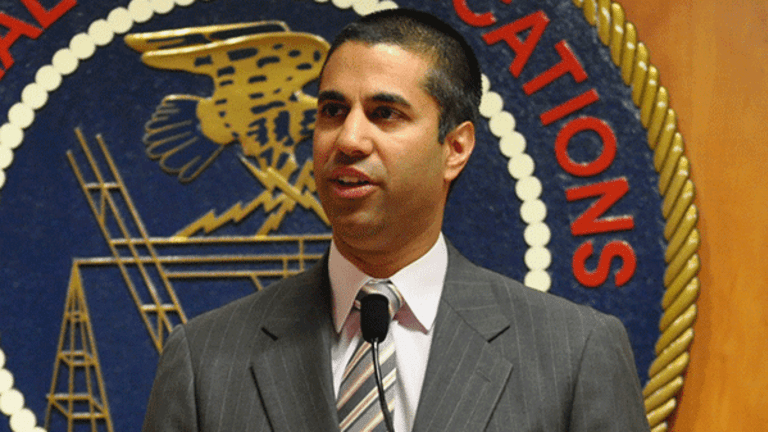 FCC's Ajit Pai Lays Groundwork for Further Consolidation Among TV Station Owners
The FCC under former Verizon official Ajit Pai took the first step on Thursday to reinstate a rule favored by the country's largest television station owners.
Sinclair Broadcasting (SBGI) - Get Sinclair Broadcast Group, Inc. Class A Report and 21st Century Fox (FOXA) - Get Fox Corporation Class A Report had been among the loudest voices to oppose former FCC Chairman Tom Wheeler's decision in September to phase out a 30-year-old rule that allowed the country's largest television-station owners to expand their reach without violating a cap on total national audience.
The so-called UHF discount, passed in 1985, made it possible for station owners to count 50% of potential viewers in every market when using certain stations to compute their compliance with a rule that their coverage territory not surpass 39% of U.S. television households. Wheeler, in leading Democrats to a 3-2 vote to eliminate the discount, argued it made no sense in an age when most people watch TV through a pay-TV subscription rather than over-the-air.
Sinclair and Fox, though, may be getting a return of the UHF discount.
On Thursday, FCC Chairman Ajit Pai, who voted last fall to retain the discount, put a discussion of the topic on the commission's April 20 agenda, the first step toward a vote that could end in its reinstatement. It's the kind of action that Sinclair, which owns more individual U.S. television stations than any other company, has hoped would take place ever since Donald Trump was elected president in November.
"I'm proposing that we hit the reset button, returning the rule to the way it was up until last fall," Pai said in an FCC blog post Thursday. "And then we'll launch a comprehensive review of the national ownership cap, including the UHF discount, later this year."
Shares of Sinclair, based in a suburb north of Baltimore, closed up 2.5% at $40.95 Thursday, extending its three-month advance to 22.8%. Stock in fellow TV station owners Gray Television (GTN) - Get Gray Television, Inc. Report , Nexstar Media (NXST) - Get Nexstar Media Group, Inc. Class A Report and E.W. Scripps (SSP) - Get E. W. Scripps Company Class A Report rose 4.7%, 2.7% and 2.2%, respectively.
Sinclair Chairman David Smith has long pressured federal officials and officeholders to raise the ownership cap well beyond 39%, paving the way for the company to make additional station acquisitions. Sinclair has approached Tribune Media (TRCO) - Get Tribune Media Co. Class A Report , owner of WGN America and network affiliates in major cities including New York and Chicago, about a possible merger, Reuters reported earlier this month, citing people familiar with the matter.
Shortly after Trump's election, Smith told a conference of media investors that the Republican victory offered a historic opportunity to eliminate regulations designed to minimize media concentration.
"There's a really serious opportunity to seek complete deregulation in the broadcast industry," Smith said at an investor conference hosted by Wells Fargo. "If Donald Trump is as deregulatory as he suggests he is, to wipe away regulations we're going to be the first industry in line to say, 'We are the most over-regulated industry that exists in the United States.'"
Pai, a former associate general counsel at Verizon (VZ) - Get Verizon Communications Inc. Report , has argued that media and telecommunications companies have been unfairly restricted in their ability to make acquisitions.
Sinclair couldn't be immediately reached for comment.