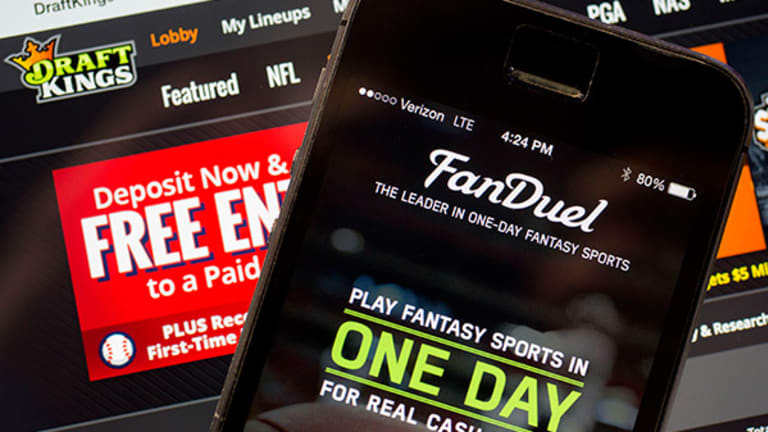 FanDuel, DraftKings Get Boost From New York Legislature
The bill must still be approved by the New York Senate and Governor Andrew Cuomo.
Fantasy websites DraftKings and FanDuel got a boost before the weekend as lawmakers in New York on Friday overwhelmingly passed a bill to regulate and tax the world of daily fantasy sports.
The bill still must be approved by the New York Senate and Gov. Andrew Cuomo, but it would provide a welcome path forward in one of the largest states where the sites operate. According to civil suits filed against DraftKings and FanDuel by New York attorney general Eric Schneiderman, New York makes up about 12% of total DFS players.
According to the Boston Globe, which broke the story, the bill calls for a 15% tax on gross revenue for DFS site operators, FBI background checks for officers or directors of fantasy sports companies and oversight from the New York State Gaming Commission on the contests.
Similar to consumer protection regulations passed in Massachusetts in late March, the New York bill calls for DFS contests based on college or high school sports or horse racing to be outlawed.
"We believe passing this law is the right thing for our community, our company and most importantly, the people of New York state," FanDuel CEO Nigel Eccles wrote in a blog post earlier in the week. "An overwhelming number of New Yorkers agree with this position -- 70% in fact, according to a recent survey, said they favor sensible regulation of our industry."
If the bill were passed by the New York governor and Senate, it would make the eighth state where DFS has achieved a victory. In addition to New York and Massachusetts, Colorado, Indiana, Mississippi, Missouri, Tennessee and Virginia all have added provisions to allow DFS sites to operate in their states.
According to the Albany Times Union, the vote on DFS was 91 to 22. The newspaper reported that there were some who voted against the bill and who questioned Democratic Racing and Wagering Committee Chairman Gary Pretlow.
The ruling comes just as New York's legislature was set to recess for the summer and amid reports that the two largest operators of daily fantasy contests, DraftKings and FanDuel, were in talks to merge.
The merger talk was believed to be a product of increased regulatory scrutiny and uncertainty that has cut into the bottom lines of these Internet unicorns.
The two companies have lost nearly half their value as their operations have been halted in 11 states, including New York and Texas. In February, Rupert Murdoch's 21st Century Fox (FOXA) - Get Report revealed in a regulatory filing that it had marked down the company's $160 million investment in DraftKings by more than 60%.
Other investors can't be happy. For DraftKings, they include Madison Square Garden (MSG) - Get Report , and the Kraft Group, which owns the New England Patriots. FanDuel is backed by Kohlberg Kravis Roberts (KKR) - Get Report and Time Warner (TWX) , among others. They both also have received funding from venture firms including Shamrock Capital Advisors, GGV Capital and Atlas Venture as well as nontraditional investors such as Major League Baseball, the National Hockey League, the National Basketball Association and Major League Soccer.
Fanduel did not respond to a request seeking comment. DraftKings could not be reached.