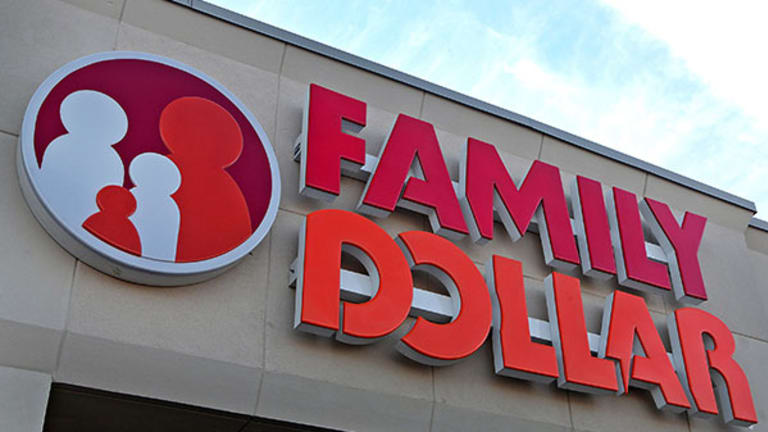 Family Dollar's Delayed Vote Could Mean Another Bid From Dollar General
A proxy adviser earlier in December pushed investors to delay the vote to sell Family Dollar, yet again.
NEW YORK (TheStreet) -- Big surprises and it's not even Christmas yet.
Family Dollar (FDO) on Tuesday opted for a last-second adjournment to its vote to sell itself for $8.5 billion to Dollar Tree (DLTR) - Get Dollar Tree, Inc. Report , surprising investors and giving hope to third-wheel bidder Dollar General (DG) - Get Dollar General Corporation Report .
Dollar General was gaining 0.9% to $69.30 on the news while Dollar Tree was adding 0.7% to $69.57. Family Dollar was up 0.3% to $79.34.
The holdup of the sale of Family Dollar comes after proxy adviser Institutional Shareholder Services recommended the company's board delay the deal vote yet again. ISS suggested the delay could ultimately result in a higher offer for the company. At an Ebitda multiple of 11 times, both bidders are already taking on a richly priced asset in Family Dollar. 
Some shareholders have been looking to topple the Family Dollar-Dollar Tree deal, and possibly push Family Dollar into the arms of rival Dollar General, which is offering more than $9 billion to buy the discount retailer.
Now, Family Dollar said, it will have shareholders reconvene on Jan. 22, 2015, to decide what will happen in the company's sale. It remains to be seen if Dollar General will again elect to extend its tender for the company, set to expire Dec. 31 -- but all signs point to the bigger competitor in the sale continuing to fight for Family Dollar. 
Dollar General last week issued a statement saying it is in ongoing talks with the Federal Trade Commission to determine the extent of the divestitures it will need to make if it succeeds with its bid. 
Market-watchers widely expect Family Dollar's sale to either Dollar Tree or Dollar General to result in the government mandate to sell off a number of stores from the merged unit. As the largest discount retailer in the U.S., Dollar General, it it wins the auction, is expected to be required to sell more stores to comply with federal regulations compared with Dollar Tree.
Even before the deal vote adjournment, shareholder litigation threatened Tuesday's  meeting. In order for the merger vote scheduled to be allowed to proceed, a judge late last week threw out a lawsuit from Family Dollar shareholders who were eager to block the sale to Dollar Tree. 
The company's sale process comes after activist investor Carl Icahn disclosed a substantial stake in the company and began agitating for Family Dollar to sell itself. However, Icahn has already sold his stake in the company, cashing in on Family Dollar's rise in 2014.