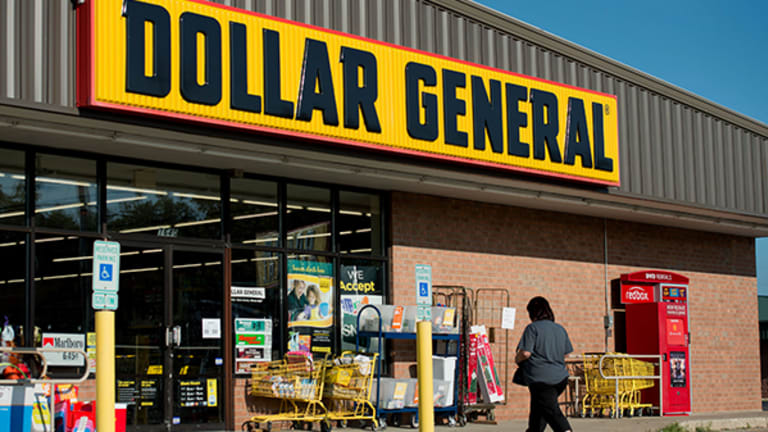 Family Dollar Takeover: The Ball Is in Dollar General's Court
Dollar General didn't announce any new offer for Family Dollar as the discount retailer reported mixed second-quarter earnings on Thursday.
Dollar General didn't announce any new offer for Family Dollar as the discount retailer reported mixed second-quarter earnings on Thursday.
NEW YORK (TheStreet) -- Dollar General (DG) - Get Report didn't announce any new offer for Family Dollar (FDO)  as the discount retailer reported mixed second-quarter earnings on Thursday.
Dollar General CEO Rick Dreiling did say he remains intent on a merger and the company is reviewing its options. One source familiar with Dollar General's thinking conceded on Thursday that the ball remains in the company's court after its initial efforts at a merger were rejected by Family Dollar in mid-August. Dollar General has offered $78.50 a share in cash for Family Dollar, topping a $74.50 cash-and-stock merger that was agreed between the company and Dollar Tree (DLTR) - Get Report in late July.
Family Dollar didn't engage Dollar General's higher offer in earlier this month, stating that antitrust hurdles presented too much of a risk to its shareholders. With hedge fund investors such as Trian Management privy to and supportive of Family Dollar's sale process, it will be interesting to see what strategy Dollar General uses in trying to push its bid forward.
There are some obvious ways for Dollar General to keep the ball rolling on its competing offer for Family Dollar. While Dollar General is already offering a higher price than Dollar Tree, it could increase that offer to create a new formula of risk-reward for Family Dollar's board to consider. BMO Capital Markets analysts also believe Dollar General could offer some assurances to mitigate antitrust risks.

WATCH: More market update videos on TheStreet TV
Dollar General could commit to an antitrust reverse termination fee and increase a divestiture package stipulated in the company's competing offer for Family Dollar as a way to get both parties to the negotiating table, BMO analysts said in a Thursday note to clients.
Already, Dollar General has committed to divesting 700 stores as part of its proposal for Family Dollar, given a roughly 30% geographic overlap between the two discount retailers. In contrast, Dollar Tree has a far more limited geographic overlap, according to analyst calculations. 
An antitrust reverse termination fee coupled with greater divestitures offered by Dollar General, or simply a higher price, may better balance the regulatory risks of its offer for Family Dollar shareholders.
Trian Management, a tough-negotiating hedge fund investor on Family Dollar's board and a member of a four-person board committee tasked with the company's strategic review, specifically pointed to antitrust risks when rejecting Dollar General's offer. 
"The CEO of Dollar General said he believes that antitrust is not a risk but did not put forth a proposal that eliminates regulatory risk for Family Dollar shareholders," Ed Garden, a Trian executive, said in August.
"Given the significant antitrust issues involved with Dollar General's proposal, we will not jeopardize the Dollar Tree deal for a transaction with Dollar General that has a high likelihood of not closing due to antitrust considerations," Garden added.
It remains to be seen whether Dollar General can put a plan in place that addresses Trian's concerns. An increased price could also go a long way for Dollar General, which only topped Dollar Tree's offer by about 5% in August.
"I think there is still room for bids to go up for both sides," Efraim Levy, an analyst with S&P Capital IQ, said in a Thursday telephone interview, referring to Dollar General and Dollar Tree's respective offers. He, like other analysts, ultimately downplays the antitrust issues raised by Family Dollar.
While Family Dollar and Dollar General are direct price competitors and do operate in many of the same geographies, Levy said he believes a merger between the two companies would be about increasing operational performance, and not removing a competitor from the market.
Presently, Dollar General forecasts between $550 million and $600 million in annual synergies between it and Family Dollar within three years of the close of a merger. 
Dollar General's Dreiling said on a Thursday conference call with analysts he believes 20% of those synergies would come from better category management, with another 40% coming from procurement and merchandising synergies and a remaining 40% coming from reductions to the combined company's sales, general and administrative expense.
In recent quarters, Family Dollar has earned nearly $55 in sales per square foot, over 15% more than what Family Dollar earns per square foot across its over 8,000 stores. Some analysts believe that gap in performance is indicative of structural issues like Family Dollar's high exposure to urban markets. However, implicit in Dollar General's synergy guidance is the assumption it can operate legacy Family Dollar stores more effectively, potentially closing thegap between both companies..
Ultimately, antitrust may prove a weak defense for Family Dollar as it continues to recommend a merger with Dollar Tree to its shareholders. Nonetheless, influential Family Dollar stakeholders have yet to see anything in Dollar General's initial competing bid that would draw them to the negotiating table.
The ball is in Dollar General's court.
Dollar General and Family Dollar declined to comment.
-- Written by Antoine Gara in New York