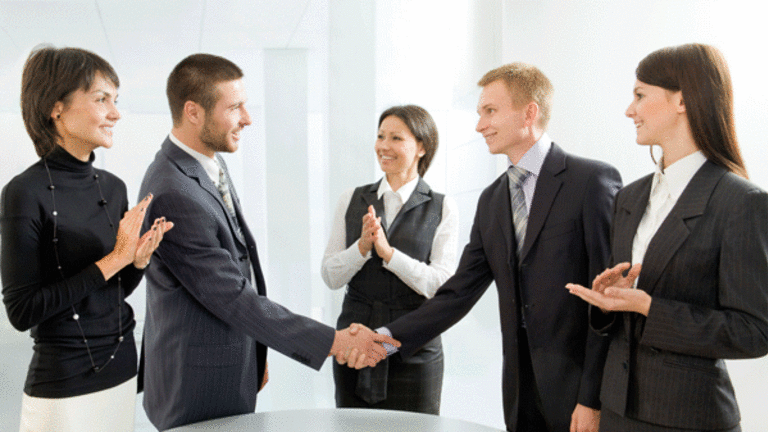 Family Dollar Rejects Dollar General Bid
Target mentions antitrust concerns as spurned suitor implies CEO position was a stumbling block.
NEW YORK (The Deal) -- Family Dollar Stores (FDO) has rejected Dollar General's (DG) $78.50 per share offer citing antitrust concerns, it said on Thursday, while reaffirming its support for a merger with Dollar Tree (DLTR) .
"Our Board of Directors, with the assistance of outside advisors and consultants, has been carefully analyzing the antitrust issues in a potential combination with Dollar General since the beginning of this year, as detailed in the Company's preliminary proxy statement that was filed by Dollar Tree with the SEC on August 11. Our Board reviewed, with our advisors, all aspects of Dollar General's proposal and unanimously concluded that it is not reasonably likely to be completed on the terms proposed. Accordingly, our Board rejects Dollar General's proposal and reaffirms its support for the pending merger with Dollar Tree," Howard Levine, chairman and chief executive of Family Dollar, said in a statement.
Watch the video below for more on why Family Dollar rejected Dollar General's take over bid:

WATCH: More market update videos on TheStreet TV
Nonetheless, Family Dollar said it would be willing to commence negotiations and allow due diligence with Dollar General, but only if its antitrust concerns could be addressed.
Trian Fund Management, a Family Dollar shareholder, continued to throw its support behind a Family Dollar combination with Dollar Tree.

"Consistent with its fiduciary duties, the Company's Board has sought to maximize shareholder value while considering the certainty of closing a transaction. The CEO of Dollar General said he believes that antitrust is not a risk but did not put forth a proposal that eliminates regulatory risk for Family Dollar shareholders. Given the significant antitrust issues involved with Dollar General's proposal, we will not jeopardize the Dollar Tree deal for a transaction with Dollar General that has a high likelihood of not closing due to antitrust considerations. We remain fully committed to the Dollar Tree transaction," said Ed Garden, a co-founder and partner at Trian, in a statement.
Dollar General made its $9.6 billion bid on Monday, trumping a stock and cash offer from Dollar Tree worth $74.50 per share, or roughly $500 million less. Dollar General revealed in a letter to Family Dollar's board this morning that it has been in contact with Family Dollar over the years about an acquisition. It implied, however, that a sticking point in negotiations was that the target's chairman and chief executive wanted to be CEO of the combined entity as part of a deal.
In Family Dollar's deal with Dollar Tree, Levine gets to keep his position as head of an independently operated Family Dollar.
Levine, however, in today's rejection of the bid, said, "I would also like to note that Dollar General's letter, sent late last night, contained blatant mischaracterizations and did nothing to address the antitrust issues in Dollar General's proposal."

In questioning Family Dollar's antitrust objections in the letter, the rival bidder may have a point, however.
The Federal Trade Commission had no problem earlier this year approving a deal between the two leading independent men's wear retailers Men's Wearhouse (MW)  and Jos. A. Bank Clothiers (JOSB) .
Because of a string of bankruptcies, mergers and competition from e-commerce, among other factors, the retail landscape in many cases has been reduced to one major retailer in some categories, whether it be Barnes & Nobles (BKS) in books, or Bed Bath & Beyond (BBBY)  in home decor and furnishings.
A merger between office store supply chains Office Depot (ODP)  and OfficeMax (OMX)  was also approved - though the combined entity still compete with Staples.
Dollar stores also receive competition from other discounters, such as German-owned supermarket chain Aldi Inc. and department store giant Wal-Mart Stores (WMT) , not to mention pharmacy chains that sell many of the same basic food and household and personal care products.
While the merger of Dollar General and Family Dollar would create a powerhouse amongst discount retailers, with over $28 billion in sales, it would still be dwarfed by Wal-Mart's approximately $480 billion in sales, for example.