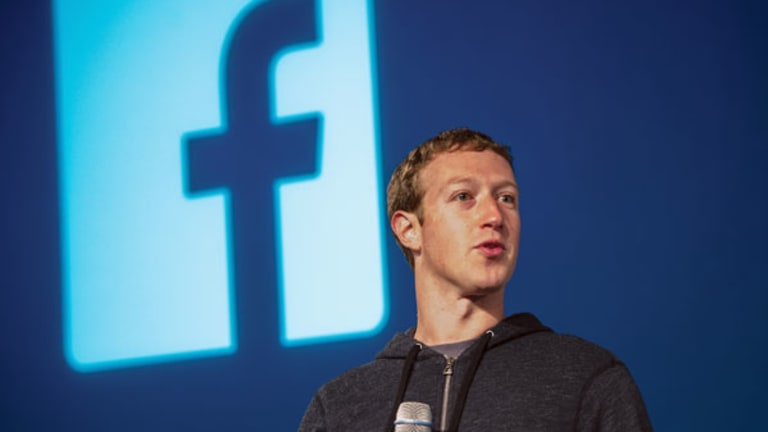 Facebook Reveals 10 Year Plan, Confident on Mobile
Facebook CEO Mark Zuckerberg detailed the company's long-term plans when explaining the social network's acquisition of Oculus VR for $2 billion in cash and stock.
Updated from 8:40 a.m EDT with additional analysis throughout and closing share prices

NEW YORK (TheStreet) - Facebook (FB) - Get Report CEO Mark Zuckerberg revealed the company's thinking process around its three, five and ten year strategy in a conference call with analysts to explain the social network's $2 billion acquisition of Oculus VR, a virtual reality platform that venture capital investors in the company compare to Silicon Valley's biggest breakthroughs such as the Apple (AAPL) - Get ReportII, the iPhone, the Macintosh, Netscape and Google (GOOG) - Get Report.
Investors puzzling over Facebook's apparent entrance into virtual reality may be heartened by the clearer picture of the company's medium-to-long-term thinking provided by CEO Zuckerberg. They also may be comforted by Zuckerberg's increasing confidence that Facebook has solved its problems in bringing more than 1 billion monthly active users (MAUs) to mobile devices.
Those two developments, expressed on Tuesday evening in a call with analysts, may have more bearing on Facebook's share price than the immediate impact of the Oculus VR acquisition. The company Facebook is acquiring is still in the process of developing its next generation product after using crowd-funding platform Kickstarter to raise $2.4 million to develop its first product, Oculus Rift.
Also See: Why Oculus VR Is Joining Facebook
While Facebook is shelling out $400 million in cash and $1.6 billion in stock for Oculus VR, in addition to an additional $300 million earn-out in cash and stock incentives, Oculus VR is unlikely to have any impact on the company's earnings in the next few years.
On Tuesday, Facebook was unwilling to provide specific financial guidance on the acquisition or how it came upon a price, but CFO David Ebersman noted that the company focused on the games business because it's the furthest along. It is worth noting no bankers were hired to advise Facebook's acquisition, indicating CEO Mark Zuckerberg is confident he can be an effective dealmaker in Silicon Valley.
Gene Munster, an analyst at Piper Jaffray, characterized the acquisition as Facebook's first major offensive acquisition, noting that previous deals, such as a $19 billion acquisition of WhatsApp, and a $1 billion acquisition of Instagram, were more defensive in nature, given that those respective networks pulled usage away from Facebook.
"We believe that Oculus is a big bet on the future of visual computing and we may see Oculus as Facebook's 'Android' moment 10 years from now," Munster said, indicating it may take time for investors to understand the rationale of Tuesday's deal.
"Similar to WhatsApp, the near-term focus from Oculus will be on product development and driving adoption versus monetization," Wedbush Securities analysts wrote, in a note released on Wednesday.
Facebook shares, after holding up in early Wednesday trading, tumbled over 6% and closed at $60.59. Those Wednesday losses pared Facebook's year-to-date gains to 10%, after the company's shares doubled in 2013. Facebook's tumble and an over 7% drop in Twitter's (TWTR) - Get Report share price may have been influenced by a weaker-than-expected first day of trading for King Digital Entertainment (KING) , which closed down over 15% at $19.03 a share.
To relieve increasing shareholder concern over Zuckerberg's management of Facebook's purse strings, the CEO and controlling Facebook shareholder provided investors and analysts a clearer picture of the company's mid-to-long term strategy during a conference call to discuss the Oculus VR deal.
"[Before] I close, I just want to make one more point. For almost the last year, I've framed our strategy as three high-level goals over the next 10 years, connecting everyone, one; two, understanding the world; and three, building the knowledge economy. With this acquisition, now each of those initiatives has an ambitious long-term bet associated with it in addition to our important near-term work as well," Zuckerberg said on Tuesday.
The Facebook CEO said the company's top long-term priority is connecting everyone, and also to make free basic internet available to everyone in the world through its Internet.org initiative. In terms of connecting users, the company's nearer-term efforts are focused on messaging and growth, Zuckerberg said.
A second long-term goal, Zuckerberg said, involves "understanding the world" through analytic efforts such as the company's AI Research Group, which the CEO said "is trying to build a unified model of how every person and thing in the world is connected to each other." In the nearer term, he said Facebook's efforts will be focused on Facebook's search capabilities and the development of its so-called 'News Feed.'
Facebook's third long-term goal centers upon building the knowledge economy by way of future technology platforms. The Oculus VR acquisition falls within that goal, joining Facebook with what Zuckerberg said could be "one of the next important computing platforms." Of course, as Zuckerberg said, the company will also continue to strengthen its advertising platform, which contributes the bulk of the company's current revenue and profitability.
"So, with this in place, you should now have a clearer view of what our full strategy looks like over the next 3, 5 and 10 years. I look forward to updating you on our progress in each of these areas during our regular quarterly updates," Zuckerberg said of the company's long-term thinking.
Facebook now carries a market capitalization in excess of $150 billion, making it nearly as valuable as tech sector bellwethers such as Oracle (ORCL) - Get Report and IBM (IBM) - Get Report.
Mobile Confidence
Zuckerberg also gave positive signals about Facebook's development on mobile networks and devices. Weak mobile usage was an issue that clouded Facebook's May 2012 IPO and initially caused shares to fall by over 40%. Zuckerberg, in 2012, admitted Facebook hadn't focused enough on mobility and in 2013, the CEO delivered strong results. Now, Zuckerberg appears to believe Facebook's mobile issues are solved.
"I started this process was thinking about now we have the strong position on mobile and we're feeling increasingly good about that. And we have this position now where we feel like we should be looking ahead in thinking about what the next platforms are going to be," Zuckberberg said of Facebook's mobile strength and its ability to begin thinking longer-term.
"[We] kind of backed into that from there and decided, okay, well, we think vision is going to be the next really big platform. It might take 5 or 10 years to get there, just kind of like how the first smartphones were really introduced in about 2003 and then only reached a billion people about 10 years later," he concluded.
Many in Silicon Valley believe Oculus VR is a platform that truly stands apart from industry peers.
"I've seen a handful of technology demos in my life that made me feel like I was glimpsing into the future. The best ones were: the Apple II, the Macintosh, Netscape, Google, the iPhone, and - most recently - the Oculus Rift," Chris Dixon, a venture capitalist at Andreessen Horowitz, said on his blog Tuesday.
Bottom Line: Facebook shareholders are surely hopeful Zuckerberg and Dixon are correct in their optimism over Oculus VR. A strong guidance on the company's mobile growth, however, will tide them over for now.