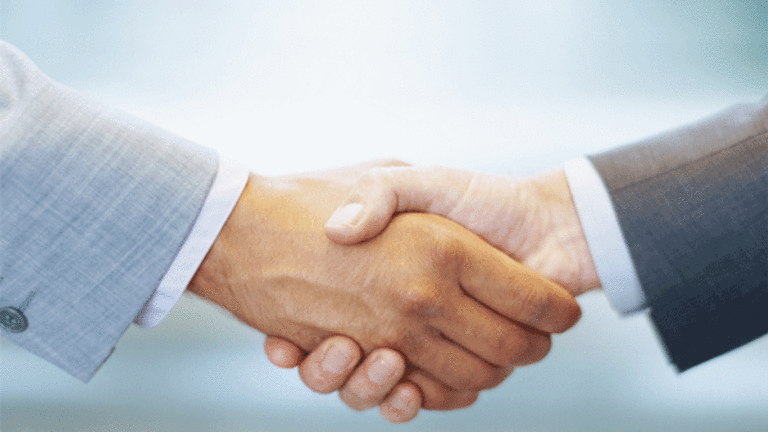 Facebook IPO May Prove Goldman Conspiracies Wrong
If Goldman loses on the Facebook IPO, it may prove conspiracy theories wrong.
NEW YORK (
) -
Morgan Stanley's
(MS) - Get Report
reported win to usher
Facebook
into the public market means that allegations of
Goldman Sachs'
(GS) - Get Report
valuation games as an attempt to curry favor with the social media giant may not actually pan out.
In January 2011 Goldman Sachs led a $1.5 billion investment in Facebook at a reported valuation of $50 billion, a move that spurred rumors that the valuation was a way for the investment bank to win the lead mandate for its eventual initial public offering.
Why is this man smiling? Morgan Stanley CEO James Gorman at Davos earlier this week.
But the
Wall Street Journal
reports on Friday that Morgan Stanley will lead Facebook's IPO, which may be filed on Wednesday and value the company in the $75 billion to $100 billion range. That may signal that even with its alleged outsized access and "vampire squid" like grip on the capital markets, Goldman Sachs doesn't always win.
For Morgan Stanley, a Facebook IPO lead would follow its winning mandates for
LinkedIn
(LNKD)
,
Pandora
(P)
,
Groupon
(GRPN) - Get Report
and
Zynga
(ZNGA) - Get Report
and set it on a firm foot in the competitive tech IPO underwriting league tables.
In 2011, Goldman Sachs was the top overall IPO underwriter, narrowly beating out Morgan Stanley in the U.S. and globally, according to
Dealogic
. If Goldman weren't to win the lead on the Facebook mandate, its 2011 investment may be seen as having a backfired.
After the investment, theories immediately abounded that the valuation was a way to boost the company's interest to win the firm's eventual IPO mandate. The private share deal was also a sign of Goldman and its client's special access to investments not available to the wider investing public.
However, with the small stake that was made alongside Russian firm Digital Sky Technologies, Goldman Sachs looked to distribute private Facebook shares to its high net worth clients, drawing scrutiny from the
Securities and Exchange Commission
because it could lead to more than 500 private shareholders, forcing Facebook to register with federal securities regulators and file quarterly and annual reports.
On January 17, 2011 Goldman changed course and decided against distributing Facebook shares to its private clients as a result of the regulatory threat in a humbling PR gaffe.
"Goldman Sachs concluded that the level of media attention might not be consistent with the proper completion of a U.S. private placement under U.S. law," the company said in a written statement. "We regret the consequences of this decision, but Goldman Sachs believes this is the most prudent path to take," Goldman Sachs added.
If Morgan Stanley eventually wins the Facebook IPO mandate, it may signal an increase in competition for the IPO league table lead among the two standalone investment banks, while it would also show that even mighty Goldman Sachs can be humbled every once in a while.
Morgan Stanley's recorded investment banking revenues of $4.2 billion in 2011. Advisory revenues increased 18% year-on-year to $1.7 billion, with the firm ranking number one in global "completed" M&A and taking the second spot in global IPOs, global equity and global announced M&A transactions. Underwriting revenues declined 12% to $2.5 billion on lower capital raising activity.
Morgan Stanley CEO James Gorman said earlier this week that tech IPOs was the one bright spot in the IPO market.
"If you look at the overall banking group they had a great year in '11 again in a shrinking market," Gorman told
CNBC
at Davos. "We came back to the number one or two in all of the lead advisory M&A equity capital markets businesses. So this was a terrific year. Technology is one of our best franchises."
For Goldman Sachs conspiracy theorists, a $75-plus billion IPO would also be humbling to the notion that the firm's valuation was too high. Such an IPO would actually prove Goldman to be a canny operator in valuing social media stocks, when others were too demure on Facebook's prospects.
-- Written by Antoine Gara and Shanthi Bharatwaj in New York