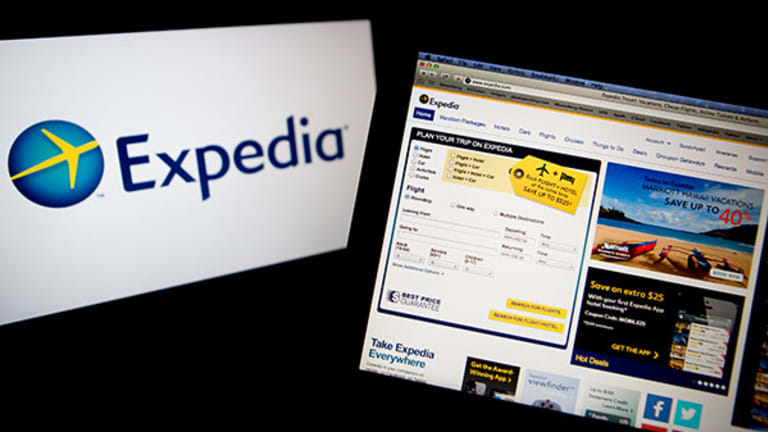 Expedia Sells Off eLong Stake in $671 Million Deal
The Beijing travel booking subsidiary had been a drag on Expedia's profits.
The Beijing travel booking subsidiary had been a drag on Expedia's profits.
NEW YORK (The Deal) -- Expedia (EXPE) - Get Report has taken a pause in its consolidation of the online travel industry by divesting its 62.4% stake in Chinese booking company eLong (LONG) for $671 million.
Expedia announced the sale Friday.
Travel and accommodations companies Ctrip.com International (CTRP) - Get Report, Keystone Lodging, Plateno Group and Luxuriant are the purchasers.
Shares of eLong surged $4.66, or 22.5%, to $25.31 on Friday morning. Ctrip gained $8.11, or 11.3%, to $80.10 per share, while Expedia rose $5.38, or 5%, to $111.27.
Expedia has held the eLong stake since Expedia was part of Barry Diller's IAC/InterActiveCorp (IACI) . Expedia took a stake in eLong in August 2004, and boosted its position to majority ownership in January 2005.
Beijing-based eLong provides bookings for 510,000 properties and also sells airplane and train tickets. While eLong has had success in developing mobile bookings, first-quarter revenues slid to 225 million yuan ($33 million) from 262 million yuan the year before.
The Chinese unit provided a little more than 2% of Expedia's nearly $1.4 billion in first-quarter sales but has become a drag on profitability.
Excluding eLong, Expedia's EBITDA grew 25% in the first quarter. Including eLong, EBITDA declined 5%. The unit had an EBITDA loss of $33 million in the quarter, and Expedia said that it expects the losses to continue or grow.
Expedia recently has been acquiring online travel assets.
The Bellevue, Wash., company announced the $1.6 billion purchase of Orbitz (OWW) in February and the $280 million acquisition of Travelocity.com from Sabre (SABR) - Get Report in January. Last year, the company purchased Australian travel site Wotif.com for A$703 million ($612 million).
Shanghai-based Ctrip and Expedia agreed to provide offerings to each others' customers in certain markets following the sale, which closed on Friday.
Read more from: