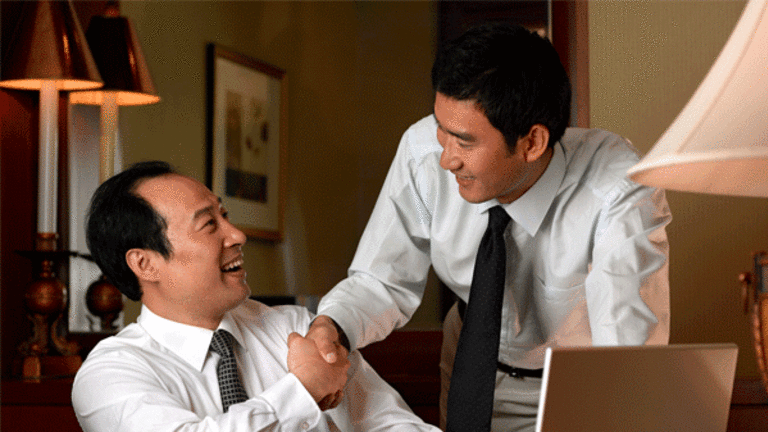 Expect Wave of Smaller Bank M&A Deals to Continue: Jefferies
Most bank merger deals over the next year should range between $100 million and $500 million.
NEW YORK (
) -- The merger deal announced late on Monday between
PacWest Bancorp
(PACW) - Get Report
and
CapitalSource
(CSE)
was particularly sweet for investors, but most deals over the next year and half should be much smaller, according to Frank Cicero, the global head of financial institutions investment banking at Jefferies LLC.
Jefferies served as the lead financial adviser for PacWest, while JPMorgan Chase was the adviser for Capital Source.
Following the announcement of the
$2.3 billion acquisition of CapitalSource by PacWest
, CapitalSource's shares rose 22% to close at $11.97 Tuesday, well above the offered value of $11.64 a share. PacWest's shares rose 7% to close at $34.77.
The combination was a particularly attractive one for CapitalSource, because its main subsidiary had an industrial loan company (ILC) charter. An ILC charter has a disadvantage because banks of this type are not allowed to gather coveted demand deposits (checking accounts) which typically are noninterest bearing.
Shares of both companies continued to rise on Wednesday, with CapitalSource up 1% in afternoon trading to $12.14, and PacWest up 2% to $35.43.
Investors should not expect to see many additional ILC deals similar to the one between PacWest and Capital Source.
"There is no other company I am aware of with CSE's size and stature, a nationwide finance company, while also looking identical to a bank on the ground, but unable to take demand deposits because of the ILC Charter," Cicero says.
When discussing what the PacWest/Capital Source might signal for bank M&A trends, Cicero says "In some ways, this deal was a continuation of a trend we have been seeing for a year and a half or so, but the difference is it is just a bigger deal. We have seen many $100 million to $500 million transactions, where stronger banks have bought competitors, and investor reaction has been good."
"Most of these deals have been at reasonable premiums, that have produced very good pro forma financial results. Looking at the number of years to earn back book value reduction, as well as
internal rate of return, the premiums have been low enough to satisfy investor demands," Cicero says.
He also pointed out that a good number of bank M&A deals have included "sellers that are at a significant scale relative to the buyer, and the corporate governance part of the transaction reflects that."
Indeed, CapitalSource has a larger balance sheet than the acquirer PacWest, and CapitalSource will hold 55% of the combined company.
When asked if investors can expect an increased pace for bank M&A announcements in such a strong market environment, Cicero says "I don't see a dramatic increase. We have had a pretty steady upward trend in activity. We will continue to see activity in the $100 million to $500 million range, with smaller deals that don't get much notice."
"We will see occasional deals of this size, but not a flurry. Maybe one or two over the next 12 months."
Chicago and 'Scarcity Value'
In his firm's periodic roundup of bank merger activity, KBW analyst Frank Barlow on July 16 wrote in note to clients that "June M&A activity was up sharply from prior months, and so far, July activity has been strong as well with 10 deals announced
month-to-date and $1.2B in combined deal value." Those numbers didn't include this week's large deal between PacWest and CapitalSource, but reflected the agreement announced July 15 for
MB Financial
(MBFI) - Get Report
of Chicago to acquire
Taylor Capital Group
(TAYC)
of Rosemont, Ill., in a deal valued at $680 million.
KBW's numbers also included the $380 million deal announced on July 1 for
Prosperity Bancshares
(PB) - Get Report
of Houston to acquire FVNB Corp., which holds
First Victoria National Bank
of Victoria, Texas.
Both acquirers have seen their shares rise since the deals were announced.
The Chicago market is quite competitive for community-based commercial lenders, and
FirstMerit
(FMER)
of Akron, Ohio, has also been very active in the area, with 46 branches picked up through several acquisitions during 2010.
Following the MBFI/Taylor announcement, KBW analyst Christopher McGratty in a note to clients on July 15 wrote "the deal is likely to send ripples through the Chicago market and create increased scarcity value for not only this combined institution, but also for the likes of
FirstMidwest Bancorp
(FMBI) - Get Report
,
PrivateBancorp
(PVTB)
and
Wintrust Financial
(WTFC) - Get Report
."
Those three potential Chicago area takeout targets are relatively larger. FirstMidwest had $8.3 billion in total assets as of June 30, while PrivateBancorp had $13.5 billion in assets and Wintrust had $17.6 billion in total assets.
Considering the size of these institutions, the complexity of potential deals and the reluctance of their executives to sell, investors should not expect the three Chicago banks listed above to be quick sellers. However, both FirstMidwest and Wintrust are on KBW's "potential flippers list," meaning they could potentially switch from being somewhat likely acquirers over the short term, to being sellers over the long term.
MB Financial is also on KBW's potential flippers list.
-- Written by Philip van Doorn in Jupiter, Fla.
>Contact by
.
Philip W. van Doorn is a member of TheStreet's banking and finance team, commenting on industry and regulatory trends. He previously served as the senior analyst for TheStreet.com Ratings, responsible for assigning financial strength ratings to banks and savings and loan institutions. Mr. van Doorn previously served as a loan operations officer at Riverside National Bank in Fort Pierce, Fla., and as a credit analyst at the Federal Home Loan Bank of New York, where he monitored banks in New York, New Jersey and Puerto Rico. Mr. van Doorn has additional experience in the mutual fund and computer software industries. He holds a bachelor of science in business administration from Long Island University.