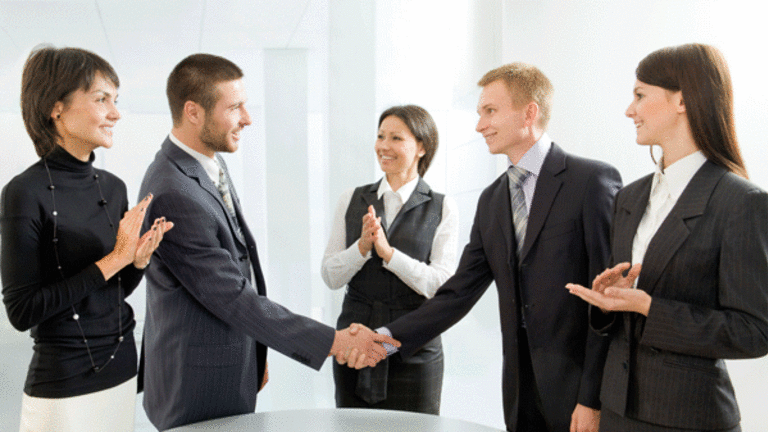 Publish date:
Exelon Shares Gyrate On Fed Merger Threat (Update 1)
The Department of Justice blocked Exelon's $7.9 billion acquisition of Constellation Energy but proposed divestitures for a settlement.
The Department of Justice blocked Exelon's $7.9 billion acquisition of Constellation Energy but proposed divestitures for a settlement.
Updated to reflect CEO comments about settlement starting in 4th paragraph and current share price.
NEW YORK (
) --
Exelon's
(EXC) - Get Report
$7.9 billion bid to buy
Constellation Energy
(CEG)
has been approved by the U.S. Department of Justice... sort of.
Justice lawyers agreed to allow the merger to pass if Exelon can divest three electricity generation plants in Maryland if the merger were to proceed, but filed a suit to block the proposed merger until those requirements are met. At the same time the DoJ also filed a settlement to resolve anti-competitive claims if plant divestitures and a reduction in Exelon's market share in PJM Interconnection, the largest U.S. power market, were completed.
On Wednesday's news of the DoJ suit and settlement, Constellation shares fell over 10% to $35.03 before recovering quickly to gains for the day and above Exelon's offer price, signaling that investors see today's DoJ actions as positive for the merger.
Of the settlement accord announced by the DoJ, Constellation Energy Chief Executive said, "We've made considerable progress toward closing the merger and will continue working to move the process forward as smoothly as possible." Any settlement will need to pass a federal judge. In addition, the company is still awaiting approvals from state and energy regulators.
Without divestitures of the nuclear plants that was part of the April merger, the DoJ believes it "would substantially lessen competition for wholesale electricity, ultimately increasing electricity prices for millions of consumers in the mid-Atlantic region," according to a statement.
According to the DoJ, the merger would create one of the largest electricity companies in the U.S. with assets of $72 billion and annual revenues of $33 billion, while merging two top competitors in the mid-Atlantic.
"Competition in wholesale electricity markets is vital to the economic well-being of consumers and businesses," said Sharis A. Pozen, Acting Assistant Attorney General for the Antitrust Division in a statement. Pozen added, "These divestitures will preserve that critical competition for the benefit of electricity customers throughout the mid-Atlantic."
If the deal were to be completed, it would be Exelon's largest-ever acquisition. The combined company would be the second largest residential electricity and natural gas distribution company in Maryland, Illinois and Pennsylvania with 6.6 million customers. The merger would also create the largest power generator, with more than 34 gigawatts of power generation and 226 terawatt-hours of output, according to
New York Times
reports.
Strategically, the deal would allow Exelon, the largest nuclear plant operator in the U.S., to take on Constellation's nuclear energy distribution capabilities, which include 5 nuclear reactors and its retail power business.
Exelon bought Constellation for $38.59 a share, an 18% premium to the company's 30-day stock price average in April.
The blockage with a request for divestitures by the DoJ follows a December settlement that Exelon and Constellation negotiated with the Maryland Energy Administration that was seen as a significant barrier to the bid. Under the settlement with Maryland, the companies agreed to invest $1 billion into the state of Maryland.
The merger, which both companies expect to be completed in early 2012, is subject to approval from the Maryland Public Service Commission, the Federal Energy Regulatory Commission, the Nuclear Regulatory Commission, the New York State Public Service Commission and the Department of Justice.
The DoJ action follows reports from the
Wall Street Journal
and
Bloomberg
on Tuesday of a potential suit against
Verizon
(VZ) - Get Report
for December spectrum purchases and marketing agreements made with cable companies such as
Comcast
(CMCSA) - Get Report
and
Time Warner Cable
(TWC)
. An August suit that the DoJ filed against
AT&T
(T) - Get Report
in its $39 billion acquisition of
T-Mobile
led to that deal's breakup on Monday.
In 2009, Constellation cancelled a deal to be bought by
Berkshire Hathaway's
(BRK.A) - Get Report
MidAmerican Energy for $4.7 billion, favoring $4.5 billion in nuclear asset divestitures to Électricité de France. A deal to sell Constellation to
NextEra Energy
(NEE) - Get Report
for $14.8 billion in 2005 also fell through.
The merger would be the second biggest energy utilities deal of 2011 after
Duke Energy's
(T) - Get Report
$13.7 billion acquisition of
Progress Energy
(PGN)
in January. In addition to Exelon's tie-up with Constellation, in April
AES
(AES) - Get Report
bought
DPL Energy
(DPL)
for $3.5 billion.
In December, the FERC blocked Duke Energy's proposed merger with Progress Energy citing anticompetitive impacts on some energy markets.
For more on Exelon, see our portfolio of 11 high yield momentum stocks.
-- Written by Antoine Gara in New York