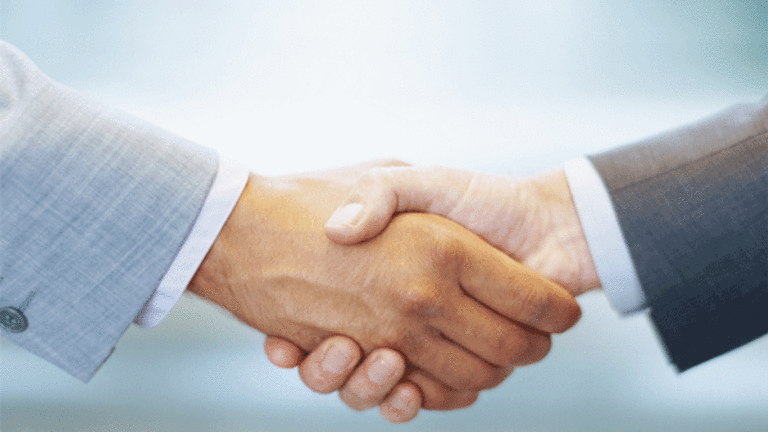 EXCLUSIVE The Deal: J.Crew Fit for Possible 2014 IPO After Sponsor Dividend
A dividend recap may give backers TPG and Leonard Green more exit flexibility.
NEW YORK (The Deal) -- J.Crew Group Inc., the specialty retailer of preppy threads, could go public as early as 2014 if the public markets continue to be receptive, said two sources familiar with the company.
Both sources said that an initial public offering was always going to be the likely exit for the company.
The New York-based apparel chain, whose patrons famously include President Barack Obama's family and is led by legendary merchandiser and chief executive Millard "Mickey" Drexler, declined to comment.
J.Crew has been a portfolio company of TPG Capital and Leonard Green & Partners since it was taken private in a leveraged buyout in early 2011 for $2.86 billion. In 2014, its private equity backers will have held the company going on four years.
And the company this month placed $500 million of PIK toggle notes to pay a dividend to its PE owners.
Dividend recapitalizations are often a harbinger of an IPO, one source said, comparing it to the situation at Burlington Stores Inc. before its October debut.
And, while yet-to-be-public Apparel Holding Corp., to be renamed Vince Holding Corp. after its debut, didn't do a dividend recap, it like J.Crew and Burlington, also needs an IPO to get its leverage down.
Raising debt to pay a dividend to allow private equity backers to recoup some, if not all, of the equity sunk into the buyout, can take about a month. The proceeds from the ensuing IPO can then be used to pay off some of that debt. By recovering some or all of the equity, firms have more flexibility on how they execute their exits.
And if a company is taken public, optically, it is beneficial to the company if proceeds from an IPO go toward reducing debt, rather than into selling shareholders' pockets. Shareholders, by keeping their stakes, are seen as participating with confidence in the company's future performance - something potential investors like to see when weighing whether to buy shares in a newly listed company, a source suggested.
PIK toggle notes tend to be a more expensive form of debt. J.Crew, for example, will have to pay almost $39 million in incremental interest expense to service the $500 million in notes, cutting into free cash flow, said Scott Tuhy, an analyst at Moody's Investors Service Inc. who tracks the retailer.
Because of the higher interest rate, an event that will allow the company to quickly pay off that kind of debt is desirable.
J.Crew's PIK toggle notes have two years of call protection, meaning that the company could be locked into servicing the debt for the two-year period before the retailer is allowed to retire it.
But according to Tuhy, J.Crew can call the debt early under certain circumstances with proceeds from an equity offering at a specified price. So proceeds from an IPO might allow the clothing retailer to quickly pay down those notes.
That may be necessary, because adding $500 million in liabilities increases J.Crew's total debt to nearly $2.07 billion, or about 5.8 times EBITDA. And that's if one goes by the way J.Crew calculates its EBITDA - $355 million for the 12 months ending Aug. 3 - by not subtracting stock compensation expense and sponsor management fees, for example.
Moody's, on the other hand, deducts those items, and, therefore, calculates J. Crew's leverage multiple as somewhat higher.
Tuhy said in an e-mail, "Moody's calculates leverage - after capitalizing J Crew's operating leases as debt at an 8 times multiple - in excess of 6.5 times following the issuance of the PIK toggle notes. This compares to 5.6x (on the same basis) prior to this debt offering."
But if current scenarios are any indication, debt, even large debt, won't keep a private equity-backed retailer from having a successful public offering.
Prior to its IPO, Burlington took on added debt to pay its private equity backer Bain Capital LLC $600 million in dividends.
Also pre-IPO, Burlington's debt to EBITDA multiple was nearly 5.3 times, with $1.7 billion in long-term debt as of Aug. 3, and EBITDA of $323 million for the 12 months ended Feb. 2.
Yet Burlington had a successful debut Oct. 1, pricing its shares at $17 to raise $205 million to help reduce its debt. It saw its stock price spike about 47% on its first day of trading to close at $25.01.
The discount clothing retailer now has an enterprise value of about $3.84 billion, an eye-popping multiple of roughly 11.7 times the $327 million in EBITDA for the fiscal year ended Feb. 2.
Apparel Holding recently set the terms of its IPO on Nov. 12 after confidentially filing in July, with plans to sell 10 million shares priced at between $17 and $19 per share. That would raise $180 million at the midpoint of the price range.
In addition to the IPO, Apparel Holding plans to add another $175 million term loan to pay off debt held by parent company Kellwood Co., owned by private equity firm Sun Capital Partners Inc.
The nearly $360 million in anticipated proceeds from the IPO and debt offering would go toward paying off portions of a Wells Fargo Bank NA facility of short-term borrowings totaling nearly $116 million, a Cerberus Capital Management term loan of nearly $46 million, nearly $144 million in 12.875% notes and about $118 million in Sun Capital term loan agreements.
Apparel Holding's adjusted EBITDA for fiscal 2012, according to a regulatory filing, was nearly $52 million, which means its liabilities were a multiple of nearly 8.2 times trailing EBITDA. Paying off portions of that debt should reduce the total to a more manageable level of nearly 5.4 times trailing EBITDA post IPO.
If a J.Crew IPO were to play out similarly to Burlington's, it would have an enterprise value of about $4.15 billion at 11.7 times EBITDA. Minus debt of nearly $2.1 billion, that would give the retailer a market cap of just over $2 billion.
And were J.Crew to raise proceeds from an offering of about $500 million to pay off the PIK toggle notes, that would leave Leonard Green and TPG with about a $1.55 billion stake.
That stake would constitute an unrealized return of more than 2 times the $725 million in equity the two firms have yet to retrieve after receiving the $500 million dividend.
When Leonard Green and TPG took J.Crew private, they sunk $1.225 billion in equity to finance the 2011 buyout, in addition to $1.573 billion in debt and $307 million from J.Crew's balance sheet.
And J.Crew may be just the company to achieve this kind of multiple in the current market environment. Tuhy said the purveyor of preppy has a strong track record of growth, outperforming most peers in mall-based specialty apparel, growing EBITDA from $288 million in fiscal 2010 to $355 million for the most recent 12-month period, a 23% increase. Back in 2010 and 2011, J.Crew made poor fashion choices, cutting into the company's financial performance, but it has worked through those inventory issues and returned to its historical trend, he said.
While debt has grown nearly 32% due to the dividend financed by the PIK toggle, paying that off with proceeds from an IPO would be a step toward returning J.Crew to an investment grade rating. J.Crew's debt is rated five notches below investment grade at B2, according to Moody's.
Written by Richard Collings