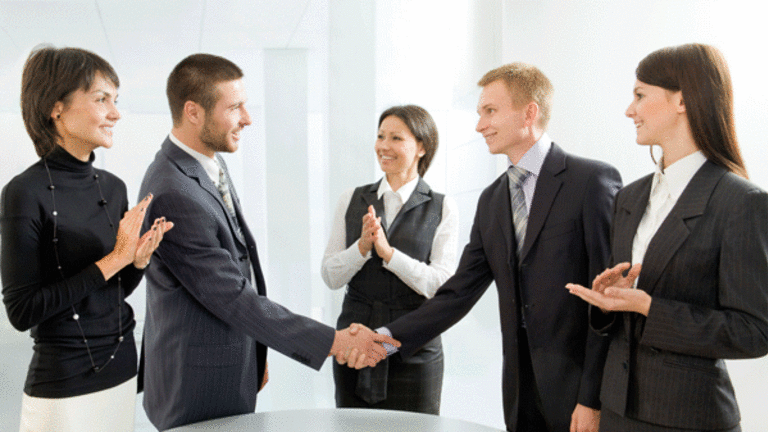 Exclusive: Perry Ellis Holds Talks with Peter J. Solomon and BofA Bankers
As activist investors hover, the retailer reviews its options.
Perry Ellis International Inc. (PERY) - Get Free Report has been interviewing investment banks, including Peter J. Solomon & Co. and Bank of America Merrill Lynch (BAC) - Get Free Report , to advise the retailer on its next moves, said sources familiar with the situation.
The interview process began a few months ago, a source said, with the initial idea of an investment bank providing strategic advice to the apparel retail group, which is based in Doral, Fla.
Another source had previously told The Deal that Perry Ellis was prepping itself for a sale, primarily by licensing out its brand names to help clean up its balance sheet.
But the focus of hiring an investment bank switched from a sale to advising Perry Ellis on how to handle activist investors Legion Partners Asset Management LLC, which teamed up with its backer, public pension fund California State Teachers' Retirement System, or CalSTRS, to take a 6% stake in the company in mid-July.
In the meantime, likely buyers for Miami-based Perry Ellis include Sequential Brands Group Inc. (SQBG) - Get Free Report , Leonard Green & Partners LP-backed Authentic Brands Group LLC and Iconix Brand Group Inc. (ICON) - Get Free Report , sources have said.
An industry source said that a potential buyer had even floated an offering price north of $30 per share.
Perry Ellis on Thursday closed at $22.95 per share, giving it a market capitalization of about $340 million. Its 60-day-moving average was $23.03 per share.
But another source said that while there would be interested buyers who could justify the $30 per share price by converting the portfolio of Perry Ellis' brands into pure licenses, the Feldenkreis family will not easily cave to pressure from the activists.
George Feldenkreis, who is chairman and CEO and his son Oscar, who serves as vice chairman, president and COO have about a 20% stake in the company when stock options are included.
Since they revealed their stake in a July 17, 13D filing with the Securities and Exchange Commission, the activists have been quiet, but that might not last for long.
With an annual meeting expected in June, the window for nominating directors opens in early March. It stays open for only about a month — a relatively short period for the nominating process.
Perry Ellis has significant roadblocks to investors who want to back director nominees. It has a staggered board; a special meeting requires a 50% vote of shareholders, considered a high threshold to meet; and the company doesn't allow consent solicitations to change the board composition.
But this year, fully three out of the company's seven directors are up for election, giving an activist an unusual opportunity to have more clout on the board.
With all that going for and against a public campaign like the one Legion and CalSTRS has started, the investors can't wait long before taking their plea to institutional investors by making their plans for the company more public.
Expect the investor's roadmap to mostly be about a sale of the company, industry observers have told The Deal in the past.
The company has cash and cash equivalents of nearly $50 million and debt of $150 million, according to regulatory filings, giving it an enterprise value of $440 million. While the retail apparel group had negative Ebitda for the fiscal year ended Feb. 1 of about $6 million, it is projected to generate positive Ebitda for its current fiscal year ending on Jan. 31 of nearly $50 million. Enterprise value would be just under 9 times that estimated forward Ebitda.
Sequential Brands, Authentic Brands and Iconix Brand did not respond to requests for comment. Bank of America Merrill Lynch and Peter J. Solomon declined to comment, while Perry Ellis did not provide a comment.
— Paula Schaap contributed to this report.