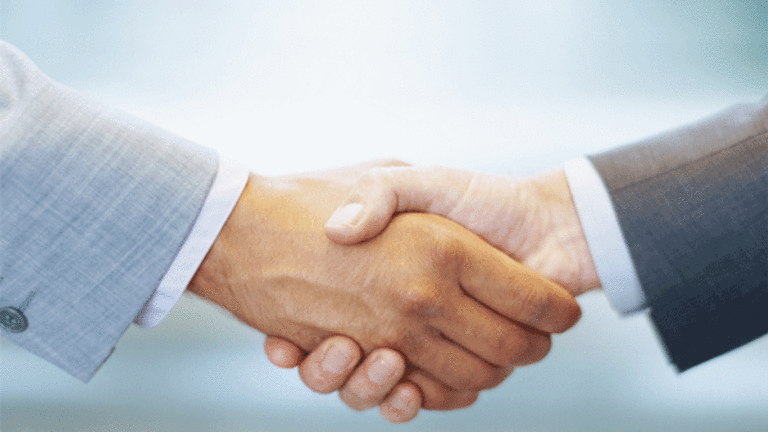 Exclusive: Natural Gas Pipeline Co. of America Interviews Advisers Ahead of Sale
Gas transporter owned by Kinder Morgan and Myria Acquisition could fetch as much as $3.6 billion.
The owners of the Natural Gas Pipeline Co. of America, a major interstate gas transporter, are interviewing financial advisers for a sale and will mandate a firm this week, said a source familiar with the matter. The process is expected to kick off by the end of November, the source added.
Credit Suisse Group, Citigroup Inc. and Barclays plc are among the investment banks seen vying for the sellside mandate, the source said.
"Gas pipelines are highly desirable so this asset should fetch a good valuation," said an industry banker. "Now is a good time to sell."
NGPL was sold in 2007 in a deal valued at $6.6 billion at an 11.6 times Ebitda multiple. Then, in February 2008, Kinder Morgan Inc. (KMI) - Get Kinder Morgan Inc (KMI) Report sold an 80% stake in NGPL to Myria Acquisition for $5.9 billion.
An industry source familiar with the asset said it likely will fetch around 12 times its Ebitda of $300 million, or around $3.6 billion — not as much as the last big comparable deal in the space, Global Infrastructure Partners' sale of half of Ruby Pipeline Holding Co. LLC to Canada's Veresen Inc. for $1.4 billion, or around 15 times Ebitda.
The source said the pipeline has had its challenges since 80% of it was sold, as shippers called for a rate hearing and Ebitda fell 20% to 25% after that. The asset has other issues, the source said, including a lot of competing pipeline projects.
Part of the Rockies Express Pipeline is going to be reversed to send natural gas from the Utica and Marcellus Shales to where it's needed in the Midwest (versus its original direction from the Rockies to the Northeast), which will create some competition, the source said. "It [NGPL] has a lot of debt on it, too," the industry source said.
Probable bidders include those who can operate a long-haul pipeline, the source said, including Enbridge Inc. (ENB) - Get Enbridge Inc. Report , Williams Cos. (WMB) - Get Williams Companies, Inc. Report , Spectra Energy Corp. (SE) - Get Sea Ltd. (Singapore) Sponsored ADR Class A Report and Kelso & Co.-backed Tallgrass Development. TransCanada Corp. (TRP) - Get TC Energy Corporation Report and one of the two Energy Transfer partnerships — Energy Transfer Partners LP (ETP) or Energy Transfer Equity LP (ETE) — have the size to do the deal, though there could be antitrust issues.
An industry source said additional logical buyers include, Berkshire Hathaway Energy Co., NiSource Inc. (NI) - Get NiSource Inc (NI) Report , Dominion Resources Inc. (D) - Get Dominion Energy Inc Report , and CenterPoint Energy Inc. (CNP) - Get CenterPoint Energy, Inc. (CNP) Stock Price, News, Buy or Sell Rating Report , as they all have a presence in the pipeline space.
NGPL is 80%-owned by Myria Acquisition and 20%-owned by Kinder Morgan. Myria Acquisition LLC is a consortium of investors that includes Brookfield Infrastructure Partners (BIP) - Get Brookfield Infrastructure Partners L.P. Report , SteelRiver Infrastructure Fund North America, a Canadian pension fund and a Netherlands pension fund.
The companies either declined to comment or did not return calls.
Moody's Investors Service Inc. raised red flags about NGPL earlier this year, saying that it needed to recapitalize its nearly $3 billion debt load or it could be facing default.
The ratings agency also warned of a potential covenant violation or missed payment on its first-lien debt because of declining Ebitda.
NGPL has a $700 million first-lien term loan and a $75 million revolver. The first-lien debt comes due on Sept. 15, 2017, and is priced at Libor plus 550 basis points, with a 1.25% floor on Libor. Credit Suisse is the administrative agent on the first-lien debt. The company owes $700 million on the term loan, but has nothing outstanding on the revolver, according to data provided by Bloomberg.
In a May 12 report, Moody's said the company had $81 million in cash on hand.
In a Jan. 10 report, Moody's said that NGPL's owners had capitalized the company at a "bare minimum." The report went on to say that "having two owners has slowed decision-making, which could become more challenging as the company undergoes financial distress."
In addition to its first-lien debt, NGPL also has a $550 million secured 9.625% bond which matures on June 1, 2019; a $1.25 billion secured 7.119% secured bond coming due on Dec. 15, 2017; and a $500 million secured 7.768% bond maturing on Dec. 15, 2037, according to Bloomberg.
Moody's said in May that the company was facing tightening financial covenants.
The pipeline was developed in the 1930s. It traverses the Midwest in a wishbone-shaped system extending from Texas and the Gulf Coast to Chicago, which is the company's principal market. The system is a major natural gas highway.
The pipeline was built to serve Chicago and other Midwestern cities, but the proximity of the Marcellus and the Utica shales is creating a big gas boom in those areas.
NGPL owns more than 9,200 miles of gas transmission pipelines supplying approximately 61% of all gas delivered into the Chicago and northern Indiana markets. The company is also one of the largest gas storage service providers in the U.S., with 13 storage facilities. n
— Jamie Mason contributed to this report.