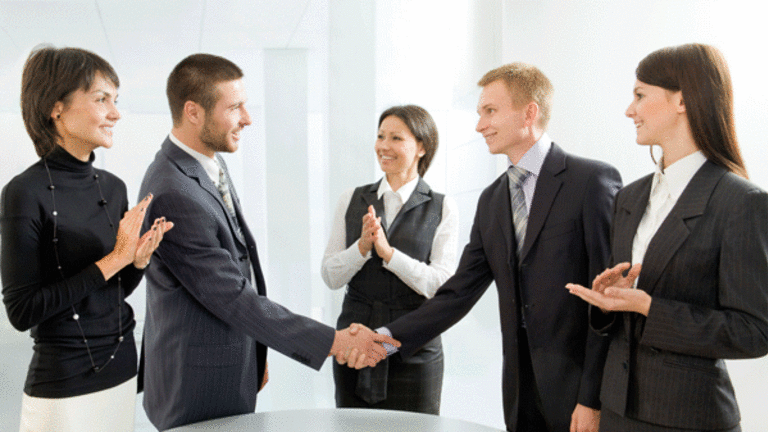 EXCLUSIVE: Bonobos Headed For IPO Next Year
E-commerce company Bonobos could be headed towards an IPO next year, according to several sources.
NEW YORK (TheStreet) Bonobos is about to go where, seemingly, no other New York City-based e-commerce startup can boldly go -- public markets.
All it took was the investment capital, and the prime retail real estate footprint, of one large strategic brick-and-mortar player.
Several sources confirm management of the mens clothing online retailer has indicated the company is now profitable and could be looking at an initial public offering as early as 2014.
One source familiar with Bonobos plans suggested next year it could push its revenue into the $80 million to $100 million range, depending on projections coming out of the 2013 holiday season. At comparative multiples for other IPOs in the space Bonobos could be worth $1 billion when it goes public.
Though a company spokeswoman declined to discuss revenue figures, she said, in an e-mail, that the company was considering an IPO, but more likely not until 2015.
To date, the company has raised more than $70 million from boldface VC names like Accel Partners and Felicis Ventures$30 million of that coming in a fundraising round earlier this year. But, beginning in 2012, when Bonobos took on Nordstrom (JWN) - Get Nordstrom, Inc. Report as a financing partner, is when the company's small yet powerful physical retail presence began to develop.
At the time the Nordstroms partnership was announced, only about 20 of the retailers locations carried the Bonobos line. That has since grown to about 80 of the retailers 117 full-line locations, according to a Nordstrom spokesman.
A trip to Bonobos isn't exactly the run-of-the-mill shopping experience: guideshops, where a personal ninja (the company's moniker for its style consultants) will guide you sans sword through an array of choices, a dressing room and an electronic checkout. Along with the Nordstrom locations, the company operates standalone stores, making the most of limited square footage by using its Flatiron headquarters as a duplicate location with fitting rooms.
But Bonobos retail strategy is as simple as it is bizarre: Sure, you can come to our stores, but don't even think of leaving with a stitch of clothing.
Customers usually scheduled with an appointment, but some can slip in quickly unannounced at downtimes can try on anything they want, in any size, and they'll be electronically entered into Bonobos shipping system. By the time customers arrive home they're greeted by an e-mail with a reminder of when the shipment should arrive it typically takes a couple of days.
And, said one source, it is the appointment factor that helps drive up sales for Bonobos: convince a man to show up at a prescribed time and actually try on khakis, chances are hell elect to make the buy.
For e-commerce companies, as well as New York's nascent tech scene, it is very welcome news, and comes after a spate of difficulties in that industry and for investors here. At first, it seemed like 2013 would be a banner year for New York tech companies.
F--k yeah! exclaimed David Karp on his Tumblr blog the day the startup was sold to Yahoo! (YHOO) in a $1.1 billion deal. Karp should have been happy¬the company that raised $125 million went on to stack up only an unimpressive $13 million in revenue in 2012. Sources suggested the only other option at that point was for Tumblr to raise a down round a proverbial scarlet letter on the startup scene.
Another New York startup, Tremor Video (TRMR) , went public in June beneath the low end of its range at $10 a share, had an awful quarterly report this month and told investors it wouldn't be profitable until next year. The stock now trades at less than half the float price. Only New York startup Shutterstock can truly claim victory in the public markets: the online stock art shop has seen its shares more than double in about a years time.
E-commerce and flash sales sites based in New York have also had trouble so far this year.
Gilt Groupe struggled as one of New Yorks would-be IPO darlings, shuttering some lines of business. A source said Gilt Groupe currently would have difficulty establishing the momentum for a public offering but that the company can still reverse its fortunes.
E-commerce startup Fab has been anything but as it attempts a tricky transition from flash sales to traditional e-commerce. The company has suffered from a combination of layoffs and key staff departures, most recently highlighted by exits of its COO and a co-founder.
And social media app provider Foursquare Labs has struggled to retain key top staffers, including its head of product, who left, according to an AllThingsD report, just as the company is preparing a significant product rollout. Earlier this year, the company raised a debt round from private equity firm Silver Lake.
Of course, not every e-commerce stumble can be traced back to area codes 212, 646 or 917. LivingSocial's public disintegration has been chronicled quarterly in Amazon's (AMZN) - Get Amazon.com, Inc. Report regulatory filings; Groupon (GRPN) - Get Groupon, Inc. Report has become the exit that got away for its Silicon Valley backers after ex-CEO Andrew Mason famously spurned Google (GOOG) - Get Alphabet Inc. Class C Report; and ShoeDazzle.com, the subscription shoe retailer affiliated with reality star Kim Kardashian, was about as successful and long-lived as either of her first two marriages.
Founded in 2007, Bonobos has an opportunity to debut onto public markets at a time when e-commerce in New York badly needs a win. The company's profitability and business model should give it more appeal than those that went public while they were still losing money, one source said.
Bonobos evolved from being a retailer of mens' pants to a broader line, to its latest act: Tuesday the company announced that women's wear affiliate Ayr.com, will just like Bonobos origins launch by only selling pants. For investors in New York, questions remain as to how flash sale sites and those that target a wider demographic will succeed, with public markets spurning many e-commerce companies and strategics like Amazon.com and eBay backing away from M&A in the sector. For some, however, it seems there wasn't always that much of a question.
New York is typically viewed as the dumb money in venture investing, cackled one West Coast VC, observing ballooning valuations and capital structures here.
--Written by Jon Marino in New York