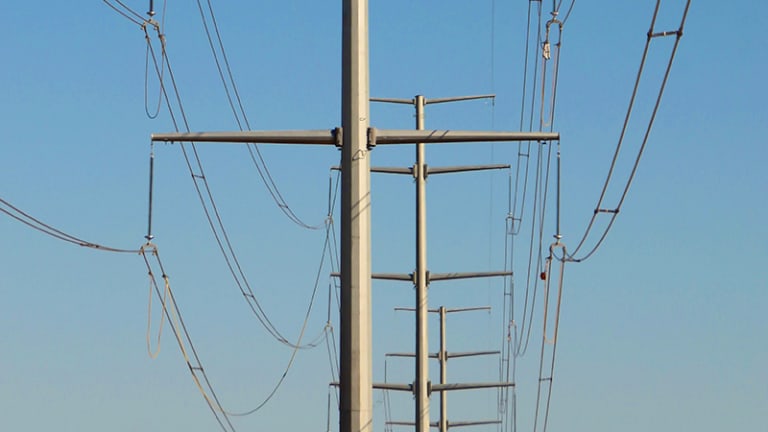 Exclusive: American Electric Power Taps Goldman for Plant Sale of Up to $3.6B
The 7,923 megawatt merchant generation business could fetch between $2.8 billion and $3.6 billion.
NEW YORK (The Deal) -- American Electric Power Co. (AEP) - Get Report , the Columbus, Ohio-based electric utility with a $29 billion market capitalization, has retained Goldman, Sachs & Co. to explore options for its 7,923 megawatt merchant generation business, according to three sources familiar with the matter.
When reached on Tuesday, an AEP spokeswoman confirmed that Goldman had been retained. She said that no time frame has been set and the company has yet to determine whether a sale will occur. Calls to Goldman were not returned.
The power plant portfolio likely will fetch $350 to $450 per kilowatt hour, which could result in a sale price ranging from approximately $2.8 billion to $3.6 billion, according to three industry sources.
The portfolio is situated in the PJM, or Pennsylvania, New Jersey, Maryland Power Pool and AEP fully owns and operates 69% of the fleet. It has three coal facilities, consisting of Gavin (2,665), Cardinal 1 (595 MW), and Conesville 5, 6 (810 MW), and two gas plants, including Waterford (840 MW) and Darby (507 MW). AEP also operates 4% of Conesville 4, a 339 MW coal plant; it has a 12% non-operating interest in Zimmer and Stuart, two coal-fired facilities with 330 MW and 603 MW of capacity, respectively; and it has a 15% stake in Lawrenceburg, a 1,186 MW gas facility.
The merchant business does not fit with the company's profile, as AEP is a regulated utility at its core, said one of the industry sources. It has a $12 billion capital expenditure program for 2015 to 2017, with 96% of its capital allocated to its regulated businesses: $2.7 billion for regulated generation, $3.6 billion for regulated distribution, and $4.8 billion for regulated transmission.
"The company has a much cleaner story with the merchant business gone," said an industry source.
AEP is among a number of electric utilities trying to reduce their exposure to the competitive power markets through merchant power plant divestitures.
Regulated power plants are owned by regulated utilities with rates negotiated between the utility and state utility commission and set at levels to fund plant maintenance and operating costs and provide a return.
Merchant power plants, on the other hand, are unregulated and sell power into the competitive market, and a return is not guaranteed.
A sale or spin of this business makes sense now as PJM has made a filing with the Federal Energy Regulatory Commission to propose some rule changes. If FERC approves the changes, it could have significant ramifications for the May 2015 capacity auction, which could, in turn, improve the pricing of AEP's assets.
"Everyone in the industry expected AEP to sell or spin the merchant business because of the volatility associated with it so this is not a surprise," said a second industry source, noting that a couple of its peers recently completed similar deals.
For example, in June PPL Corp. (PPL) - Get Report and Riverstone Holdings LLC announced an agreement to combine their unregulated power generation businesses into a new, standalone, publicly traded company called Talen Energy Corp.
Duke Energy Corp. (DUK) - Get Report , the Charlotte, N.C.-based electric utility, opted for an outright sale, announcing on Aug. 22, that it had sold its Midwest power generation assets to Dynegy Inc.DYN, the Houston-based independent power producer, in a transaction valued at $2.8 billion. Duke Energy had announced back in Feb. 17 last year that it had retained Morgan Stanley and Citigroup Inc. to shop the assets.
However, a third industry source said it is far from clear whether a transaction will ultimately occur as pricing could be an issue. AES Corp. (AES) - Get Report , based in Arlington, Va., tried to exit its merchant business, but then announced on July 14 that it was pulling the sale of Dayton, Ohio-based subsidiary DPL Inc.'s generation and retail businesses. That business had been expected to garner $1.5 billion to $2 billion in a sale AEP is one of the largest electric utilities in the U.S., serving more than five million customers in 11 states. It has nearly 38,000 MW of generating capacity and 40,000 miles of electric transmission.
Read more from
: