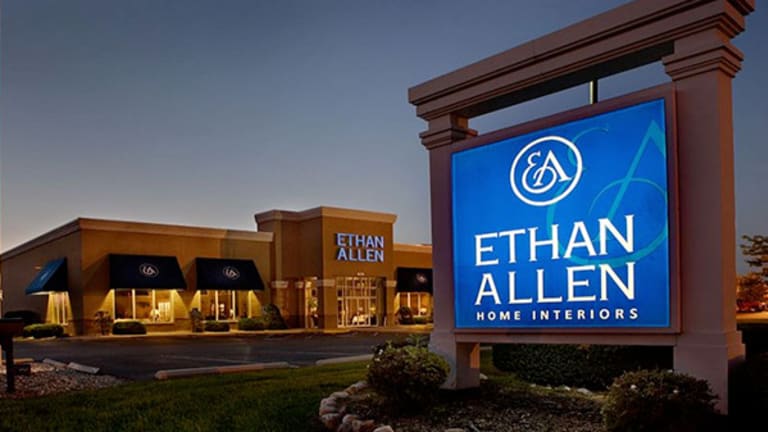 Activist Puts Ethan Allen at $41/Share, Urges Sale or Spinoff
Activist Tom Sandell nominated six dissident directors after suggesting the interior design and furniture company should consider a sale or real estate spinoff.
NEW YORK (The Deal) -- Activist investor Sandell Asset Management Corp. on Tuesday launched a change-of-control proxy contest at Ethan Allen Interiors (ETH) - Get Ethan Allen Interiors Inc. Report after suggesting the interior design and furniture company should be worth $41 a share, either through a sale or real estate spinoff.
However, even if all the dissidents are elected, a company bylaw governing director elections -- known as a "dead hand" bylaw -- could complicate the activist's efforts to sell the business.
On Tuesday, the fund's manager, Tom Sandell, nominated six dissident directors for Ethan Allen's eight-member board. His candidates were introduced less than two weeks before a Sept. 25 Ethan Allen deadline to nominate dissident directors for the company's Nov. 24 annual meeting.
Sandell, who launched his activist campaign in August and owns a 5.5% stake in the company, reiterated that he would like Ethan Allen to retain a financial adviser to help it "extract value from retail and industrial real estate assets." He also said it should review "credible acquisition proposals, should any be received."
In previous comments, Sandell has argued that the company could monetize its real estate through a "series of sale leaseback" transactions or the creation of a publicly traded real estate investment trust. He also said there would be a "line out the door" of private equity firms interested in buying the company if it were to put itself up for sale.
Now that he has launched a proxy contest, however, there may also be a need to overcome company bylaws through pushing through a change at the top if Sandell's slate gets on the board.
A person familiar with the situation noted that its bylaws, which date from 1993, include a provision that allows a sale of the company to go forward with the approval of "continuing directors." Those who fit that criteria include Ethan Allen CEO Farooq Kathwari, as well as two current directors, Clinton Clark and Kristin Gamble. (Those who fall into this category could include others appointed by the same continuing directors.)
As a result, a board composed almost entirely of Sandell nominees could not approve a sale or real estate spinoff if the continuing directors are opposed to it, he added.
However, the person familiar with the situation added that the bylaws don't prevent any new directors from deciding it was time to replace Kathwari from his position as CEO or, in other ways, executing their duties as directors.
Sandell has not said his campaign is predicated Kathwari's removal as CEO. Nevertheless, the activist fund has called Kathwari, 71, an "imperial CEO" that has no known plans for succession. People familiar with the situation note that Sandell wouldn't be opposed to Kathwari remaining on the board as long as he no longer keeps the dual role of chairman and CEO.
In addition, the Sandell nominees have private equity, real estate and human resources experience and backgrounds suggesting they would move quickly to implement the activist fund's objectives. For example, Alex Wolf, a former managing director in the private equity group at Cerberus Capital Management, appears to be included partly because he would help review any potential acquisition offers by buyout shops.
Though a recent analysis by The Deal indicates that Ethan Allen's enterprise value is 9.6 times adjusted Ebitda -- usually considered too rich for private equity tastes in retail -- once the real estate is monetized, that multiple comes in at 6.4 times, which is much more to a financial sponsors' liking. 
In addition, Annelise Osborne, a vice president in the commercial real estate finance group at Moody's Investors Service Inc. and Edward Glickman, who was president and COO of a REIT between 2004 and 2012, are included in Sandell's director slate and both bring experience that could help with any real estate monetization efforts. According to the most recent Ethan Allen annual report, its property and equipment were valued at nearly $280 million.
Kathy Herbert, who was executive vice president of human resources at Albertsons between 2001 and 2006, is likely included as part of Sandell's nominees because she would help work on a succession plan to replace top Ethan Allen management.
Sandell, however, would need to convince long-term institutional investors, including major holders BlackRock (BLK) - Get BlackRock, Inc. Report and Vanguard Group, to accept his financial thesis about the company and back his campaign.
Ethan Allen overall has a strong governance score of two out of 10, with 10 being the worst score, according to an ISS QuickScore report obtained by The Deal. Nevertheless, there are a number of significant red flags Sandell could point to as part of an effort to convince institutional investors to back a potential proxy fight campaign.
For example, ISS points out that 43% of the non-executive directors on the board have lengthy tenures. Clark, 71, for example, was first elected as a director of the company in 1989 while Gamble, 68, came on board in 1992.
An Ethan Allen spokeswoman declined to comment except to note in a statement that the company has received the notice to nominate directors and is reviewing it. "The company will provide further comment in due course," she added.
Ethan Allen stock closed Tuesday at $30.74, down 1% and close to its 52-week high of $30.67, giving the Danbury, Conn.-based company about a $874 million market cap.
Read more from: