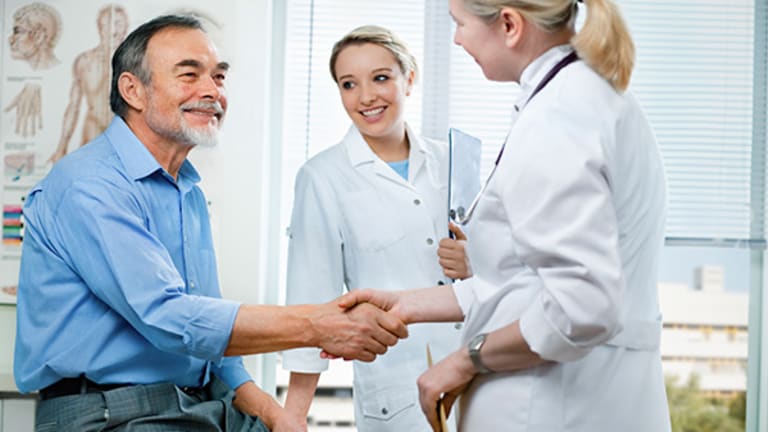 Envision, AmSurg Unite to Create Health Care Giant
The merger, which will create a physician services behemoth with an enterprise value of approximately $15 billion, comes less than a year after AmSurg abandoned buying TeamHealth for $7.8 billion.
In the latest of health care megadeals, Envision Healthcare Holdings (EVHC) and AmSurg (AMSG) have agreed to join forces, creating a physician services behemoth with an enterprise value of approximately $15 billion. 
The widely anticipated deal is structured as an all-stock transaction at a fixed-exchange ratio of 0.334 Amsurg shares per Envision share.
Shareholders of Envision and Amsurg will own approximately 53% and 47%, respectively, of the combined company, according to an announcement released after the close of regular trading Wednesday. Based upon the $15 billion enterprise value, that implies that Amsurg will receive approximately $7 billion. 
The transaction has been unanimously approved by the boards of both companies and is anticipated to close by year's end, subject to the approval of regulators and the shareholders of each company. 
The combined company will be named Envision Healthcare Corp., co-headquartered in Nashville, Tenn., and Greenwood Village, Colo. It will encompass a wide array of outsourced physician services in the emergency, hospitalist, anesthesia, radiology and children's services areas. The combined company is expected to trade on the New York Stock Exchange under the symbol EVHC. 
Wednesday's deal comes after AmSurg in November withdrew its proposal to acquire TeamHealth Holdings Inc. (TMH) after boosting the cash component of its $7.8 billion offer. AmSurg at the time claimed that the target's board of directors failed to engage in discussions regarding a potential transaction.
TheStreet's sister publication, The Deal, reported in March that Envision likely had its sights set on a transformative deal in the year ahead amid its purchase of Emergency Physicians Medical Group for at least $120 million.
The newly created entity will have a pro forma market capitalization of approximately $10 billion based on the closing stock prices of each company on June 14. The two healthcare providers generated combined revenue of more than $8.5 billion and adjusted Ebitda of more than $1.1 billion over the 12-month period ended March 31. 
The transaction is expected to result in $100 million of synergies, which are anticipated to be fully realized within three years of completion of the deal. The combination is expected to be earnings-accretive, while resulting in a net debt-to-adjusted Ebitda ratio of 4.2 times post-transaction. 
William A. Sanger, the current CEO, president and chairman of Envision, will assume the position of executive chairman of the new company. AmSurg CEO and president, Christopher A. Holden, will maintain his existing roles at the combined company, as will AmSurg CFO Claire Gulmi. 
The newly formed board will include 14 directors, with seven from each company's current board, including both Sanger and Holden. 
Rick Landgarten and Jed Brody of Barclays Capital, as well as Evercore Partners' Matthew McAskin, provided financial advice to Envision on the transaction. 
Debevoise & Plimpton served as legal counsel to Envision, which received in-house counsel from general counsel Craig Wilson. The Debevoise team included Paul Bird, Kevin Rinker, Peter A. Furci, Jonathan F. Lewis, Peter J. Loughran and Jeffrey E. Ross.
David Blais and Barry Blake of Guggenheim Securities as well as JPMorgan Securities' Matt Mainelli, Tom Monaghan and Lauren Camp provided financial advice to AmSurg on the transaction. 
A Bass, Berry & Sims team that included J. James Jenkins Jr., Frank Pellegrino, Brad Hart, Danielle Sloane, Nesrin Tift, Lara Flatau, George Masterson, John Seehorn, Bryan Metcalf, Curtis Fisher, Shelley Thomas and Lucas Smith provided counsel to Amsurg. 
-David Marcus contributed to this report