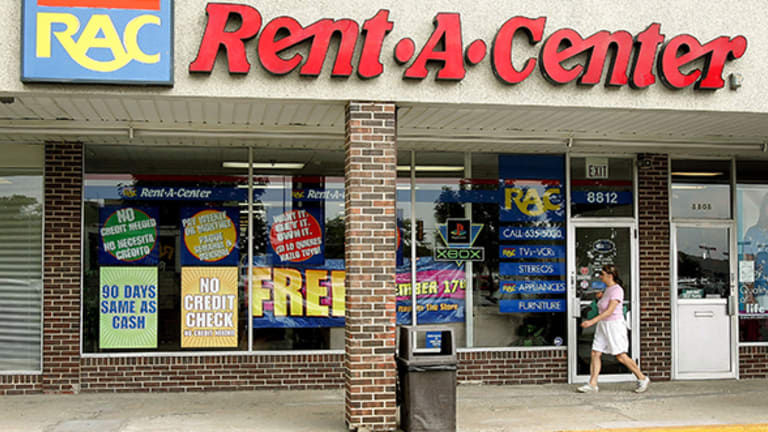 Engaged's Welling Escalates Rent-A-Center Campaign, Urges Sale
The activist investor
Rent-A-Center's (RCII) shares were rising midday Tuesday after activist investor Engaged Capital LLC's Glenn Welling escalated his campaign at the furniture and electronics rent-to-own company with a letter suggesting that the "most logical" outcome from a strategic review process is a sale of the enterprise.
The letter, addressed to the company's board, also said that Welling was prepared to nominate a slate of dissident director candidates if the company didn't act "objectively and expediently" for all shareholders.
And a director-election proxy contest is a serious possibility - Engaged Capital has launched 21 campaigns at 17 companies since 2013, including ten director-election proxy fights, according to FactSet. If Welling decides to seek to nominate director candidates to help drive a sale of the business look for a board battle to take place at the company's June 8 annual meeting. If he does so, Rent-A-Center doesn't have much time to consider its options-the deadline for shareholders to nominate director candidates for the meeting is in March.
The letter clarifies Welling's goals at Rent-A-Center and comes a little over two weeks after Engaged Capital launched its public campaign  with a securities filing on Jan. 30 reporting a 12.9% stake and suggesting that the company could consider variety of options, including "a sale" of itself "in whole or in parts." In that filing, Engaged Capital said it has been talking with Rent-A-Center's management team and board and about a variety of options for the company, such as restructuring its capital allocation, strategy and board.
Rent-A-Center has similar financial characteristics to two other Engaged Capital targets, Boulder Brands, and Outerwall, both of which were sold after pressure from Welling. Boulder Brands was sold to Pinnacle Foods (PF) in 2015 and Outerwall was acquired by Apollo Global Management in 2016.
And Rent-A-Center could be particularly vulnerable for a sale after a management shake-up following a share price drop of roughly 75% in the last two years. Following some missteps and earnings estimates misses, Rent-A-Center's CEO, Robert Davis, resigned and was replaced last month on an interim basis with the company's founder, Mark Speese.
There is only one other publicly-traded furniture and electronics rent-to-own company-Aaron's (AAN) . In 2014, it was the target of a hostile bid, proxy contest and activist attack, which it withstood. Privately-owned Vintage Capital Management, a majority owner of smaller rent-to-own competitor Buddy's Home Furnishings, had hoped to combine Aaron's with Buddy's. However, Aaron's acquired Progressive Finance Holdings, a virtual rent-to-own business, in 2014 in a move that mostly blocked Vintage's efforts.
It's possible that Vintage Capital, spurned by Aaron's in 2014, could be interested in acquiring Rent-A-Center.