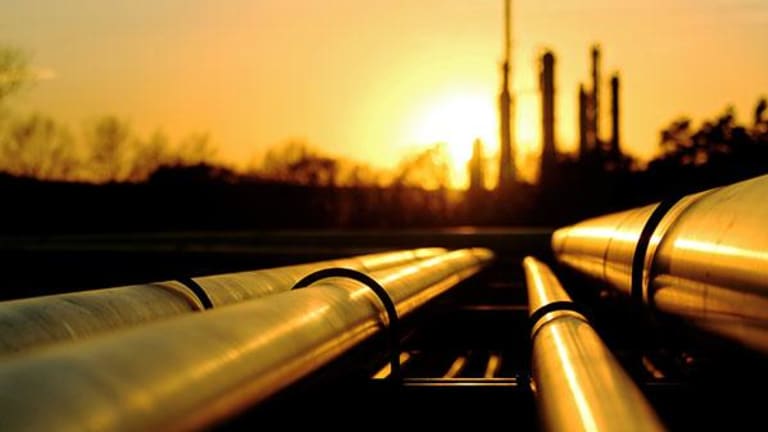 Energy M&A Weekly: More Midstream IPOs Expected in 2017
Following initial public offering filings from BP and Oasis, The Deal has learned of at least two more planned debuts this year. Meanwhile, a number of midstream and upstream transactions took place over the past week.
This week's energy themes: activism and midstream IPOs, and in some cases, the two weren't mutually exclusive. 
The folks over at D.E. Shaw & Co. LP have called for Pittsburgh-based EQT Corp. (EQT) - Get EQT Corporation Report to spin off its midstream oil and natural gas business immediately after consummating its $6.7 billion acquisition of neighbor Rice Energy Inc. (RICE) even though the move would likely result in a tax drag, which the investor estimates to be around $1 per share.
We wouldn't go so far as to call D.E. Shaw an activist—though the quantitative investment fund did just hire Quentin Koffey from well-known activist firm Elliott Management Corp.—but the investor's suggestions, if taken into serious consideration by EQT, may very well appease Barry Rosenstein of Jana Partners LLC, an insurgent who has vehemently argued against EQT's acquisition of Rice and demanded that the company instead separate its upstream and midstream businesses today in a tax-free spinoff.  
Birmingham, Ala.-based Energen Corp. (EGN) also is facing its own ornery activist, Keith Meister of Corvex Management LP, who is seeking to call a special meeting of shareholders with the hopes of expanding the Permian Basin-focused oil and gas producer's board from nine directors to 15 and filling the newly created vacancies with its own dissidents.
Meister seems to really want Energen to sell itself, claiming in a Thursday letter to the company's board that it will aggressively pursue its right to call the meeting after Energen filed a civil suit in Alabama circuit court earlier this week to determine if the firm could do so for the purpose of expanding its board.
Frankly, we're not totally convinced there's anybody willing to buy Energen at the moment. Remember the company tapped JPMorgan Securities LLC and Tudor, Pickering, Holt & Co. earlier this year for a review. Whether that review legitimately considered a sale or was more of a defensive measure with Corvex already at the gate seems to be up for debate at the moment.
Regardless, M&A is an argument for another day. Right now, we're keeping our ears open for word on Case No. CV201700335 out of Jefferson County, Alabama. 
Meanwhile, as upstream companies battled with activists, midstream companies were filing initial public offering paperwork at a rapid pace. Leading the pack was BP plc's (BP) - Get BP p.l.c. Report U.S. midstream unit BP Pipelines (North America) Inc., which will offer some of its assets up for public investment through a newly formed master limited partnership, BP Midstream Partners LP. The MLP expects to list on the New York Stock Exchange under the ticker symbol BPMP.
Following on BP's heels were Oasis Midstream Partners LP and Howard Midstream Partners LP. Oasis updated its S-1, initially filed in May, to report it now expects to raise $181 million in the offering. Notably, The Deal reported in September 2016 that upstream oil and gas company Oasis Petroleum Inc. (OAS) - Get Oasis Petroleum Inc. Report was likely to sell or spinoff its midstream unit in 2017.  
And Howard Midstream, initially backed by EnLink Midstream Partners LP (ENLK) and Quanta Services Inc. and now controlled by a unit of Alberta Investment Management Corp. and Cayman Islands investment firm Alinda Capital Partners Ltd., provided a $200 million placeholder in its filing. 
There also are rumblings coming from industry sources that two more midstream companies are readying IPO paperwork, which could be revealed this year. 
Those are EnCap Flatrock Midstream LP-backed Lucid Energy Group LLC and Medallion Gathering & Processing LLC, which is backed by Laredo Petroleum Inc. (LPI) - Get Laredo Petroleum Inc. Report and the Energy & Minerals Group. 
EnCap Flatrock, a San Antonio private equity firm that is a joint venture between EnCap Investments LP and Flatrock Energy Advisors LLC, first invested $75 million in Lucid Energy, which operates gathering and processing assets in the Midland Basin serving more than 30 customers across nine counties in West Texas, in February 2012.
Combined with Lucid Energy Group II LLC, which EnCap invested $350 million in back in February 2016, EnCap claims the two companies are the largest privately held natural gas processor working in the Permian Basin with 660 million cubic feet of natural gas processing capacity and 3,300 miles of pipeline in operation.
Medallion, meanwhile, operates various oil and natural gas pipelines in both the Delaware and Midland subformations of the Permian Basin in West Texas and New Mexico.
Laredo, which holds a 49% stake in Medallion through its subsidiary Laredo Midstream Services LLC, reported in July that Medallion was shopping itself. More than two months into that process and no word yet, but as we've seen a few times during this commodity downturn, an S-1 filing does not a public company make. 
In the meantime, here's a look at some of the companies across the energy spectrum, including in the midstream space, that did some traditional M&A recently:
Enable doubles down on Haynesville with Align buy
Enable Midstream Partners LP (ENBL) - Get Enable Midstream Partners, LP Report made a strategic bet on the Cotton Valley and Haynesville formations of Louisiana and east Texas this week, announced Sept. 12 it would acquire Tailwater Capital LLC-backed Align Midstream LLC for about $300 million. 
Align operates about 190 miles of natural gas gathering pipelines across Rusk, Panola and Shelby counties in Texas and DeSoto Parish in Louisiana, along with a cryogenic natural gas processing plant in Panola, Texas, with a capacity of 100 million cubic feet per day. 
The deal came out to mix reviews on the market, with TPH implying it was a dicey play. 
"We are not sold on ENBL doubling down on its bullish view of the Haynesville as MVCs on existing assets roll at the beginning of 2019 meaning production will have to grow materially to be in the money," the analysts wrote in a Wednesday note. "We forecast Haynesville volume growth through 2019, with a flattening profile thereafter."
TPH added that Align's footprint seems to be concentrated on the western portion of the play, outside the prolific core at the border of Louisiana's Red River and De Soto parishes.
Nevertheless, Enable said it expects the deal to be accretive to its 2018 distributable cash flows.
Chevron disposes of Central Basin assets to Kayne Anderson-backed Sabinal
Kayne Anderson Capital Advisors LP-backed Sabinal Energy said Tuesday, Sept. 12, it acquired producing oil and natural gas assets owned by a unit of Chevron Corp. (CVX) - Get Chevron Corporation Report in the Central Basin Platform, a subformation of the greater Permian Basin of West Texas and New Mexico.
The company did not disclose financial terms of the deal, but analysts at research firm and investment bank Tudor, Pickering, Holt & Co. estimated the assets likely picked up roughly $40,000 per flowing barrel, or $300 million, for current production, which is about 7,500 barrels of oil equivalent per day. 
Considering the size of the package—66,500 net acres—that price tag would be roughly in line with recent deals in the region. As The Deal reported in April, Forge Energy LLC, a EnCap Investments LP and Pine Brook Partners portfolio company, agreed to sell 30,000 net acres in the play to a unit of Lime Rock Resources Inc. for about $120 million. 
According to TPH, Chevron has said it is looking to monetize between 150,000 and 200,000 acres in the Permian and has now executed 80,000 acres worth of deals so far in 2017.
Kayne Anderson committed $300 million to Sabinal in July 2016 through its Kayne Private Energy Income Fund LP. Wells Fargo Bank N.A. provided a sole underwritten commitment for debt financing as part of Sabinal's acquisition.
NCS Multistage acquires Spectrum Tracer to expand offerings, customer base 
Oilfield services provider NCS Multistage Holdings Inc. (NCSM) - Get NCS Multistage Holdings Inc. Report said Aug. 30 it will acquire Spectrum Tracer Services LLC for an up-front payment of $80 million in cash and stock.
The Houston-based buyer will also pay up to $12.5 million if the target meets certain financial performance measures in 2018.
Spectrum of Tulsa, Okla., provides chemical and radioactive tracer diagnostics technologies used by oil and gas operators to assess completion performance, evaluate well production, and optimize field development strategies.
Analysts with investment bank and research firm Tudor, Pickering Holt & Co. Securities Inc. were encouraged by the deal this week, noting that it will broaden NCS Multistage's customer base and bring another product offering into the fold.
"We believe the deal falls right down the center of the NCSM inorganic growth strategy fairway, which is to leverage the company's clean balance sheet to buy completions oriented, capital light, technology oriented businesses," the firm wrote. "Spectrum deal diversifies NCSM's revenue base adding incremental consumable products; it also increases the company's exposure to the reservoir / well design process."
Warburg-backed Zenith Energy scoops up Arc Logistics for $322 million
Warburg Pincus LLC-backed Zenith Energy LP said Aug. 29 its newly formed affiliate Zeneth Energy US LP will acquire Arc Logistics Partners LP (ARCX) and its general partner Arc Logistics GP LLC for $16.50 per unit, valuing the target's equity at $322.5 million.
Houston-based Zenith expects to close the deal in the fourth quarter or early first quarter of 2018. The crude oil and petroleum products storage company said the deal allows it to enter the U.S. terminaling market with a diversified portfolio of logistics assets that serve critical links between supply and demand locations in the country.
Editor's note: This article originally appeared on The Deal , our sister publication that offers sophisticated insight and analysis on all types of deals, from inception to integration. Click here for a free trial.
More of What's Trending on TheStreet: