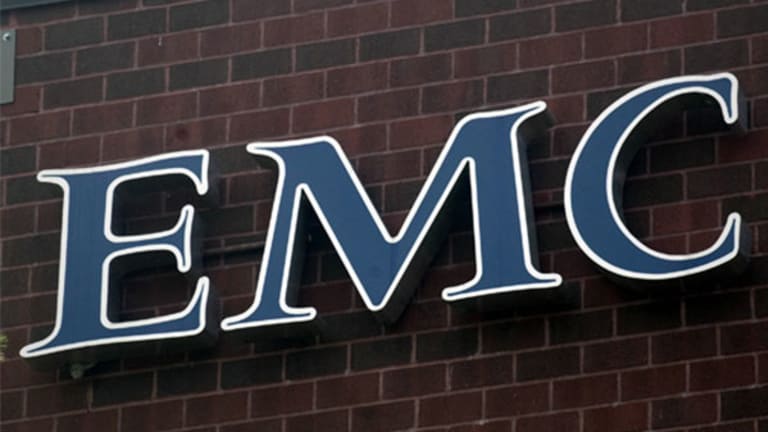 EMC Buys Virtustream for $1.2B to Boost Cloud Services Offerings
The acquisition will fill 'a critical missing piece of the cloud puzzle,' wrote UBS Securities LLC analyst Steven Milunovich in a note Tuesday.
NEW YORK (The Deal) -- Information technology provider EMC (EMC) is grabbingVirtustream for $1.2 billion in a move to expand its footprint in the cloud services space. The transaction is expected to close in the third quarter of 2015.
"This is a critical and transformative acquisition for EMC in one of the industry's fastest-growing and most important sectors," said EMC Chairman and CEO Joe Tucciin a statement. "With Virtustream in place, EMC will be uniquely positioned as a single source for our customers' entire hybrid cloud infrastructure and services needs."
Upon the closing of the transaction, Virtustream will form EMC's new managed cloud services business. Virtustream CEO Rodney Rogers will join EMC and report to Tucci.
The acquisition will fill "a critical missing piece of the cloud puzzle," wrote UBS Securities LLC analyst Steven Milunovich in a note Tuesday.
"We felt that something was missing in EMC's cloud strategy, and as CEO Tucci said, 'If you don't have a cloud strategy, you don't have a strategy,'" he wrote, adding that Virtustream will complement EMC's managed storage capabilities.
"It puts EMC's cloud capability near IBM's and comparable to HP and Cisco," Milunovich said, referring to International Business Machines (IBM) - Get Report, Hewlett-Packard (HPQ) - Get Report and Cisco Systems (CSCO) - Get Report.
However, Milunovich is somewhat concerned for EMC's competitors.
While HP CEO Meg Whitman has said she is pleased with the progress her company has made in cloud, EMC may have "leapfrogged it," the analyst asserted, adding that another EMC competitor, NetApp (NTAP) - Get Report, does not have managed storage services or managed cloud.
While the deal looks expensive, having managed cloud offerings is so strategic that the price is less important, he explained in his note.
Founded in 2009, Virtustream of Bethesda, Md. builds cloud software and offers cloud services. Its customers include Coca-Cola (KO) - Get Report and Hess Corp. (HES) - Get Report, among others. About 60% of Virtustream's revenue comes from cloud hosting while 40% comes from cloud software, Muilnovich pointed out.
It currently owns three data centers and leases two data centers, Muilnovich said, adding that the company is likely to grow the number of data centers with EMC. Data centers are facilities that store equipment for collecting and processing data.
For EMC, the acquisition comes after the IT group settled with activist investor Elliott Management Corp., with the company agreeing to increase its board from 11 to 13 directors. The two new directors were chosen in consultation with the activist. With the board composition, the shareholder agreed to a standstill until September 2015. Elliot had pushed the company to spin off VMware (VMW) - Get Report last October.
Shares of EMC closed Tuesday to $26.29, down 2.1%. EMC shares are down 11.6% for the year to date.
Officials with EMC and Virtustream did not return requests for comment Tuesday.
-- Chris Nolter contributed to this report.
Read more from: