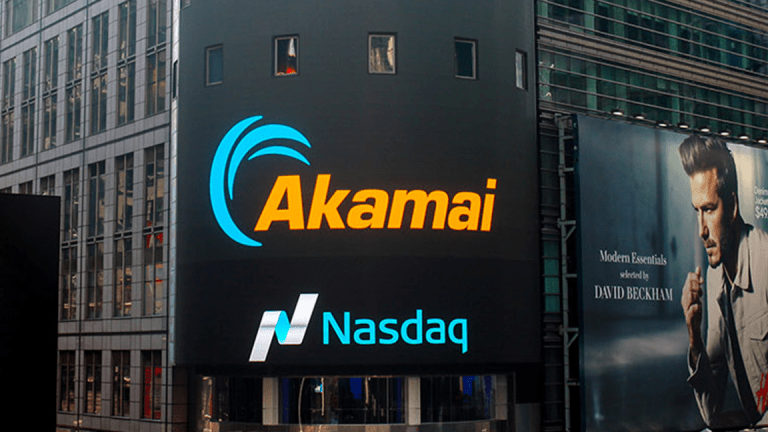 Elliott Could 'Crystalize' Akamai Campaign Soon
The deadline for nominating dissident director candidates at the undervalued technology company is approaching, which suggests an activist escalation is imminent.
The deadline for nominating dissident director candidates at the undervalued technology company is approaching, which suggests an activist escalation is imminent.
The deadline for nominating dissident director candidates to Akamai Technologies Inc.'s (AKAM) - Get Report board is less than two weeks away.
The Street believes that it is a serious possibility that the activist at the undervalued tech gem's gate, Elliott Management's Paul Singer, could launch a director fight to drive the company to break up or make other changes.
The insurgent fund in December launched an activist campaign, arguing in a securities filing that there are numerous "operational and strategic" opportunities to maximize shareholder value at Akamai, including a consideration of "a sale process." The fund, which reported a 6.5% stake, said at the time that it planned to commutate with "potential acquirers."
Analysts at Credit Suisse Group argued in a report that the deadline, currently set for March 8, may serve as a "catalyst for crystalizing Elliott's intentions." However, it is also possible that Akamai may move to postpone the deadline to buy it more time as it considers strategic options.
Credit Suisse also cited conversations with various former employees suggesting that a move to separate Akamai's Media Delivery business from its performance and security segment "is a viable option."
Brad Zelnick, an analyst at Credit Suisse, said in an interview with The Deal that it was more likely that a buyer would be interested in buying Akamai's performance and security business on its own, which would require a sale of the media delivery business first.
He said a strategic company would be more likely to buy Akamai's performance and security business, adding that Cisco Systems Inc. (CSCO) - Get Report could be a potential buyer for those two divisions.
Zelnick said he didn't think that the media delivery business could exist as a free standing public entity on its own but that it was possible that a technology-focused private equity firm could buy it.
Elliott Management and other activist investors frequently push for spinoffs and breakups to help drive shareholder value. The fund also has a specialization in technology led by Jesse Cohn; that's why it is a real likelihood that it will launch a director fight if Akamai doesn't take some M&A actions shortly.
Akamai has long played a key role in the plumbing that supports video watching and live streaming. More recently, the company has made a push into cyber-security services to tap into Corporate America trying to protect itself from hacks.
One analyst following Akamai suggested that Elliott may be seeking to pressure the company to either sell the media deliver business or spin it off. Overall, he suggested that Akamai want might to focus its operations on its much better performing performance and security segment. Alternatively, Akamai could seek to sell itself as a whole, as it appears Elliott Management could be seeking a sale. The analyst added that he didnt' think there was an obvious buyer for the whole business but that IBM Inc. (IBM) - Get Report or Cisco cold be interested.
Cambridge, Mass.-based Akamai is reportedly working with Morgan Stanley (MS) - Get Report to advise it on the campaign and strategic review. As a result it is a serious possibility that the company could postpone the deadline for director nominations to buy itself more time to conduct that review.
Morgan Stanley has a well-known activist defense team run by managing director David Rosewater. A key question is whether the activist defense team is leading the Morgan Stanley advisory team. However, a person familiar with the situation said that the Morgan Stanley banker advising Akamai is on the M&A team. 
In its securities filing, Elliott said it would also consider whether it might want to participate in a transaction, which suggests that the insurgent fund's private equity unit, Evergreen Coast Capital, could be interested in buying Akamai or joining in an acquisition.
Elliott is no stranger to launching director-election proxy contests to drive targeted companies into changes. According to FactSet, the fund has launched 15 proxy contests and threatened five more since 1994. In addition, the activist fund is known to spare no expense when it launches a hostile campaign. For example, Elliott Management sent thousands of mini-player devices to retail investors at aerospace parts maker Arconic as part of a director-election contest the fund had launched there. It also paid for billboards in Australia to help back its ongoing campaign against BHP Billiton (BBL) - Get Report .
Elliott's owns a 3% common share stake and 3.5% in derivatives, which together make up its 6.5% stake.
Eleazer Klein and Marc Weingarten, partners at Schulte Roth & Zabel LLP, are providing legal advice to Elliott Management in its effort.
Akamai has an $11.5 billion market capitalization.
Editor's note: This article originally appeared on The Deal , our sister publication that offers sophisticated insight and analysis on all types of deals, from inception to integration. Click here for a free trial.