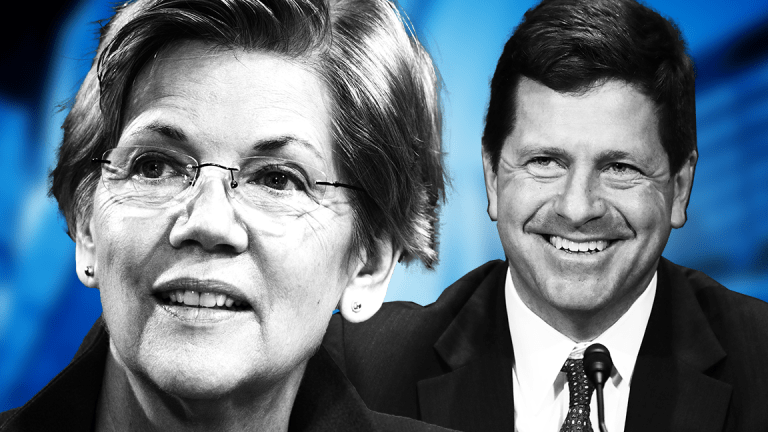 Elizabeth Warren, SEC's Clayton Clash Over Health of IPO Market
The Massachusetts senator charged that IPOs today are both performing better and less likely to wipe shareholders out as they did during the dot-com bust. But Clayton insisted that retail investors aren't getting the benefit of early-stage IPOs like they used to.
Sen. Elizabeth Warren and Securities and Exchange Commission chairman Jay Clayton on Tuesday clashed over their differing views on the health of the market for initial public offerings, with the Massachusetts senator charging that companies debuting today are performing better and are less likely to wipe shareholders out as they did during the dot-com bust of the early 2000s.
"The data show that investors are putting more money into IPOs now than ever before and that those IPO companies are doing better for investors because they are more stable before they come to market," Warren told Clayton at a Senate Banking Committee hearing.
In response, Clayton reiterated his argument, based on an analysis of IPO data, that retail investors today aren't getting the benefits of being able to invest in earlier stage companies because corporations are choosing to delay their public offerings due to costs until they are more mature and not growing as much, all of which means less profit for consumers.
"It is a concern to me that on that growth curve a substantial portion of that money is private money and those [private] investors have done very well and in many cases relatively much better [than the public retail investor]," Clayton responded.
Warren and Clayton's disagreement over the health of the IPO market is also at the center of a battle over whether it makes sense for the nation's securities regulator to ease restrictions on IPOs, as Clayton is moving to do. 
At the center of Warren's argument are statistics about a lack of IPOs to date. She referred to statistics showing that there has been a significant decrease in the number of IPOs between 1996-1997 and today. However, Warren noted that many of those IPOs in the 1990s ultimately failed during the dot-com bust in the early 2000s.
"As you know there was a sharp increase in number of companies leading up to the 1996 and 1997 years and a lot of those companies failed over the next few years leaving Mr. and Ms. 401K losing a whole lot of money," Warren said.
She acknowledged that there has been a decline in the number of IPOs between 1997 and today, but insisted that the evidence suggested that this was also due to an increase in recent years of mergers and acquisitions.
In addition, Warren pointed to a Harvard Law article that cited statistics, compiled by Dealogic and Ernst & Young analysis, to show that in 1996 there were 624 IPOs with about $36 billion in capital raised, but that between 2012 and 2016 the average annual deal volume in IPOs was much higher than in that year even though the number of IPOs is a lot lower. For example in 2014, an outlier, 291 IPOs raised about $96 billion.
"People are investing more money in IPOs than they ever did at the height of the dot com boom," Warren said. "If your primary focus was on investors and not bankers and deal lawyers who make money on each of these IPOs, why do you care if there are fewer IPOs so long as IPOs overall are attracting more investor dollars."
However, Clayton said he continues to be troubled by the trend of less companies choosing the route of the public markets. "Fewer companies are choosing to go public in their growth phase or at all and, consequently and significantly there are fewer investment opportunities for Main Street investors," Clayton said.
He said that costs, ranging from compliance to consumption of management and employee bandwidth, are to blame. "The costs for public companies, particularly smaller and medium-sized companies, far outstrip those of comparable private companies," Clayton said. "I view Mr. and Ms. 401(k) as bearing a potentially significant cost as a result of the shrinking number of public companies."
To help encourage public offerings, Clayton said the agency is examining whether to issue more guidance to help drive IPOs without reducing investor protections. The SEC recently expanded an existing program that allows small companies to submit their IPO applications confidentially. The new program allows bigger companies seeking to IPO to provide their draft registration statements to the SEC on a non-public basis, as a way of encouraging more public offerings. The confidential submissions allows companies to pull their IPO plans privately without having to deal with the public embarrassment of such an action.
The SEC's division of Corporation Finance also issued guidance clarifying that companies can omit interim financial info from their draft registration statement, a move that will likely reduce costs associated with preparing financial info. "To be clear, this guidance saves costs, but investors continue to benefit from the full array of financial information required when a company publicly files its registration statement," Clayton said.
Nevertheless, Warren took issue with the SEC's move to ease regulatory restrictions on IPOs, arguing that they may make "life a whole lot" more profitable for bankers and corporate attorneys who want more IPOs but that "there is no evidence that it will be making more money for investors."
U.S. Tech Companies Could Lead $250 Billion of Tax Repatriation Under GOP Bill
Separately, Sen. Tom Cotton, R-Ark., indicated that he supported Clayton's efforts to ease burdens on companies considering IPOs. He argued that IPO documents were shorter and easier to understand years ago than they are today, a negative for retail investors and that many IPOs have gone overseas, hurting prospects for U.S. retail investors.
"Many small cap IPOs have declined significantly here and gone over seats," he said. "That means ultimately that small investors, no longer has access to these kind of small cap growth companies. They go increasingly to the private market to benefit the most affluent Americans."
More of What's Trending on TheStreet: