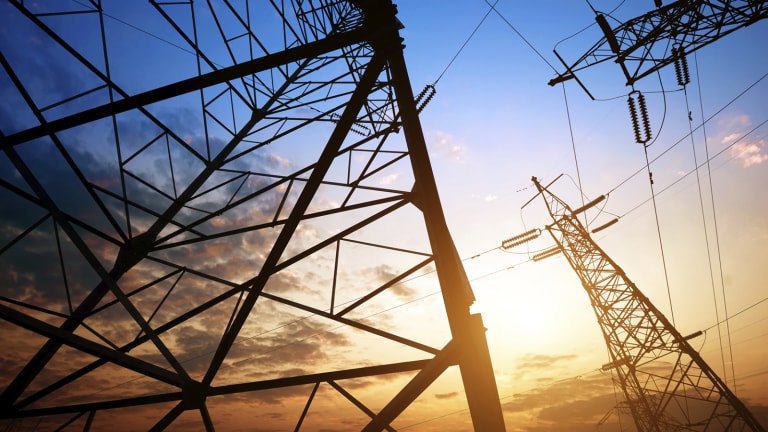 Electric Utilities Seek to Shock Shares Through Mergers
Industry deal volume and value are up sharply this year as utilities look to spur growth.
Electric utilities were once thought of as the investment of choice by widows and orphans for their regulated monopolies and their stable dividends. But some of these companies are looking to break out of their stodgy reputations through mergers and acquisitions, and are willing to pay up to do it.
Witness this week's acquisition of Piedmont Natural Gas (PNY) by Duke Energy (DUK) - Get Duke Energy Corporation (Holding Company) Report for $4.9 billion in cash, which many analysts thought was expensive by any measure or in any reasonable scenario.
It's not the first big deal in the sector, nor will it be the last, observers say. There were 18 deals worth $45.5 billion in the third quarter versus 10 deals worth only $3 billion in the second, according to figures released Thursday by PricewaterhouseCoopers. Year over year, deal volume jumped 50% and deal value advanced 310%. "There's been a huge uptick in value and volume and we're seeing some pretty healthy premiums being paid," says Jeremy Fago, PwC's U.S. power and utilities deals leader.
The combinations in the quarter included Southern Co.'s (SO) - Get Southern Company (The) Report purchase of AGL Resources for $11.9 billion and Emera's acquisition of Teco Energy (TE)  for $10.3 billion.
So what's going on? Plain and simple, utilities have been experiencing extremely low growth, which they've been looking to boost any way they can. That growth can come from buying another utility, as Exelon (EXC) - Get Exelon Corporation Report is doing by buying Pepco Holdings (POM) for $12 billion, which has ruffled some regulators' feathers, or moving into a faster growing business segment, as Duke is doing by buying a natural gas distributor in its home state that it can use as a platform for expansion, given the popularity and abundance of the cleaner-burning fuel as a feedstock for power generation.
Fago agrees that the M&A surge is being spurred by growth seekers in a still fragmented industry but also by the availability of inexpensive financing. "The cost of capital is still pretty cheap, but it won't stay that way forever," he said. "The Fed [Federal Reserve] has clearly indicated it wants to do something in the near term, and companies are saying, 'If we're going to do something, now is a good time.'"
Utilities are also shedding deregulated power plants to de-risk their portfolios and generate capital to reinvest in more stable, higher growth businesses. Earlier this month, Entergy (ETR) - Get Entergy Corporation Reportsold its 583-megawatt Rhode Island State Energy Center in Johnston, R.I., to Carlyle Power Partners for $495 million, $144 million more than it bought it for in 2011 and a respectable $840 per kilowatt.
More are coming. American Electric Power (AEP) - Get American Electric Power Company Inc. Report is shopping its coal-heavy merchant fleet, which Talen might be interested in along with a fleet in Texas owned by Luminant, a unit of bankrupt Energy Future Holdings, according to a Tudor, Pickering, Holt & Co. Securities Inc. report on Oct. 21. GDF Suez is also shedding its natural gas portfolio in the northeast, which could be of interest to Calpine (CPN) , TPH says.

Calpine has been acquisitive, picking up a power plant in New Hampshire earlier this month from privately held Granite Ridge Holdings LLC for $500 million, or $671 per kilowatt. The Granite Ridge Energy Center is near a plant it bought this past fall, the Fore River Generating Station in Massachusetts, which it picked up from Exelon for $530 million.
NRG Energy (NRG) - Get NRG Energy Inc. Report is also shopping some of its power plants around, but TPH believe it will likely be an asset that throws off a "decent amount of capex," which would result in cash savings for the company, and could also fetch a high multiple. AES (AES) - Get The AES Corporation Report called off the sale of its two Indiana combined cycle, gas turbine plants but would be willing to sell at the right price, TPH added.
Private equity firm Riverstone Holdings LLC is still required by regulators to sell assets (400 megawatts worth) as part of the spinoff of Talen Energy (TLN) from PPL (PPL) - Get PPL Corporation Report by next year. Earlier this month Talen announced it was selling its Ironwood plant in Pennsylvania to TransCanada (TRP) - Get TC Energy Corporation Report  for $654 million, or a sizable $928 per kilowatt, along with its Holtwood and Lake Wallenpaupack hydroelectric projects in the state, which were shed to Brookfield Renewable Energy Partners LP for $860 million.
While power and utility companies are selling some of their power plants, they're picking up solar and wind plants to improve their fuel mixes in preparation for renewable energy standards. This week Southern announced that it and billionaire Ted Turner's Turner Renewable Energy bought the 15-megawatt Morelos del Sol solar power project from Solar Frontier Americas, a unit of Japan's Showa Shell Sekiyu KK, for an undisclosed sum, its eighth solar acquisition in California. The deal came a month after it agreed to buy its second wind project, the 151-megawatt Grant Wind facility in Oklahoma, from Apex Clean Energy and a controlling interest in the 300-megawatt Desert Stateline facility in California from First Solar (FSLR) - Get First Solar Inc. Report , both for undisclosed sums.
Duke has also been busy on the renewable front over the last year, picking up two solar power projects in California from Kruger Energy Inc., a 20-megawatt solar power project in North Carolina from Ecoplexus Inc. and half of the Mesquite Creek Wind facility in Texas through a joint venture partnership with Sumitomo Corp., all for undisclosed sums.
PwC's Fago said there will be continued interest in renewables by electric utilities but also in mid-cap names and local distribution companies as a way to extract synergies and expand. "There are still opportunities for consolidation, which we saw play out this quarter, and there's a real opportunity to gain platforms that they can grow and expand," he said. Until interest rates rise again, of course.