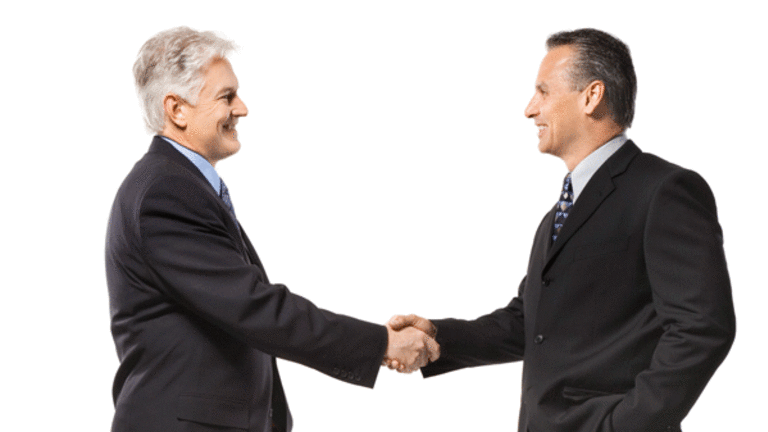 Education Management Cuts Deal to Trim Over $1B in Debt
Embattled for-profit education company Education Management reaches an agreement in principle with debt holders that would reduce its $1.5 billion debt load to $400 million.
Embattled for-profit education company Education Management reaches an agreement in principle with debt holders that would reduce its $1.5 billion debt load to $400 million.
NEW YORK (The Deal) -- Embattled for-profit education company Education Management EDMC said Wednesday that it has reached an agreement in principle with holders of more than 80% of its debt for an out-of-court restructuring deal that would reduce its $1.5 billion debt load to $400 million through a debt-for-equity swap.
According to a financial industry source who follows the company, term lenders led by private equity firm KKR & Co. are in the driver's seat in the negotiations. The lenders want equity holders Goldman Sachs Capital Partners and Providence Equity Partners to stay in the deal in order to avoid change-of-control issues that would be troublesome from a regulatory perspective.
A consortium of private equity firms led by led by Providence Equity, Goldman Sachs Capital Partners, and Leeds Equity Partners owns 85% of the Pittsburgh-based company's equity after a March 5, 2006 leveraged buyout.
Another important point for Education Management's lenders is to take preferred equity instead of common equity, the source said, adding that the term lenders will take a larger share of equity than the revolving credit facility lenders. The financial industry source noted that the prevalence of asset managers, rather than bank lenders, in Education Management's capital structure made it a lot easier to pursue a debt-for-equity swap deal.
The for-profit education industry has long relied on traditional bank lenders for financing, but asset managers and distressed funds have increasingly been taking positions in these companies' debt, the source explained.
For-profit education can be a challenging industry for traditional bank lenders. They are likely to be unwilling to take equity stakes in these companies since they are especially averse to the possibility of litigation with U.S. regulators such as the Department of Education. Furthermore, when for-profit education companies face distress in an uncertain regulatory environment, bank lenders shy away from swapping debt for equity, since being equity owners could leave them vulnerable to demands from regulators that they should lay out more capital than they had previously intended, the source said.
Now that asset managers and distressed funds have built up a presence in the industry, more troubled for-profit education companies could pursue debt-for-equity swaps, the person suggested.
Education Management, which owns colleges including Art Institutes, Argosy University and Brown Mackie Colleges, said Wednesday that its restructuring plan would allow its operations to continue uninterrupted. With 110 business locations in 32 U.S. states and Canada, Education Management is the second-largest for-profit education company in the country after Apollo Education Group (APOL)  which runs University of Phoenix.
Under the proposed restructuring agreement, existing shareholders would see their equity stake cut to 4%, and would receive warrants to purchase an additional 5%.
A portion of Education Management's equity is publicly traded on Nasdaq under the symbol EDMC. After the restructuring announcement came out, its stock sunk 11.69%, to $1.36 a share, with a market capitalization of about $195.44 million, in Wednesday trading.
The agreement would see debtholders swap their existing securities for $400 million in new debt, preferred equity securities that would be convertible into common shares, and warrants for the purchase of common shares. Education Management's board of directors has approved the agreement, but it still requires regulatory approval and a shareholder vote, which it expects to complete in 2015.
A company spokesman said Wednesday that the deal requires approval from 100% of debtholders, adding that the company is continuing discussions with its remaining debtholders. He declined to comment further.
The financial industry source said he understood the negotiations to be "contentious," but believes the restructuring is essentially "a done deal" at this point. From a regulatory perspective, there may be "speed bumps," the source said, but concluded, "the alternative, stranding those students, is worse. I think ultimately they'll approve it."
Education Management expects to receive an amendment to its senior credit facility that will waive all financial covenants, waive principal payments, and "substantially decrease" cash interest expense through June 30, 2015. The amendment would also extend the maturity on the revolving credit facility through July 2, 2015. Currently, the company is operating under a waiver of certain financial covenants through Sept. 15.
"We believe this plan, which will convert a significant portion of our debt into equity and result in a vastly improved capital structure with lower interest expense and extended maturities, is in the best interests of all stakeholders, most importantly our students," said Education Management CEO Edward H. West in a statement.
Education Management hired Evercore Group as its financial adviser on May 1.
The company's debt structure consists of a $732.41 million senior secured term loan facility due June 1, 2016, priced at Libor plus 400 basis points; a $340.77 million senior secured term loan facility due March 30, 2018, priced at Libor plus 700 basis points; and $211.07 million in 15% senior unsecured cash pay/pay-in-kind notes due July 1, 2018.
Sources have told The Deal that hedge fund GSO Capital Partners LP is among the holders of the 15% notes.
A Providence Equity spokesman declined to comment, while spokeswomen for KKR and Goldman Sachs couldn't be reached for comment.
Standard & Poor's said in an Aug. 25 report that "the [for-profit education] industry will remain under severe pressure and only well-capitalized for-profits will have the financial flexibility needed to withstand potentially adverse regulations."
The report noted that large players such as Apollo Education Group, Corinthian Colleges Inc., DeVry Education Group Inc., ITT Educational Services Inc., and Education Management have been the subject of investigations by the Department of Education and various state attorney generals, who want more information about their recruiting practices and student outcomes.
The result of regulatory investigations into Corinthian provided a sobering blueprint. The Department of Education mandated last month that Corinthian must sell the majority of its campuses and wind-down the rest through teach-outs, essentially shutting the business down.
Regulators are interested in Education Management, too. The company disclosed in filings with the SEC on Jan. 24 that it has received inquiries from 12 states regarding its business practices, including its recruitment of students, graduate placement statistics, graduate certification and licensing results, and student lending activities, among other matters.
For troubled for-profit educators, bankruptcy is a dire outcome, since a filing automatically cuts off a company's access to federal financial aid.
-- Jamie Mason contributed to this report.