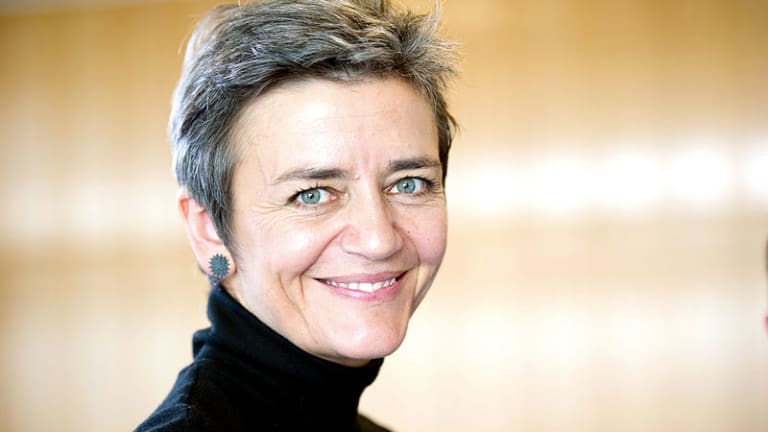 EC's Vestager Worried About 'Four-to-three' Telecoms Deals
The Commissioner's comments in a video interview with The Deal could herald a tougher approach to the fast-consolidating sector.
Telecoms mergers will continue to get close scrutiny in Brussels and be subject to tough conditions for deal clearance, EU Competition Commissioner Margrethe Vestager (pictured) warned in an interview with The Deal.
Europe's new antitrust chief she said she was particularly concerned about deals that cut the number of cellular players in a market from four to three.
"I do not think that it's an ideal situation to have very few, very large companies, especially not in a situation where the markets are still very national," she said in a video interview at the European Commission's headquarters late Wednesday, Jan. 28. "Because even though we have worked on getting roaming prices down and opening more, the markets are still very national. So even though companies would like to grow bigger and consolidate, from a consumer point of view, it is very important that we enhance competition."
Vestager, a 46-year-old Danish Liberal politician who succeeded Joaquín Almunia in early November, also offered more general insights into the growing trend of tackling remedies issues early on, and how she sees her role promoting the Junkcer Commission's jobs and growth agenda.
Her team has opened four out of the six in-depth probes now pending in Brussels, including Orange SA's €3.4 billion ($3.8 billion) acquisition of Spanish fixed-line provider Jazztel plc. That review is due to be wrapped up by April 30.
In previous four-to-three telecoms cases, the EC cleared mergers in Germany, Austria and Ireland only after the companies agreed to extensive commitments including selling network capacity and radio spectrum. It also required remedies for five-to-four mergers in Austria and the U.K., where the number could soon fall to three if Hutchison Whampoa Ltd. closes the £10.25 billion ($15.25 billion) acquisition of the British O2 wireless services provider of Spain's Telefónica SA. (Pay-TV giant Sky plc on Thursday announced a side-deal to offer wireless services using the 02 network in an agreement which may ease concerns about the Hutchison takeover).
Beyond the telecoms sector, Vestager said that regulators would keep a close watch on dominant energy and digital companies.Asked about the growing number of Phase 1 conditional clearances, Vestager attributed it to a combination of companies getting more experienced at anticipating regulators' questions, and growing pressure to address those issues as early as possible, even well before deals are officially notified.
"That enables us to find solutions which have market conformity, and which still serve the company and the purpose of the merger," she said.
So far, the Commission has cleared eight Phase 1 cases on Vestager's watch, some of which were launched under her predecessor. Its conditional nod to Holcim Ltd.'s merger with Lafarge SA last December came eight months after they forged the deal and followed a routine probe. On Wednesday, it granted conditional Phase 1 clearance to a series of deals between Mylan Inc. and Abbott Laboratories, about six months after the agreements were signed.
While the majority of reviews are wrapped up in Phase 1, the EC can open an in-depth review if it still has concerns, which can drag the process out for another four months, or longer if there are clock-stoppages to gather missing information or for other reasons. While companies can offer concessions in Phase 1 or Phase 2, the former has a stricter legal standard.
Although the EC has not vetoed a merger since 2013, Vestager said that doesn't mean that the "prohibition era" is over.
"For me it's very important to have a case-by-case approach because markets are different, mergers are different, and I would think it would be maybe even illegal, but at least a very bad idea, to start working with quotas," she said. "That doesn't work."
She added that "it has to be an open, fair, neutral process, and I think that is the point, not the question of whether prohibitions are out or not, but what are the cases coming in on our desk."
She also sees competition policy playing an important role in the Juncker Commission's priority of bringing jobs and growth back to Europe. In particular, she noted that her specialists have a lot of concrete knowledge about various sectors and can share ideas about how to enhance those markets and boost investment. State aid rules should also be promoted as a way to help investment, instead of being perceived as only a barrier.
"In that, I think, competition and jobs, it's a very good match," she said.
Read more from
: