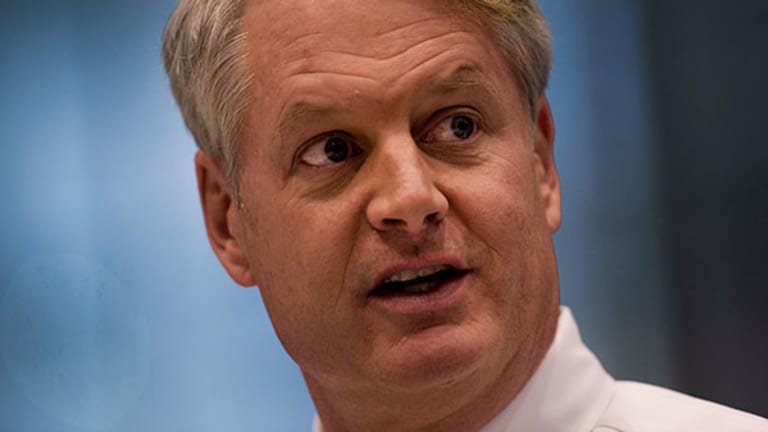 Why eBay's Decision to Spin Off PayPal in 2015 May Be Risky Move
eBay's EBAY decision on Tuesday to spin off PayPal has plenty of support. But the move poses financial risks for PayPal and could be a sign of weakness at eBay.
NEW YORK (TheStreet) -- eBay's (EBAY) - Get eBay Inc. Report decision on Tuesday to spin off PayPal has plenty of support, not least from billionaire investor Carl Icahn. But the move poses financial risks for PayPal and could be a sign of weakness at eBay.
eBay CEO John Donahoe spent most of the first half of 2014 attempting to prove that eBay and PayPal were better together. A course reversal now appears a response to pressure, not a decision taken from a position of strength. eBay has spent years trying to create a seamless commerce platform across desktop, mobile and in-store transactions, using PayPal as a linchpin. If successful, many speculated eBay would become a closer rival to e-commerce competitor Amazon (AMZN) - Get Amazon.com, Inc. Report and be rewarded with a higher stock valuation.
However, as the second year of that project draws to a close, eBay has shown little evidence that the strategy is succeeding. Freed from eBay, PayPal may be able to invest in its own projects and not ones that tie to a wider e-commerce vision that may or may not be practical. For instance, PayPal could shift its focus to growing users and transaction volumes, perhaps with new partnerships. Analysts have long argued PayPal should partner with Amazon, which has own payments features but also a larger user base, or Alibaba (BABA) - Get Alibaba Group Holding Ltd. Report .
By Donahoe's own words, eBay's decision to spin PayPal was a result of rising competition in the mobile payments and e-commerce landscape, and he noted synergies between eBay and PayPal are falling.
For years, eBay's 150 million users have been seen as a foundation from which PayPal could expand. In the past, nearly 50% of total PayPal transaction volumes tied back to core eBay business. Now, PayPal has more total users than eBay and is forecast to have over 85% of its total transactions away from eBay. 
Without signs of success in a larger corporate vision, it appears that eBay's Marketplace business might have soon turned drag on PayPal's prospects. In that sense, Donahoe, a credible advocate of creating shareholder value, may deserve a bit of credit in deciding to reverse course.
"I don't blame [eBay] for taking this long to make a decision on a PayPal spinoff," Sanjay Sakrhrani, an analyst at Keefe, Bruyette & Woods said in a Wednesday telephone interview with TheStreet. CEOs of conglomerates often manage their component assets as call options on a market opportunity or wider corporate vision. Once those options begin losing value, CEOs have shown an increasing willingness to then free those disparate assets.
"I didn't think Carl Icahn was wrong, I think he was just a little bit early," Sakrhrani added.
By the Numbers
As eBay moves forward with its tax-free PayPal spin, expected in the second quarter of 2015, investors and analysts will need to get a better handle on the earnings and profits of each business as a standalone. It doesn't appear that the spin will create any near-term upside to eBay and PayPal's profit margins, and it could create costs that actually drag them down.
"We are struggling to make the case for why our estimates for gross merchandising volumes (GMV) or total payment volumes (TPV) should rise in a meaningful way in the near to medium term," Credit Suisse analysts wrote on Tuesday. Jefferies analysts further noted that eBay's core business continues to post slowing growth as a result of e-commerce competition, fee changes to StubHub and a security breach.
The risks for eBay are that PayPal scares investors with falling margins just as enthusiasm about its Marketplace business wanes. While risks are evident, a cursory look at eBay and PayPal's operating results also indicates that they are manageable.
eBay's Marketplace division has generated $85 billion in GMVs in the past 12-months, a 13% rise that has pushed revenue to $10 billion. The business also generates 35% segment margins, an impressive figure.
PayPal, while smaller and less profitable, continues to post impessive growth figures as it expands on a market leading position in mobile payments. The business generated $7.2 billion in revenue on $203 billion in TPV in the past 12-months, a near 20% rise, and segment margins stand at 25%. As a standalone, investors may give PayPal the room to cut into margins as it works to grow users, TPV and revenue.
"The opportunities of the spin outweigh the negatives," Sakhrani, the KBW analyst said, while noting eBay and PayPal may identify better internal investments as independent companies. Sakhrani values PayPal at about $31.5 billion, or $30 a share of eBay stock, indicating the payments arm accounts for nearly 50% of eBay market capitalization.
Most analyst estimates suggest eBay's Marketplace is valued at between seven-to-eight times forecast 2015 earnings before interest, taxes, depreciation and amortization (EBITDA), while PayPal is valued at around 12-to-13 times forecast 2015 EBITDA.
If Donahoe is successful in executing a spinoff, Bank of America values believes eBay's Marketplace business could garner a 14x EBITDA valuation, slightly less than a 16x EBITDA average across the retail sector, while PayPal could be valued at 22x EBITDA, in-line with the market multiples of MasterCard (MA) - Get Mastercard Incorporated Class A Report and Visa (V) - Get Visa Inc. Class A Report . Unfortunately, that valuation only yields a $62 a share price target for eBay, or about 10% upside.
eBay's decision to spin PayPal comes with plenty of risk and uncertainty, and somewhat limited upside. The back and forth between Donahoe and Icahn also indicates that eBay isn't spinning PayPal from a position of strength.
-- Written by Antoine Gara in New York