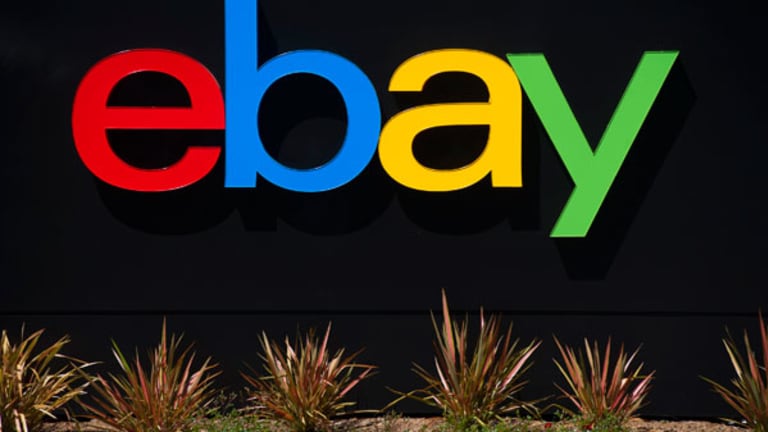 eBay Needs PayPal to Fight Amazon
Forrester Research analyst Sucharita Mulpuru believes eBay and PayPal provide a viable alternative to Amazon. Independently, they might not be able to compete.
NEW YORK (TheStreet) -- Forrester Research analyst Sucharita Mulpuru added her name to a growing number of eBay (EBAY) - Get eBay Inc. Report supporters as the e-commerce company defends its strategy over a proposal from billionaire activist investor Carl Icahn to split off a 20% stake in its PayPal division. Mulpuru said e-commerce needs a "united eBay," indicating Icahn's battle over PayPal could have large ramifications for online retail.
Mulpuru's argument is compelling because it both categorically states that eBay's control of PayPal does provide a benefit to the company's shareholders, and makes the added point that PayPal is central to eBay's competition against Amazon (AMZN) - Get Amazon.com, Inc. Report, the leader in online retail.
With PayPal, eBay is able to defend itself against Amazon, while providing smaller e-commerce operations the ability to compete in an ultra-competitive mobile marketplace, Mulpuru argues.
The analyst also states that separating PayPal from eBay could leave both companies worse off and less able to compete in their respective payments and e-commerce marketplaces.
"For those of us in the eCommerce industry, there was largely a sense of head-scratching and general befuddlement as to why Mr. Icahn was targeting eBay and PayPal in the first place. Everyone in our industry knows that eBay's purchase of PayPal back in 2002 is largely regarded as a categorical homerun and a textbook example of synergy executed right," Mulpuru wrote on Thursday.
The synergies are simple to explain.
One of Amazon's big comparative advantages is one-click buying for desktop and mobile users. PayPal provides eBay and its partners with a similarly frictionless buying process.
Meanwhile, eBay remains PayPal's biggest partner, allowing the payments platform to enter new markets and product lines. As eBay has argued, the company's stable, cash generating Marketplaces business provides investment capital to PayPal and de-risks expansion investments.
That's basically Mulpuru's argument to eBay shareholders. PayPal is crucial to eBay's success and eBay is crucial to PayPal's success. Icahn, for his part, conceded earlier in March there was some synergy between the two divisions, however, he said a partial spinoff would lay bare all synergies and any potential dis-synergies, which he believes abound.
Mulpuru also makes an interesting argument as to why a strong eBay that controls PayPal is important not just to shareholders, but all of e-commerce. "[The] US has an equally vested interest in keeping these two businesses together as the long-term impact on online retailers of a separate PayPal would be disastrous," Mulpuru writes, citing three reasons.
First off, eBay needs PayPal to defend itself against Amazon. Mulpuru argues Amazon is a break-even business model that is taking share from just about every retailer by way of underpricing competitors and aggregating third party channels. By contrast, eBay provides a solution against Amazon.
Merchants can use eBay's Marketplace, its Payments division or its Enterprise division to reach a greater number of customers or more easily capture transactions. eBay sees itself as an end-to-end solution for retailers that gives them low-cost access to an e-commerce platform of Amazon's scale. "eBay provides a very viable, effective and non-competitive channel," Mulpuru writes.
Secondly, eBay is increasingly trying to position itself as a retail solution, and not a retailer like Amazon. One of eBay's biggest solution involves mobile transactions and payments. PayPal with its stored billing, shipping and payment details closely resembles the frictionless shopping that drives many transactions on Amazon.
"We need partners like PayPal and eBay for the industry so that it helps everyone else improve their experiences," Mulpuru writes. Interestingly, the analyst also says a divested PayPal could be acquired by the likes of Microsoft (MSFT) - Get Microsoft Corporation Report and Google (GOOG) - Get Alphabet Inc. Class C Report, who have so far been unable to realize success in e-commerce.
Finally, PayPal keeps the payments space competitive. It is the market leader, however new platforms like Square have emerged as credible threats. That has increased PayPal's investment in innovation, in addition to investment from a range of competitors like banks, payment processors and tech firms. It is also worth noting that upstarts like Square seem to rely on deep-pocketed backers like Starbucks (SBUX) - Get Starbucks Corporation Report, potentially proving eBay's strategy.
"A change in PayPal's ownership would all but kill one of the most innovative players in digital payments, not to mention a brand that currently has a tremendous level of consumer trust," Mulpuru concludes.
As eBay's May 13th annual shareholder meeting approaches, it will be interesting to see whether eBay shareholders side with management, or see a benefit in Icahn's 20% spinoff proposal.
Already, Icahn has backed down from some recommendations such as a full sale or spin of PayPal, however, the activist continues to press for two seats to eBay's board and a partial sale of PayPal.
A 20% stake sale, by definition, would be an attempt at financial engineering; however, Icahn believes it could free PayPal to enter new commercial arrangements and could give investors an ability to put a firm valuation on the asset.
It is an attractive time for companies to consider stake sales. Yahoo! (YHOO) has seen its shares rise 55% over the past 12-months as Chinese e-commerce giant Alibaba moves toward an initial public offering. Yahoo! has a large stake in Alibaba.
The IPO of Alibaba and surging, if not bubble-like valuations across the technology landscape may prove an interesting psychological backdrop to what is one of the most complex activist campaigns in the tech sector's history.
Bottom Line: eBay has found extremely credible advocates of its long-term strategy, executed under CEO John Donahoe. Shorter-term asset realization plans pressed by activist investors have propelled tech stalwarts like Yahoo!, Motorola (MSI) - Get Motorola Solutions, Inc. Report, and AOL (AOL) in recent years.
-- Written by Antoine Gara in New York