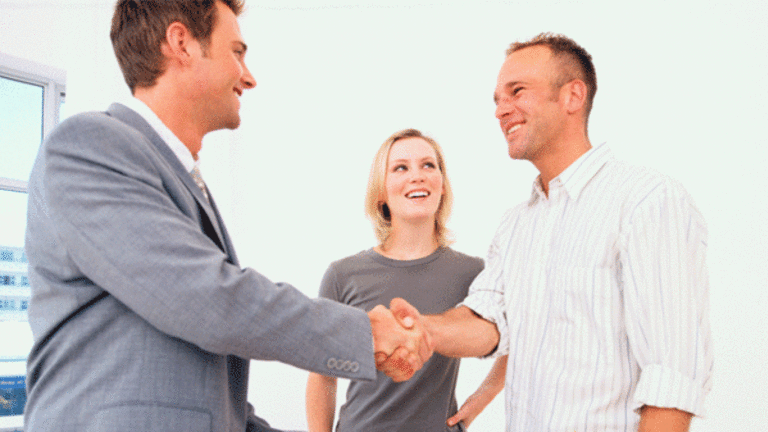 Duke Energy, Watson Pharma: Overlooked M&A Stocks
On a slow deals day, Duke Energy and Watson Pharmaceuticals benefit from an M&A second look.
NEW YORK (
) -- After a flurry of deals earlier in the week highlighted by a $4.3 billion acquisition of
Ariba
( ARBA) by German IT services giant
SAP
(SAP) - Get SAP SE Report
and
Yahoo!'s
(YHOO)
$7.1 billion sale of a 20% stake in Chinese ecommerce giant
Alibaba
, the latter half of the week has yielded few notable deals.
With deal headlines on the backburner, investors may want to take another look at M&A headlines from recent weeks they may have overlooked.
Take
Watson Pharmaceuticals'
(WAT) - Get Waters Corporation Report
acquisition of Swiss generics drug maker
Actavis
, or
Boyd Gaming's
(BYD) - Get Boyd Gaming Corporation Report
bet on casino operator
Peninsula Gaming
. Recent analyst ratings and reactions provide insightful seconds reads on the deals.
Investors should also position for key news on
Duke Energy's
(DUK) - Get Duke Energy Corporation Report
pending acquisition of
Progress Energy
(PGN)
and takeover defenses waged by
Illumina
(ILMN) - Get Illumina, Inc. Report
and
Avon Products
(AVP) - Get Avon Products, Inc. Report
.
Watson Pharmaceuticals
On Thursday, Wells Fargo upgraded Watson Pharmaceuticals to outperform from market perform and boosted its projected share price range to between $84 and $90 (previously $75-$79) on higher confidence in the benefits of its $5.6 billion acquisition of Actavis from late April. Watson Pharmaceuticals rose at the end of April when management announced a
acquisition that was projected to wrench out higher than expected cost synergies and earnings gains.
When the deal is completed, Watson Pharmaceuticals expects to tilt 40% of its generic drugs revenue outside of the U.S. Those benefits and synergies are expected to add 30% to Watson's non-GAAP 2013 earnings per share, causing analysts like Credit Suisse's Mike Faerm and Corey Davis of Jefferies to boost their share expectations for Watson Pharmaceuticals, as it takes on larger generics competitors
Mylan
(MYP)
,
Sandoz
and
Teva Pharmaceutical
(TEVA) - Get Teva Pharmaceutical Industries Ltd. Report
.
But after an over 5% share surge to over $74 in reaction to the deal, Wells Fargo analyst Michael Tong was reluctant to raise his outlook on Watson Pharmaceuticals until a further check on the combined company's earnings targets and integration benefits. That's changed with Thursday's upgrade, which pushed Watson Pharmaceuticals shares up nearly 3% to $72.77 in afternoon trading.
"The higher confidence, coupled with recent share price pullback, has turned the potential reward/risk profile of Watson Pharmaceuticals significantly more favorable, in our view," wrote Tong in a note to clients. Tong adds that the combined company could generate $7.68 in 2013 earnings per share, up from a forecast of $7.17, assuming a $1 billion debt paydown and deal-related expense reductions and profit margin increases. Still, integration risks and the European economy represent key risks for investors, cautions Tong.
Duke Energy
As regulators prepare to unveil key decisions on Duke Energy's $13.7 billion mega-merger with Progress Energy, UBS analyst Jim von Riesemann highlights an upside case for Duke Energy in a ratings upgrade to buy from neutral, while highlighting attendant risks to Progress Energy.
Earlier in May, Credit Suisse analyst Dan Eggers said that investors
on Progress Energy's discounted trading price to Duke's share offer announced in January 2011 as key regulatory approvals still loom.
Later this week, the
Federal Energy Regulatory Commission
is set to rule on the deal, with the prospect that it could continue to oppose the merger, which has already delayed what would be the creation of a southeastern utilities powerhouse and a leading presence in the Carolinas.
While von Riesemann of UBS cautions investors from playing a $4 share spread that's opened between the offer and Progress Energy's trading prices on a possible $10 stock drop were federal regulators to oppose the merger on antitrust grounds, he gives Duke Energy a buy rating as it's set to become the largest company by market cap in the sector.
"The new company would become the industry's largest in terms of customers, generation capacity and rate base with realistic and reasonable growth prospects," writes von Riesemann in his upgrade. "We like the reward-risk in Duke Energy as the shares are currently trading at a 1% relative premium price-to-earnings to group averages." Duke Energy shares rose under 1% in Thursday trading to $21.71, while Progress fell slightly to $54.42.
Boyd Gaming
After Boyd Gaming
on a $1.45 billion deal for Peninsula Gaming, in a heavily debt-financed acquisition, ratings agency Moody's said earlier in the week that the move could be a positive for Boyd's ratings. After a brief surge in Boyd Gaming's shares to nearly $7.50 on the heels of the deal, shares were down to $7 by Wednesday's close.
Risks to the deal include the prospect that a U.S. economic slowdown hits Boyd's earnings to the point where it tests covenants on its existing debts, noted KeyBank Capital Markets analyst Dennis Forst. Meanwhile, Bank of America Merrill Lynch analyst Shaun Kelley said that although buying Peninsula Gaming is a best-in-class operator and has strategic benefits for Boyd Gaming, which is concentrated in the Atlantic City and Las Vegas gambling markets, the casino operator nonetheless may struggle amid a weak U.S. gaming recovery and high competition.
Moody's ratings opinion took away the prospect of a deal related downgrade and cited the prospect for a ratings benefit or "credit positive" outlook on Boyd Gaming's B2 rating.
The deal "will reduce the company's exposure to the stagnant Las Vegas local market and will add properties in Louisiana, Iowa and Kansas that have higher property-level EBITDA margins than Boyd's existing casinos," noted Moody's senior vice president Keith Foley. "We expect these higher-margin assets to boost Boyd's free cash flow and enable it to reduce its leverage over the next few years."
In other second read M&A news, on Thursday Citigroup equity strategist Javier Guardo put struggling beauty products giant Avon Products on his "off the fence! Buy" list, while he added genomics machinery manufacturer Illumina to his list of Citi's most bullish earnings views. Earlier in May, Avon Products
a hostile takeover attempt by privately-held
Coty
, while Illumina successfully
a $6.8 billion hostile takeover attempt by European drugs conglomerate
Roche
.
For more on deals to watch, see why a
BMC Software
(BMC)
deal
between a cloud boom and tech gloom.
Within the tech sector, also see why
Hewlett-Packard's
turnaround
hinges on its $11.7 billion Autonomy deal
.
--
Written by Antoine Gara in New York