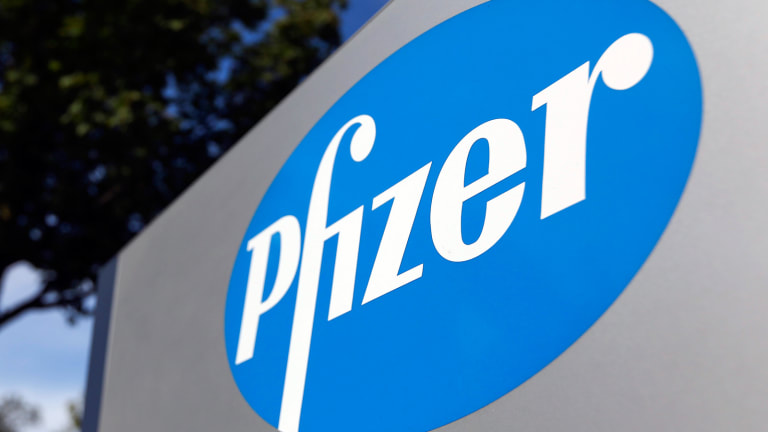 Drugmakers Plan Huge Deals in 2017 -- and Banks Will Collect Big Fees
Here are the winning banks.
The year ahead will likely mean more business for big banks advising the Big Pharma universe on matters of M&A, as companies such as Pfizer (PFE) - Get Free Report and Johnson & Johnson (JNJ) - Get Free Report operate with a political backdrop that offers no shortage of drivers to strike more deals.
Based on recent assignments, the banks that may very well continue to benefit from new mandates includes the top four ranking firms on The Deal's2016 M&A league table, with 104 transactions valued at $100 million or higher -- JPMorgan Securities (JPM) - Get Free Report , Morgan Stanley (MS) - Get Free Report , Goldman Sachs (GS) - Get Free Report and Barclays Capital (BCS) - Get Free Report , in that order.
"I've been in this industry now almost a decade, and it's been an industry that has been consolidating, I think still is consolidating, and will continue to," Pfizer CFO Frank D'Amelio said during a fireside chat at the 35th Annual J.P. Morgan Healthcare Conference held earlier this month in San Francisco.
Indeed, President Donald Trump has pledged to police the drug industry and bring down prices, adding pressure to pharma companies to continue adding new products to account for a potential slowdown in revenue growth among key existing drugs. His administration is also more likely to support legislation allowing the repatriation of foreign profits, which would leave a number of the industry's most sizable companies with even more cash to go after smaller U.S. peers. Add to that the recently passed 21st Century Cures Act, legislation intended to make the FDA drug-approval process a more friendly one, and the pool of enticing early-stage companies up for grabs could grow even larger.
Editors' note: This article was originally published by The Deal on Jan. 24, a sister publication of TheStreet that offers sophisticated insight and analysis on all types of deals, from inception to integration. Click here for a free trial.
While tuck-in M&A will undoubtedly continue, Pfizer's D'Amelio went only so far as to call the "big galactic deals" that we saw in 2016 as "possible" at the conference. The view that strategy will center on small- to mid-sized transactions is one echoed by many of D'Amelio's peers during the first few weeks of the year.
Pfizer itself has indicated it will steer towards revenue-generating targets in a "now or soon" time frame. If history repeats itself, the drug giant is likely to turn to firms including Guggenheim Securities (ranked 22 in The Deal's league tables), Centerview Partners (16) and Goldman when it seeks outside banking advice on such deals.
Both Centerview and Guggenheim advised Pfizer on two notable transactions in 2016, including when it spent $14 billion to win the hotly contested auction for cancer treatment developer Medivation and $5.2 billion for Anacor Pharmaceuticals, which is currently developing a treatment for eczema.
Guggenheim has also worked with Pfizer on the sell side, advising the company alongside Goldman when it sold its Hospira Infusion Systems business to ICU Medical (ICUI) - Get Free Report for $1 billion last year. If Pfizer were to move forward with a potential sale or spinoff of its consumer health unit, as speculated in recent months, both firms may find themselves in a good position yet again.
Among notable specialty pharma players is Allergan (AGN) - Get Free Report , whose management indicated at the J.P. Morgan conference is poised to tilt its attention to accretive M&A and away from the early-stage pipeline acquisitions of which many investors have been highly critical over the last several months.
While CEO Brent Saunders has by and large spearheaded many of Allergan's recent tuck-in purchases, the company has turned to Guggenheim, Barclays and JPMorgan in past transactions. 
Allergan is a holding in Jim Cramer's Action Alerts PLUS Charitable Trust Portfolio. Want to be alerted before Cramer buys or sells AGN? Learn more now.
Guggenheim and Barclays advised the company on its $2.9 billion deal for LifeCell, announced in December, though JPMorgan has repeatedly worked with Allergan on both the sell side and buy side. JPMorgan advised the drugmaker on the sale of both its generics business and Anda to Teva Pharmaceutical Industries (TEVA) - Get Free Report last year, as well as on its $2.1 billion acquisition of Kythera Biopharmaceuticals in 2015. When Actavis bought Allergan for $70.5 billion in early 2015, retaining the Allergan name, JPMorgan also scored Saunders' business.
JPMorgan could win even more advisory fees from Johnson & Johnson on future M&A endeavors.
Johnson & Johnson, which is reportedly close to sealing a $26 billion-plus deal for Swiss biopharma Actelion, is viewed as being among the biggest potential beneficiaries if Trump's "tax holiday" is enacted. How exactly corporate taxes might change is still uncertain, though CEO Alex Gorsky at the J.P. Morgan conference did acknowledge that it would be a "real positive" should there be more flexibility in the long run to deploy capital that was less influenced by tax regulations.
On Tuesday's first-quarter conference call, the CEO reiterated that the company continues to evaluate deals, but is concentrating on bolt-on and early stage licensing opportunities. Gorsky also suggested that further streamlining could follow the eight divested units we saw in 2016.
As a seller, Johnson & Johnson has sought advice from JPMorgan, which advised the multinational on both its $1.9 billion divestiture of Cordis to Cardinal Health (CAH) - Get Free Report and its $4.15 billion sale of its Ortho-Clinical Diagnostics business to Carlyle (CG) - Get Free Report .
On recent purchases, Johnson & Johnson worked with Morgan Stanley, which assisted the company on its $4.3 billion cash deal for Abbott Medical Optics Inc. from Abbott Laboratories (ABT) - Get Free Report .
Merck (MRK) - Get Free Report will also have much more cash at its disposal if profits held overseas are brought back to the U.S. The company enlisted Goldman when it spent $9.5 billion on Cubist Pharmaceuticals in 2015, while it turned to Credit Suisse (CS) - Get Free Report (No. 6 on our list) on its $3.85 billion deal for Idenix Pharmaceuticals the same year.
On the generics front, Teva also has its sights set on tuck-in deals, looking to bolster its core therapeutic areas as well as opportunities in specialty pharma, CEO Erez Vigodman told attendees at the J.P. Morgan conference.
Its focus on smaller scale M&A and a priority to reduce its net ratio of debt to earnings before interest, taxes, depreciation and amortization to 3.5 times ought to be no surprise, having shelled out $33.4 billion in cash and $5.4 billion in stock deal for Allergan's generics drug business in a deal that closed in August.
In its megadeal for the Allergan generics business, Teva turned to Greenhill (GHL) - Get Free Report (No. 24 on the list) and Barclays. On comparatively smaller M&A matters, it has worked with Goldman Sachs, which advised Teva on its $3.2 billion purchase of Auspex Pharmaceuticals in 2015, and Evercore (EVR) - Get Free Report , which advised the company on its $212 million purchase of NuPathe in 2014.