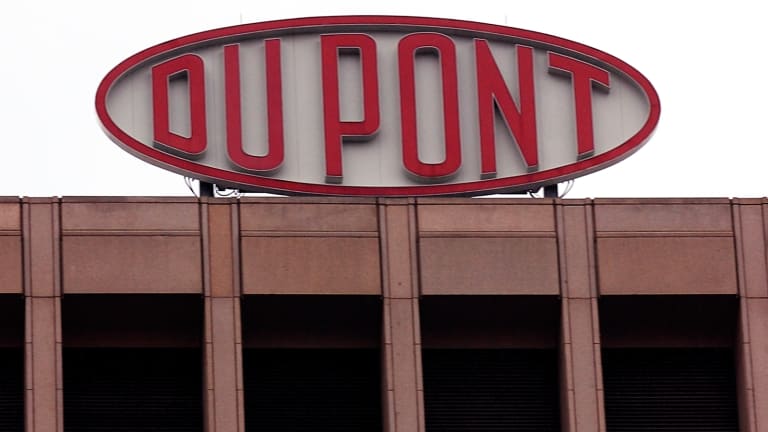 Dow-DuPont Merger Talks Show Willingness to Risk Regulator Backlash
Companies are increasingly less afraid to undertake antitrust risk.
Wednesday's revelation Dow Chemical (DOW) and DuPont (DD) are in merger talks is the latest possible deal in a string of strategic merger agreements companies have entered despite obvious antitrust concerns, an indication big companies are willing to risk a challenge from U.S. regulators in order to have a shot at the synergies and market position that the deals would offer.
Post-merger, the companies would break into three separate ones -- presumably along their agricultural, industrial and plastics lines. If that is indeed the plan, the move would reduce the number of players in three separate markets and surely draw intense scrutiny from competition regulators around the globe. 
But such assertive moves are becoming commonplace. In the past year, deals certain to push the envelope of what U.S. regulators would tolerate have included Staples' (SPLS) $6.3 billion bid to acquire Office Depot (ODP) , Dollar General's (DG) unsolicited $9 billion bid to supplant Dollar Tree (DLTR) as the acquirer of Family Dollar Stores and Halliburton's (HAL) $35 billion agreement to buy Baker Hughes (BHI) .
Staples' February offer for Office Depot came less than a year after the FTC allowed Office Depot to acquire OfficeMax, a merger that already created substantial concentration in the office products market and dredged up memories of Staples' unsuccessful bid to win FTC approval for its attempt to buy Office Depot in 1997. On Monday history repeated itself when the commission filed a complaint to block the latest attempt to acquire Office Depot.
Despite citing the rise of Internet retail outlets as reason to approve the OfficeMax deal, the FTC said Staples' attempt to get bigger would harm competition in a nationwide market for "consumable" office supplies sold to large businesses, a segment it said isn't suitably served by online retailing to endure more concentration of brick and mortar retailers.
Dollar General launched its hostile bid for Family Dollar despite criticism from the target that Dollar General would have to divest thousands of stores to clear the FTC whereas Dollar Tree's offer faced negligible antitrust risk. That prediction turned out to be true: After four months of courting Family Dollar shareholders and negotiating with the FTC, Dollar General learned in January 2015 that its required divestitures would run between 3,500 and 4,000 stores while Dollar Tree was required to sell only 330. That same month Family Dollar shareholders approved the Dollar Tree bid.
Another boundary-testing deal occurred in November 2014 when Halliburton and Baker Hughes agreed to merge. In recognition of the antitrust risks, Halliburton pledged up front to make significant divestitures to win Department of Justice approval and pay Baker Hughes a huge $3.5 billion breakup fee if the merger fails to win government clearance. Halliburton has upped the number of businesses it is willing to divest at least twice since the DOJ review got underway. The DOJ review is still pending.

Even a court fight with regulators isn't always enough to get aggressive suitors to back down. This week Staples and Office Depot vowed to fight the FTC in court and said they "intend to complete this transaction." Similarly, Electrolux (ELUXY) was waging a court fight to preserve its $3.3 billion purchase of General Electric's (GE) appliance division in the face of a DOJ challenge. Electrolux's fight ended only because GE exercised its right to terminate the deal on Monday.
Many of these aggressive, antitrust-testing deals are pushed at some level by activist investors. The bids by Staples, Dollar General and Halliburton were all conceived or encouraged by activists. GE has been pushed to pare down by activists as well and the sale to Electrolux was part of its reduction strategy.
Sure, most companies are still inclined to shy away from obvious antitrust hurdles. Syngenta (SYT) cited antitrust risk as a key reason for spurningMonsanto's (MON) repeated overtures this summer and for the same reason Norfolk Southern (NSC) continues to deflect offers from Canadian Pacific Railway (CP) .
But there's a simple reason why investors are willing to back deals with significant regulatory risk: the endeavors aren't always quixotic. Case in point: Steris (STE) prevailed in federal district court in September against the FTC's lawsuit to stop its $1.9 billion acquisition the U.K.'s Synergy Health, a rival medical equipment sterilization company that was poised to enter the highly concentrated U.S. market with a new technology.