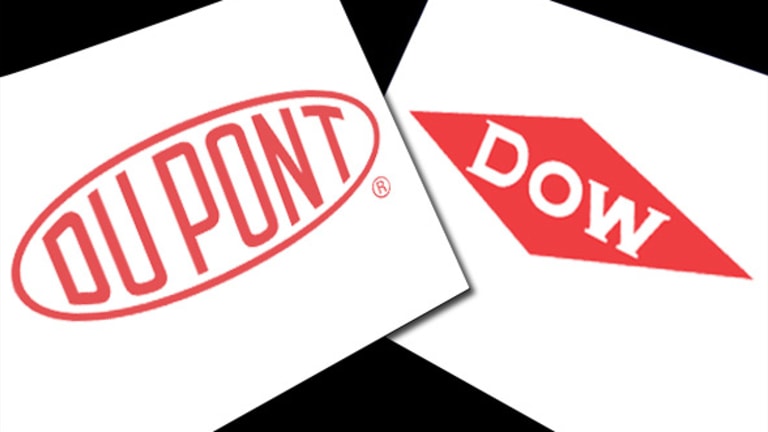 Dow, DuPont Confirm Plans to Merge -- and Then Split
The two iconic chemicals companies Dow Chemical and DuPont will join together to form a $130 billion entity, with plans to then divide into three independent companies within 24 months.
Dow Chemical (DOW) - Get Dow, Inc. Report and E. I. DuPont de Nemours (DD) - Get DuPont de Nemours, Inc. Report on Friday announced plans to merge the two iconic businesses into a chemicals giant valued by the market at about $130 billion.
The companies confirmed plans to combine as DowDuPont, which would be followed by a separation into three independent companies focused on agriculture, materials science and specialty products. DowDuPont will claim both Dow's Midland, Mich., base and DuPont's Wilmington, Del., location as dual headquarters, and create a 16-person board with eight directors coming from each side.
Exclusive Look Inside:
You see Jim Cramer on TV. Now, see where he invests his money and why Dow Chemical is a core holding of his multi-million dollar portfolio.
Want to be alerted before Jim Cramer buys or sells DOW?Learn more now.
Terms of the deal call for Dow holders to receive one share of the new DowDuPont for each share held, while DuPont holders will receive a fixed exchange ratio of 1.282 shares for each share held. The result will leave holders of each company with about 50% of the combination on a fully diluted basis.
The companies said they believe they can extract $3 billion in annual costs within 24 months, and expect about $1 billion in "growth synergies." The deal is expected to close by year's end 2016, with the planned separations expected to occur 18 months to 24 months following the close.
Deal sources say that the merger has long been contemplated by Dow chairman and CEO Andrew Liveris, with DuPont coming to the table not long after Edward D. Breen was named CEO earlier this year. Breen has a history of orchestrating corporate separations, taking over Tyco International from the disgraced Dennis Kozlowski, righting the ship and using splits to transform it into a number of smaller, more-focused standalones.
Post-deal, Liveris would be executive chairman of DowDuPont, while Breen would be CEO of the combined business. Liveris in a statement called the deal "a game-changer for our industry" that will adjust the centuries-old corporations to the realities of the modern global chemicals business.
"Over the last decade our entire industry has experienced tectonic shifts as an evolving world presented complex challenges and opportunities, requiring each company to exercise foresight, agility and focus on execution," Liveris said. "This transaction is a major accelerator in Dow's ongoing transformation, and through this we are creating significant value and three powerful new companies."
Breen, who said on a conference call with investors that he began considering a potential merger between Dow and DuPont after he was named to DuPont's board about a year ago, in a statement said that after the merger and split "each of these businesses will be able to allocate capital more effectively, apply its powerful innovation more productively, and extend its value-added products and solutions to more customers worldwide."
Though the massive deal is sure to attract significant antitrust scrutiny, the companies emphasized the different areas where the two independents are strong. The combined $51 billion-sales materials sciences unit will include $45 billion contributed by Dow, while the $13 billion specialty products business is comprised of about $11 billion worth of legacy DuPont assets.
Even in agriculture, a $19 billion post-deal unit where the two sides have comparable businesses, company officials said they expect few, if any, needed divestitures.
The companies are expected to emphasize the global nature of much of the business, and the rise of foreign competitors as a justification for allowing the combination. Execs said there are termination fees as part of the agreement, but did not provide details.
Both companies have faced significant pressure from activists in recent years. Trian Fund Management, which waged an unsuccessful campaign against DuPont, is said to be on board with the plan. It is less certain whether Third Point, which is operating under a soon-to-expire standstill agreement with Dow, is in favor, though Third Point-nominated Dow directors did sign off on the merger.
The ag business would be a vendor of seed and crop protection products to be overseen by Breen, while the materials sciences firm includes plastics and materials and will be overseen by Liveris. The specialties unit contains the companies' other businesses, with exposure to health, bioscience, safety, electronics and related industries.
Separately Friday, Dow said it has agreed to acquire full control of its joint venture Dow Corning from Corning (GLW) - Get Corning Inc Report for about $4.8 billion. As part of the deal, Dow and Corning would each own about 40% of Hemlock Semiconductor, a maker of polycrystalline silicon used in the manufacturing of semiconductor and solar devices. Previously Dow Corning owned about 80% of Hemlock.
Liveris said that swap is part of Dow's plan "to provide clarity on our joint ventures."