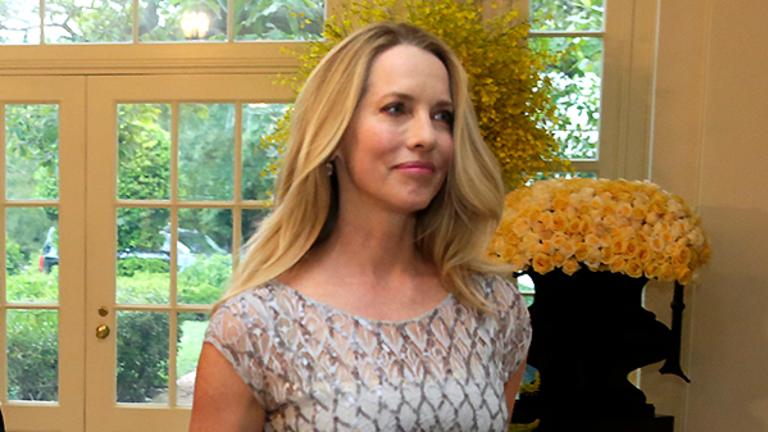 This Is Why President Trump Can Now Blame Apple for Atlantic's Reporting
Laurene Powell Jobs, widow of Apple co-founder Steve Jobs, has agreed to purchase a majority stake in the 160-year-old monthly magazine.
If President Trump wants to widen his conspiracy theories beyond Amazon.com Inc. (AMZN) - Get Amazon.com, Inc. Report , Jeff Bezos and The Washington Post, he can now point his Twitter feed at Apple Inc. (AAPL) - Get Apple Inc. Report , Atlantic Media and Laurene Powell Jobs.
Powell Jobs, the widow of Apple co-founder Steve Jobs, has agreed to purchase a majority stake in the magazine through her investment and philanthropy organization, Emerson Collective, the magazine announced on Friday, July 28. Terms were not disclosed.
Ropes & Gray LLP and Evercore Partners Inc. advised The Atlantic, while Wilson Sonsini Goodrich & Rosati PC and M. Klein & Co. counseled Emerson Collective.
That makes for yet another liberal-leaning, hard-charging, well-researched news organization with ties to Silicon Valley. If Trump's recent offensive against Amazon and Bezos are an omen of things to come, Atlantic editor-in-chief Jeffrey Goldberg or Powell Jobs herself can expect some late-night/early-morning zingers straight from the Oval Office. (Powell Jobs has stakes in both Apple and Walt Disney Co. (DIS) - Get Walt Disney Company Report , the latter holding thanks to Disney's purchase of Pixar Animation Studios Inc. Powell Jobs had a 4.05% stake in Disney as of Jan. 14, according to Bloomberg. As of Friday, her holdings placed her at No. 42 on Forbes' billionaires list, with a net worth of $20.7 billion.)
Watch:President Trump Just Took a Swipe at Amazon's Jeff Bezos and the Washington Post on Twitter
While Powell Jobs is acquiring a controlling interest in the magazine, Atlantic Media chairman David G. Bradley, who purchased the flagship publication for $10 million in 1999 from real estate investor and New York Daily News owner Mortimer Zuckerman, will continue in the role for three to five years. Bradley, 64, told the magazine he was eager to find a new owner for The Atlantic given that his children have expressed little interest in running a news organization.
"While I will stay at the helm some years, the most consequential decision of my career now is behind me: Who next will take stewardship of this 160-year-old national treasure?" Bradley wrote in a letter to staff. "To me, the answer, in the form of Laurene, feels incomparably right."
The deal announcement said Bradley researched more than 600 potential investors over more than a year but Emerson Collective was "the only prospect he approached."
The organization focuses on immigration reform, education, the environment and other social justice initiatives.
Atlantic president Bob Cohn and publisher Hayley Romer will continue in their roles, as will Goldberg. Emerson Collective's managing director of media, Peter Lattman, will become vice chairman of The Atlantic.
The deal does not include other Atlantic Media properties such as online business website Quartz and Washington publication The National Journal. It does include digital properties, a live events business and consulting services.
Don't Miss These Weekend Reads on TheStreet:
How Birchbox Took on Macy's, J.C. Penney and the $500 Billion Beauty Counter
For Powell Jobs, 53, the acquisition puts her squarely into the body politic. While The Atlantic is small compared to The Post or New York Times Co.'s (NYT) - Get New York Times Company Class A Report namesake newspaper, it carries a high profile among political followers, especially those critical of Trump. The Atlantic has had its share of investigations and critical essays aimed at the president's ties to Russia, among other issues.
Digital readership among Atlantic Media's publications has grown from 2 million in early 2009 to a monthly average of 33 million unique visitors for the first half of 2017, the company said. It also generates profits of more than $10 million per year after annually losing at least that amount during the early years of Bradley's ownership. 
Like most successful media companies, Atlantic Media has steered from print to digital revenue. In 2006, 85% of revenue came from print advertising and circulation. This year, print will account for less than 20% of incoming revenue; the company's digital, events and consulting divisions make up the remainder, it said. In the past decade, the company's annual revenue has quadrupled, to nearly $80 million.
Powell Jobs' acquisition of The Atlantic also comes after Bradley did the hard work of transforming a staid, wonkish magazine into one that has won accolades for its journalism as well as its web design. Of course, The Atlantic was founded in 1857 by Henry Wadsworth Longfellow, Oliver Wendell Holmes, and Harriet Beecher Stowe, a point Powell Jobs cited in announcing that her Emerson Collective would purchase a majority stake in the magazine.
"What a privilege it is to partner with David Bradley and become a steward of The Atlantic, one of the country's most important and enduring journalistic institutions," Powell Jobs said. "The Atlantic was co-founded 160 years ago by a group of abolitionists including Ralph Waldo Emerson, who is a primary inspiration for our own work at Emerson Collective."
One can only wonder if Powell Jobs will have second thoughts once the president finds out who owns The Atlantic. 
Apple's shares fell 0.7% to $149.50 on Friday.
Watch More with TheStreet:
Tesla's Elon Musk and 3 Other Business Titans Think Artificial Intelligence Will Send You the Pink Slip
How Birchbox Took on Macy's, J.C. Penney and the $500 Billion Beauty Counter