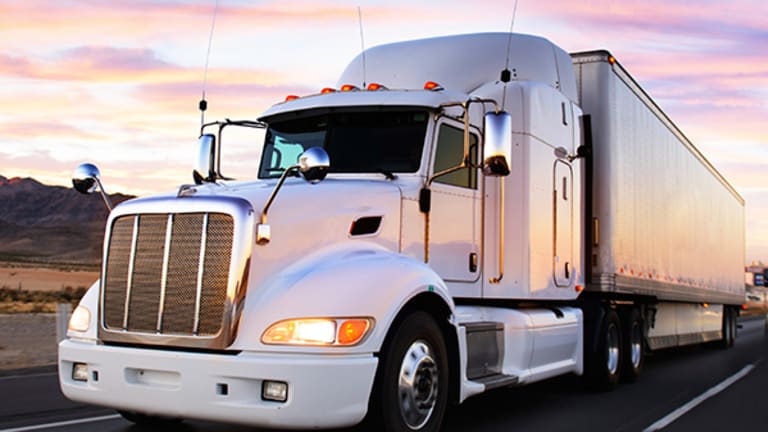 Don't Expect a Deal for Navistar Anytime Soon
Debt and other issues, coupled with slowing industry sales, could limit near-term interest in the truck maker.
Debt and other issues, coupled with slowing industry sales, could limit near-term interest in the truck maker.
Navistar International (NAV) - Get Report has made tremendous strides since its near-death experience earlier in the decade, and given where we are in the cycle the company wouldn't be blamed for putting up a sale sign. But despite its progress, lingering issues at the truckmaker, coupled with other industry problems, could make a near-term deal unlikely.
Lisle, Ill.-based Navistar has stabilized after a disastrous $700 million bet last decade on a new engine technology that led to a slump in sales and uptick in warranty claims, putting the company in 2012 at risk of a potential bankruptcy. The company, after a change in management and steps including sourcing engines from rival Cummins (CMI) - Get Report , has battled back, narrowing losses in 2015 and pledging to return to profitability this year.
Company CEO Troy Clarke told Reuters earlier this week the turnaround "just makes us a better partner," implying he'd be open to doing a deal. Sources told The Deal something similar nearly a year ago when Navistar shares were trading in the mid-$20 range, about double its current $10.84.
Navistar, in theory, should be able to attract some interest, with Volkswagen (VLKAY) , Daimler (DDAIF) and Volvo Group (VOLVY)  all often mentioned as potential suitors. Navistar's strong dealer network and U.S. distribution system would make it a tempting target for a company like Volkswagen, an international trucking giant that lacks a presence in the U.S. and has long been seen as a likely buyer.
Nonetheless, the company still has warts that could make it unattractive to a would-be suitor. Navistar has boosted Ebitda margins in recent years largely through Clarke's aggressive cost cutting, but has not yet been able to consistently generate top line growth.
The industry has enjoyed strong sales growth in recent years, driven in part by companies playing catch-up after freezing capital expenditures during the Great Recession. That phase of the cycle appears to be over, with manufacturers including Paccar and Volvo tempering growth expectations in 2016.
If that's the case the best way to boost sales this year will be by taking market share from competitors, something that Navistar, still carrying the reputational baggage from its engine issues, seems ill-suited to do without severe discounting.
A slowdown would seem the natural environment for consolidation. But would-be suitors might stay away until Navistar is able to whittle down its $5.3 billion in total debt, an amount more than 5 times its current market capitalization.
Navistar also faces an emissions lawsuit filed by the Environmental Protection Agency over its 2010 heavy-duty truck sales with the agency seeking upward of $300 million in potential penalties.

The most logical buyer would be a deep-pocketed company like Volkswagen that could quickly rebrand Navistar and take advantage of the dealer network and the target's more than $1 billion in net operating losses. But Volkswagen already has an emission headache of its own to deal with on the auto side, a factor that might delay any dealmaking by the German company and which could make VW shy away from taking on another brand with reputational risk.
A wildcard could be a Chinese company seeking to establish a base in the west.
Even if a sale of the entire company proves impossible, Navistar might have more success carving out specific businesses like its military unit. Analysts including IBISWorld's Maksim Soshkin have warned of overcrowding in the armored vehicle sector, where five major manufacturers are vying for a decreasing amount of new work.
Navistar's military unit in September won its first large contract since 2012, a $369 million deal to build tactical vehicles for the U.S. Army. Any one of its primary rivals in the military business, a group that includes General Dynamics (GD) - Get Report , BAE Systems (BAESY) , Oshkosh (OSK) - Get Report and Textron (TXT) - Get Report , could be interested in consolidating the market.
Navistar under Clarke has orchestrated an impressive turnaround, and a takeover seems the most likely eventual destination for the truckmaker. But despite the hard work, the company likely still has a longer road to travel.