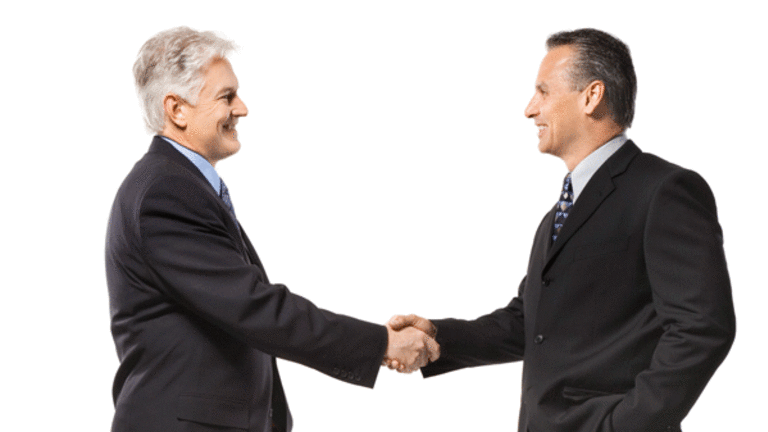 Dollar General Spoiler Bid Clouded by Antitrust Issues
The $9.7 billion attempt to break up the Family Dollar-Dollar Tree deal may be flawed.
NEW YORK (The Deal) -- Dollar General's (DG) $9.7 billion cash offer to acquire Family Dollar Stores (FDO) out from under Dollar Tree (DLTR) may not go far enough to accomplish the task, particularly regarding antitrust risk.
Dollar General Monday made a spoiler bid for Family Dollar worth $78.50 per share. The offer comes three weeks after Family Dollar agreed to a cash and stock merger with Dollar Tree that values the small-box discount retailer at $59.60 in cash and $14.90 in Dollar Tree shares, or $74.50. Shares of Family Dollar traded about $1.335, or 1.7%, over the spoiler bid, suggesting the market is looking for a higher offer.
Dollar General shares also traded up about $7, or 12%, on the announcement, which should encourage the company to pursue the spoiler offer.
One oddity in the bidding is that Dollar General said in its offer letter to Family Dollar and on the conference call announcing the offer that the bidder was surprised by the deal between Family Dollar and Dollar Tree. The proxy for the Dollar Tree merger discusses a background of merger discussions over many months that included talks with Dollar General. It was impossible for Dollar General to not know that Family Dollar was exploring a sale, particularly because activists Carl Icahn and John Paulson were shareholders and Nelson Peltz's Trian Fund Management is represented on the board.
Dollar General Chairman and CEO Rick Dreiling apparently did want to retire, as he announced in late June, and Dollar General executives did not think that Dollar Tree had the capacity to do its deal or would not risk a non-investment grade rating, according to a person close to the deal. There are no social issues in the Dollar Tree tie-up and Dollar General was not "locked out" of bidding in any way, the source said. The retention of store banners and other matters are irrelevant, he said.

There are antitrust concerns with the Dollar General offer that will have to be addressed, the source said. Dollar General with its 700-store divestiture offer is, given overlaps, offering the same antitrust package as Dollar Tree, but the risks are greater, the source said. A Dollar General deal will take longer to make its way through the Federal Trade Commission but Dollar General has not made a bid that adequately addresses those risks, either in divestiture offers or price, he said. The Dollar Tree merger agreement does not include a reverse termination fee because one was not considered necessary, which may not be the case with Dollar General, he said.
This source also noted that the Dollar Tree deal is structured with less than 20% equity issued so it does not include a vote of Dollar Tree shareholders. Family Dollar did not want Dollar General breaking up the merger with a bid for Dollar Tree, leaving Family Dollar out of the consolidation, he said. This concern will likely inform how Family Dollar considers the Dollar General offer and its deal risk, the source said.
Dollar General said that based on antitrust counsel and economic analysis from Compass Lexecon it can get the deal past antitrust regulators quickly and efficiently.
Nevertheless, Dollar General may need to firm up its antitrust commitments.