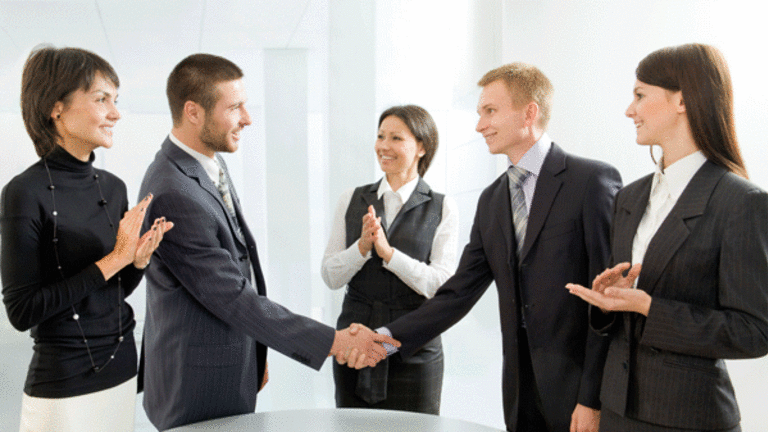 Dollar General Goes Hostile with Family Dollar Bid
Takes $9.1 billion offer directly to target's shareholders despite prior rejection on antitrust concerns.
NEW YORK (The Deal) -- Dollar General (DG)  on Wednesday said it would launch a tender offer of $80 per share for Family Dollar Stores (FDO) , going hostile with a $9.1 billion offer that was already rejected by the target's board.
In a response, Family Dollar said it would review the bid and make a recommendation to shareholders, noting it was the same offer that Dollar General previously made. The tender offer expires Oct. 8. Dollar General and Family Dollar declined comment.
The hostile bid is the latest salvo in the battle over who will control the Charlotte, N.C.-based discounter largely concentrated in the Southeastern U.S.
Dollar Tree (DLTR)  in July agreed to buy Family Dollar for $74.50 per share, in a deal valued at $9.2 billion in cash, stock and assumed debt. Dollar General made its $80 per share bid in August, saying its offer valued Family Dollar at $9.7 billion.
Family Dollar on Sept. 5 rejected Goodlettsville, Tenn.-based Dollar General's offer, which included a reverse breakup fee of $500 million, if the deal didn't meet regulatory standards and a commitment to divest 700 to 1,500 stores. Family Dollar then revised its $74.50 per share deal with Chesapeake Va.-based Dollar Tree to include an agreement to divest as many stores "as necessary or advisable" to gain antitrust clearance.
Revising this aspect of the deal signalled to Dollar General that it needed to do the same, despite its otherwise superior offer. But a source familiar with Dollar General said that it feared it would loose too much leverage with the Federal Trade Commission in a review of the deal if it made such a concession.
But the source said the aim was for Dollar General to launch a dialogue with the FTC to find out exactly what issues the agency would have and how many stores it would require a combined Family Dollar and Dollar General to unload. The source termed it a "fact-finding mission."

Dollar General CEO Rick Dreiling in a statement said that by launching the tender offer, Dollar General could begin the antitrust review process.
"Our offer provides Family Dollar shareholders with significantly greater value than the existing agreement with Dollar Tree, as well as immediate and certain liquidity for their shares," said Dreiling in the statement. "By taking this step, we are providing all Family Dollar shareholders a voice in this process, and we urge them to tender into our offer."
Dreiling added that Dollar General is "confident in the results of our antitrust analysis, and we look forward to a constructive dialogue with the FTC."
Family Dollar and Dollar Tree said Monday they expect the FTC to issue a second request for information extending the government's antitrust investigation of their deal, but also predicted that the deal would receive FTC approval in time to close the transaction as early as the end of November. Previously, the parties had predicted the transaction will close early in 2015.
By shortening the predicted timeframe for closing the deal, Dollar Tree and Family Dollar are indicating that they won't drag out discussions with the FTC in order to keep the number of spinoffs the regulators require at a bare minimum. When the Dollar Tree-Family Dollar deal was announced, company officials told analysts that the flagship stores of the two chains are not each others' closet competitors.
Although both chains target lower-income shoppers, Dollar Tree's products are sold for a single price point, $1, and half its inventory is comprised of necessities for daily life such as health and beauty items, household cleaning supplies and paper goods. Family Dollar, on the other hand, offers a wider product range at multiple price points and serves a broader customer base. The stores also have a different geographic focus. Dollar Tree is more likely to be near to suburban areas and draw more middle-income shoppers, whereas Family Dollar stores are more likely to be located in urban and rural areas and a higher share of their customers are lower income.
Family Dollar expects a more onerous FTC review of a deal with Dollar Tree because the chains are more similar.

Triggering the push for a combination of two of the major dollar-themed chains is Wal-Mart Stores (WMT) , which is willing to put its financial and real estate power behind expanding smaller footprint stores to more directly compete with its rivals.
Dollar-themed stores have begun to eat away at Wal-Mart's customer base by having more convenient locations, while still offering the same low prices. Wal-Mart's presence in the market could bolster Dollar General's antitrust argument. The FTC has recently been more amenable to combinations of retailers because of intensifying competition, such as in the case of office supply retailers Office Depot (ODP)  and OfficeMax (OMX) , and men's wear purveyors Men's Wearhouse (MW)  and Jos. A. Bank Clothiers (JOSB) .
Key to any transaction with Family Dollar is Trian Fund Management, a large shareholder. In declaring the Dollar General offer insufficient, Trian's Ed Garden in a statement said, "we are focused on delivering to Family Dollar shareholders the highest value with certainty, and the Dollar Tree transaction does just that. Dollar Tree has taken the antitrust risk off the table by committing to divest as many stores as necessary to obtain antitrust clearance. We remain fully committed to the Dollar Tree transaction."
While Trian can play an activist role, it often acts more like a private equity firm, remaining involved with companies over a period of years, and may prefer the stock in a highly-profitable, well-run retailer such as Dollar Tree, while taking some cash off the table.
Dollar General said the offer is not conditioned upon obtaining financing. The retailer has received commitments from Goldman Sachs (GS)  and Citigroup Global Markets (C)  for all of the necessary financing.