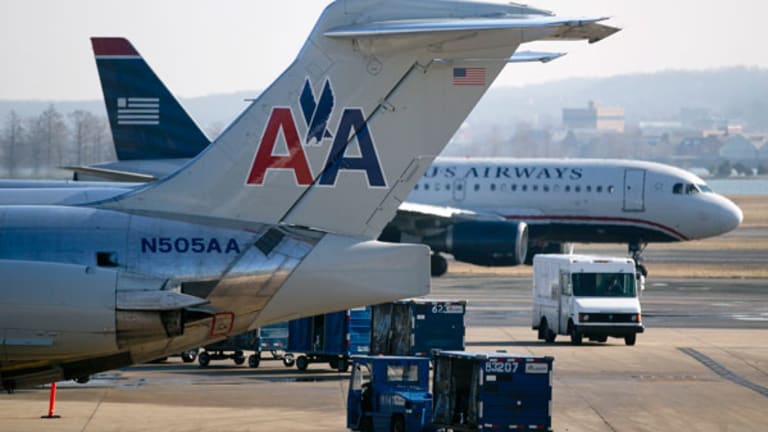 DoJ's Antitrust Suit Against American Isn't Anti-Business
The DoJ's antitrust efforts have helped business before.
NEW YORK (
) -- Antitrust isn't always anti-business.
The
Department of Justice's
decision to block
American Airlines
(AAMRQ.PK)
proposed merger with
US Airways
(LCC)
as the near 60,0000-employee strong airline seeks to exit bankruptcy may strike some as particularly business unfriendly, however, it could also come with long-term economic benefits that are hard to presently see.
The DoJ's intervention in what would be the fourth mega-airline merger in the last handful of years may be politically motivated and it may raise uncertainty for American's thousands of pilots, flight attendants and operations staff. Investors, meanwhile, are bracing for weaker pricing power and profit margins across the airline industry.
Still, while antitrust actions are troubling to investors and C-Suites, they can often be an economic stimulus that spawns new businesses, increased revenue streams for large firms and overall economic growth.
Two years ago, the DoJ's move
AT&T's
$39 billion takeover of
T-Mobile
(TMUS) - Get T-Mobile US, Inc. Report
was taken by some as indicative of a bent for anti-business political grandstanding within the Obama Administration. AT&T said its customers would lose valuable wireless service coverage and labor unions feared job losses. Some elected politicians even
the decision as the administration's "continued assault on the American economy."
As it turns out, the failed merger of two of the wireless industry's four largest players has been a tremendous
to the telecom sector and ancillary tech services, hardware an infrastructure firms.
AT&T, instead of using consolidation as a means to grow its business, has just begun a multi-year $22 billion capital expenditure spending spree to bolster its overall
. That spending has filtered or is expected to filter its way into the earnings of firms such as
Juniper Networks
(JNPR) - Get Juniper Networks, Inc. Report
,
Ciena
(CIEN) - Get Ciena Corporation Report
,
SkyWorks Solutions
(SWKS) - Get Skyworks Solutions, Inc. Report
,
Peregrine Semiconductors
(PSMI)
,
TriQuint Semiconductor
(TQNT)
and
Xilinx
(XLNX) - Get Xilinx, Inc. Report
.
Blue chip tech firms such as
Oracle
(ORCL) - Get Oracle Corporation Report
, meanwhile, are using acquisitions to invest heavily in businesses that are tied to wireless industry end-markets.
Intel
(INTL) - Get INTL FCStone Inc. Report
and
Cisco
(CSCO) - Get Cisco Systems, Inc. Report
are also looking to shift stalled PC-oriented revenue streams towards mobile and wireless markets.
The failed AT&T and T-Mobile merger also led to a
among struggling wireless carriers such as
Sprint
(S) - Get SentinelOne, Inc. Class A Report
that is now creating dramatically increased capital expenditure and competition across the industry. After acquiring MetroPCS, T-Mobile's
even raises the prospect that average Americans could see an end to the chronic rise in price of smartphone data plans.
"I think the DoJ is probably turning cartwheels about how well everything is turning out," Craig Moffett, head of Moffett Research, said in a Thursday interview. The failed merger has bolstered the competitive position of price-cutters like Sprint and T-Mobile and led to rising capital investment across the industry, Moffett said. "You have Sprint spending like a drunken sailor and T-Mobile is aggressively lowering prices."
The DoJ's decision to intervene in American Airlines and U.S. Airways is very different to its work in the telecom sector. While some financially healthy carriers such as AT&T and Verizon are finally seeing an adequate return on the capital they invested in 3G and 4G wireless networks, airlines are generally operating at or below breakeven. Few airlines see themselves in a position to pay a meaningful dividend, if any.
American and U.S. Airways both say potential operating synergy in a merger would put their businesses in a better financial position to increase service and eventually reinvest in fleet and terminal upgrades. Those expectations are similar to United and Continental's recent mega-merger, which created the world's biggest airline.
David Newman, a partner at law firm
Day Pitney
said in a Wednesday telephone interview that American's proposed deal with US Airways and a string of previous consolidation among players like
Delta
(DAL) - Get Delta Air Lines, Inc. Report
,
United
(UAL) - Get United Airlines Holdings, Inc. Report
, Continental, Northwest and AirTran indicates just how commoditized the airline industry has become. Like other commodity businesses such as pharmacies, accounting firms and financial services, Newman said mergers of scale are a last resort option.
"This is just another example of an industry which believes it has to consolidate to survive," Newman said of American's proposed merger. In fact, American presently needs the merger to exit bankruptcy protection.
While both airlines and the DoJ are likely to continue publicly
about whether the proposed merger is anti-competitive or ant-consumer, Newman expects a remedy to be negotiated behind the scenes.
American and U.S. Airways could divest overlapping routes and terminals in a deal that could be similar in substance to how
Hertz
(HTZ) - Get Hertz Global Holdings Inc Report
worked for years to get in a position to acquire
Dollar Thrifty
( DTG).
Even if a deal can't be reached, there is reason to believe the failed consolidation could ultimately be a benefit to business and the overall economy.
Consolidation could occur among
, potentially creating new national carriers. Meanwhile, a smaller-than-expected rationalization of the airline industry could cushion industry-wide spending on new aircraft and routes.
As investors, consumers and employees digest the DoJ's decision to block the merger of American and U.S. Airways, they should consider how the telecom sector has thrived in the wake of AT&T and T-Mobile's blocked deal. The potential for a failed merger may not be so bad after all and it could create opportunity.
-- Written by Antoine Gara in New York
(LCC)