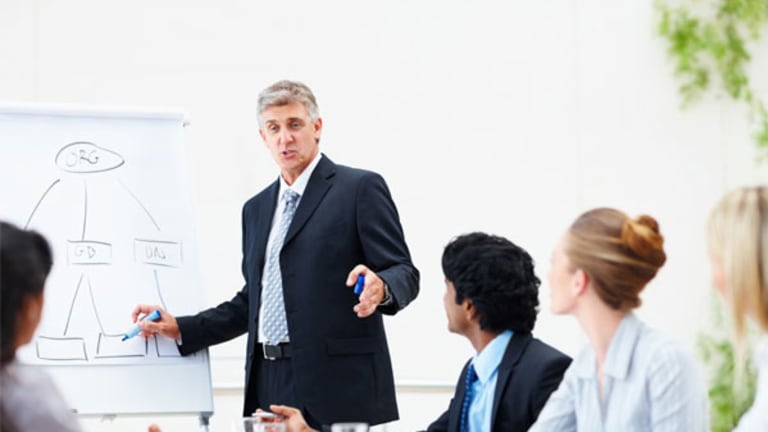 Does Michael Dell Have the Cash to Quell a Shareholder Revolt?
Michael Dell may have to quash a shareholder revolt.
NEW YORK (
) -
Dell's
(DELL) - Get Dell Technologies Inc Class C Report
two largest independent shareholders now oppose the company's
, indicating a brewing investor revolt to the buyout orchestrated by founder and chief executive Michael Dell.
As shareholders voice discomfort at the price tag attached to Dell's take-private bid, it might be time for Michael Dell to consider putting up more cash to regain control of the company he founded in the mid 1980's.
For instance, a Tuesday morning analysis by Jefferies analyst Peter Misek indicates that the proposed $13.65 a share transaction could be raised as high as $15 a share, given the high multiples Michael Dell and his buyout partners could return in the proposed deal.
On Friday,
Southeastern Asset Management
, Dell's top independent shareholder with a near 8.5% stake,
it would oppose the deal, citing a low-priced bid that it says undervalues the company by roughly $10 a share.
Now, amid unrest by other investors,
T. Rowe Price
, Dell's third largest shareholder, also says it will oppose the deal.
"We believe the proposed buyout does not reflect the value of Dell and we do not intend to support the offer as put forward," Brian Rogers, T. Rowe Price Chairman and CIO, said in an e-mailed statement. T. Rowe Price holds roughly 4.4% of Dell's outstanding shares, according to filings with the
Securities and Exchange Commission
.
The growing discontent to the leveraged buyout announced on Feb. 5 indicates that Dell's founder and a buyout consortium that also includes private equity giant
Silver Lake Partners
will have work to do before the deal goes to a shareholder vote.
Prior to T. Rowe Price's opposition to the take-private deal, signs already pointed to a protracted shareholder battle. On Tuesday, Southeastern Asset Management said in a
that it had hired proxy solicitor D.F. King to help make the case that the planned deal undervalues Dell significantly.
In a Friday filing, Southeastern valued Dell at about $24 a share, while also indicating that the company has multiple options at creating value for shareholders, who have suffered from the company's 20%-plus one-year share losses.
"
Our value for the entire Company is approximately $24.00 per share, but we also believe that selling multiple business units to strategic buyers could easily exceed $13.65 per share," wrote Southeastern in the Friday filing. Other alternatives include asset sales, or a special dividend it said could reach nearly $12 a share.
Increasingly, analysts appear to see alternatives to Dell's prospective takeover, a deal that would amount to the biggest leveraged buyout since the financial crisis.
"If the LBO falls through, on a fundamental basis we think the stock could return to $10, however, DELL could undertake a leveraged recap. Using our assumption, we think a levered recap could lead to a $12-$12.50 stock," writes Misek of Jefferies in a Tuesday note to clients that stresses the possibility of a $15 a share deal.
As signs mount of shareholder discomfort with the proposed deal, Dell appears to be sticking to its guns - namely that the takeover will give shareholders an immediate value and exit. A $13.65 a share cash offer could be enticing to some long-suffering investors, given Dell's uncertain footing in the increasingly challenged PC market and its small footprint in faster growing hardware like tablet computers.
"The transaction offers an attractive and immediate premium for stockholders and shifts the risks facing the business to the buyer group. In addition, and importantly, the go-shop process provides stockholders an opportunity to determine if there are alternatives that are superior to the present offer," David Frink, a Dell spokesperson, said in a Friday statement.
Currently, Michael Dell will provide $500 million cash and 273 million in shares worth about $3.73 billion to gain a majority stake in the company. MSD Capital Management, a fund that manages the capital of Michael Dell and his family, will commit a further $250 million in equity to the deal. PE-giant Silver Lake will make a $1.4 billion equity contribution to the deal, according to a February filing.
Still, the near $4.5 billion Michael Dell will put up for a controlling stake in the PC maker amounts to less than a third of his reported $16 billion fortune, according to
Forbes
.
As shareholders voice concern over the proposed buyout, it's yet to be seen whether Michael Dell decides to throw more of his cash at a turnaround of the company that carries his name.
To read more on Dell's record-breaking takeover, see why the terms of the deal might give Federal Reserve Chairman Ben Bernanke
. Also see why Dell's
explain the math underpinning the buyout.