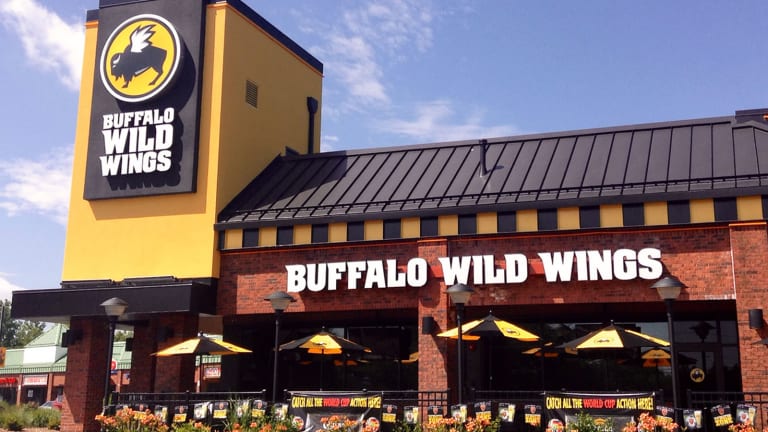 Does Buffalo Wild Wings Need a Private Equity Deal to Prove It's Not Dead?
The chain reportedly received a $2.3 billion bid from Roark Capital group
Roark Capital Group could soon have another project under its wings.
The private equity firm reportedly made a $2.3 billion bid for Buffalo Wild Wings (BWLD) Monday afternoon, Nov. 13, just months after CEO Sally Smith announced she would retire by year-end amid activist pressures. Roark has a history of acquiring struggling casual dining chains and turning them around, as was the case with Arby's, which it bought in 2011, and Auntie Anne's Inc., in 2010.
But some industry sources say B-Dubs has enough livelihood to fend for itself, especially as investors were already optimistic about prospects of a new CEO. The Minneapolis-based company beat Wall Street expectations last month, posting earnings of $1.36 per share in the third quarter to analysts' predictions of 79 cents.
"We don't believe the Buffalo Wild Wings brand is dead. It still has good mindshare with consumers," said Jeremy Hamblin, a senior analyst at Dougherty & Co. "You can argue that most restaurant operators have struggled in recent years because of higher labor costs and lower traffic trends in casual dining."
Carl's Jr. Is Trying to Sell Itself To Amazon Through Tweets, for $1.7 Billion?
Buffalo Wild Wings has seen two years of declining sales, Hamblin told TheStreet. Its stock lost nearly 25% of value so far this year. Its struggles arise largely from poultry prices at all-time highs.
As of early October, wing prices were over $2 per pound, nearly double the 10-year average of $1.35, according to a Stifel report that found consumers ranked B-Dubs to be the worst chain restaurant when it comes to value. But given the volatility of chicken wing prices, earnings could rebound when prices go back down.
In the Stifel report, analyst Chris O'Cull and his colleagues classify Buffalo Wild Wings as among the publicly held restaurants in a "growing pains" phase of development because they actively attempt to improve their relevance by pandering to new consumer preferences, like digital ordering and delivery.
But in this stage, they could go either way: revitalization or a fade into obscurity, like Applebee's under DineEquity Inc. (DIN) - Get Dine Brands Global, Inc. Report and Subway.
"Six, seven or eight years ago, everyone said Arby's was dead. But under Roark, it had one of the most incredible comebacks in my 20 years of being in this business," Hamblin said. "Buffalo Wild Wings is not quite as bad. But Roark has opportunities with this brand."
Under the nimble operations of private ownership, Buffalo Wild Wings could better refine its mobile ordering capabilities and cut down on operational costs, for instance. And it helps that the playing field is even.
Nearly every established restaurant is grappling with a shift in overall consumer dining preferences, driven by Millennials.
"Restaurant stocks will likely remain volatile as investor sentiment vacillates between a bearish focus on weak sales and traffic performance," O'Cull wrote.
If Buffalo Wild Wings go the private takeover route, it would be following the footsteps of more than a few peers. Ruby Tuesday, Inc., for instance, is selling to private equity firm NRD Capital Management LLC, the company announced last month. And Jack in the Box Inc. (JACK) - Get Jack in the Box Inc. Report is currently shopping its Qdoba Restaurant Corp. Mexican restaurant concept. BWLD shares are up nearly 30% post-trading Monday after reports of the Roark bid emerged. It has a market cap of $1.8 billion. 
Are you getting the most out of fast-casual dining?
More of What's Trending on TheStreet: