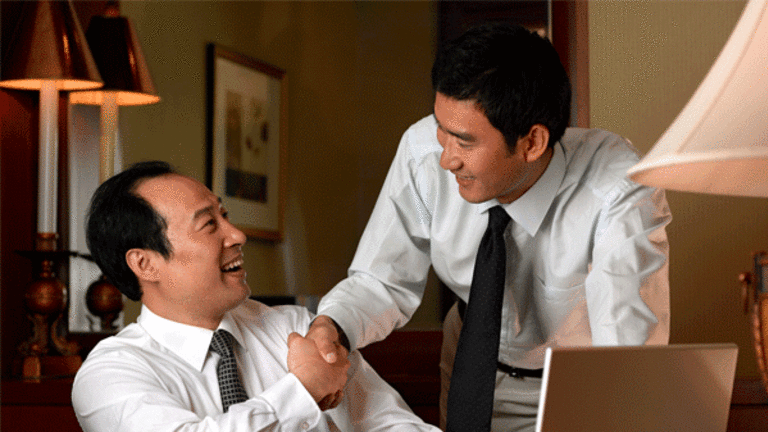 'Disturbing' Deal Reveals Goldman Sachs Conflicts
El Paso's sale to Kinder Morgan puts new light on Wall Street's dark side.
NEW YORK (
) -- Wall Street's dark side can be seen in the largest merger of 2011 after a judge said negotiations were muddied by "conflicts of interest," "disturbing behavior" and "disloyalty."
Delaware Chancery Court Judge Leo Strine decided not to block a $21.1 billion acquisition of
El Paso
(EP)
by
Kinder Morgan
(KMI) - Get Kinder Morgan Inc (KMI) Report
in spite of findings that El Paso management and its banker,
Goldman Sachs
(GS) - Get Goldman Sachs Group, Inc. (GS) Report
, led a sale process rife with conflicts and poor disclosure, according to a court statement released late on Wednesday.
The tie-up was cut in October 2011, valuing El Paso shares at a 37% premium, or roughly $26.87 a share. The company sale was a change in direction for El Paso after it previously announced a spin of its oil and gas exploration unit, hiring Goldman Sachs to conduct a sale process. In February, a private equity investor consortium bought the exploration unit for $7.15 billion, in the biggest U.S. deal of 2012.
Shortly after the October sale was announced, a group of pension fund investors in El Paso sued the company on the sale process. Their contention was that El Paso's financial adviser Goldman Sachs had an economic interest to not fetch the highest price possible, an obvious sin in the M&A game.
Through its private equity arm, Goldman Sachs has a 19% stake in Kinder Morgan, holding two board seats.
Judge Leo Strine agreed with shareholders, finding added perverse incentives in the sale. "Although Goldman's conflict was known, inadequate efforts to cabin its role were made," said Strine in a Delaware court. While Strine decided not to block the sale, he added that the deal had additional problems. "The record is filled with debatable negotiating and tactical choices made by El Paso fiduciaries and advisors," said Strine.
Goldman's lead investment banker on the deal, Steven Daniel, may have also had a personal conflict in not finding a high priced bid for El Paso because of a $340,000 holding in Kinder Morgan's stock, according to lawsuit..
For Goldman's Kinder Morgan stake and Daniel's personal holding, an expensive takeover bid could have been a hit to their shares. "Goldman's staggering conflict of interest was obvious from the outset: With a stake in KMI worth over $4 billion, every dollar shaved off the buyout price represented $150 million of savings for Goldman," the pension funds argued in their suit.
Meanwhile, El Paso's Chief Executive Douglas Foshee may not have had an economic interest in fetching the highest price for the company's assets, noted plaintiffs and Judge Strine in court proceedings. As Forshee shopped El Paso's exploration unit, he simultaneously worked with other managers on a buyout of the division without alerting the company's board; a move that may have lessened his interest to fetch the highest price.
"He kept that motive secret, negotiated the Merger, and then approached Kinder Morgan's CEO on two occasions to try to interest him in the idea.In other words, when El Paso's CEO was supposed to be getting the maximum price from Kinder Morgan, he actually had an interest in not doing that," noted Judge Strine.
El Paso and Goldman Sachs contested that the deal was conflicted or shortchanged shareholders. Goldman Sachs said that it and El Paso took "reasonable measures" to address potential conflicts. Meanwhile, by recusing Kinder Morgan board members and adding
Morgan Stanley
as a second advisor to the sale, both companies argued that the deal wasn't compromised. In his favorable ruling for El Paso and its banker Goldman Sachs, Judge Stine was unimpressed.
"The record thus persuades me that the plaintiffs have a reasonable likelihood of success in proving that the Merger was tainted by disloyalty," said Strine. Nevertheless, he "reluctantly" denied an injunction to the deal, which shareholders will vote on later in March.
"We are pleased that shareholders will get to vote on the merger. We respect the judge's opinion but want to be clear that we stood by our client through this process, encouraging them to get independent views from another adviser," a Goldman spokesman said. "We were also transparent with El Paso about our relationship with Kinder Morgan and the related issues."
El Paso shares rose less than 1% to $27.89, while Kinder Morgan shares gained 1% to $35.58 on news of the judicial ruling.
Even if the deal goes through, disgruntled El Paso shareholders can sue for damages on the company's sale process, noted Judge Strine in his ruling. They can also vote against a deal approval.
For more on 2012 M&A, see
5 deal ready stocks loved by hedge funds
. For more on Goldman Sachs, see the bank's disclosure of a
and
5 banks to trade for March gains
.
-- Written by Antoine Gara in New York