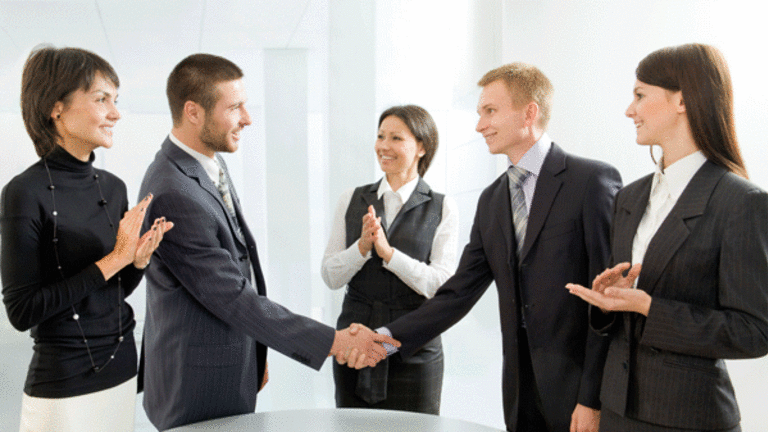 Disney's Media Empire Strikes Back with <I>Star Wars</I>
DIsney CEO Robert Iger has already proven the company stands apart in turning studio deals into blockbusters.
DIsney CEO Robert Iger has already proven the company stands apart in turning studio deals into blockbusters.
NEW YORK (
) --
Disney
(DIS) - Get Report
is buying
Lucasfilm
, the maker of
Star Wars
, in a cash and stock deal worth $4.05 billion.
While the transaction is expensive and outside of Disney's expertise, the company can use Lucasfilm to expand a disparate set of media and entertainment businesses, as other conglomerates like
Time Warner
(TWX)
and
News Corp.
(NWSA) - Get Report
rein in their operations.
In buying Lucasfilm -- owned outright by founder George Lucas -- Disney is
on a strategy to use its media empire with over $40 billion in annual revenue to revive growth from the businesses it acquires. Such expectations of synergy have failed other media giants.
Along with Lucasfilm's collection of
Star Wars
movies, Disney will acquire the company's Industrial Light & Magic graphics business and Skywalker Sound unit. The key to the deal is that Disney expects it can find far more value in the businesses founder George Lucas created over his near-40-year ownership than what Lucasfilm could do on its own.
"Adding Lucasfilm to Disney's portfolio of world-class brands significantly enhances the company's ability to serve consumers with a broad variety of the world's highest-quality content and to create additional long-term value for our shareholders," Disney said in a statement released on Tuesday afternoon.
The Burbank, Calif-based company said it will pay about $2 billion in cash for Lucasfilm and the remainder in stock, issuing 40 million shares.
Previously, Disney has been criticized for paying high prices to buy studios, only for the company to far surpass expectations as blockbuster movies rolled in, and revenue flowed to ancillary resorts and merchandising businesses.
For instance, Disney was panned for paying billions of dollars for
Pixar
and
Marvel
in 2006 and 2009, respectively, only to launch blockbuster pictures like
Cars
and
The Avengers
, which helped push the company to all-time stock highs above $50 earlier in 2012.
Disney Chief Executive Officer Robert Iger, who executed the Pixar and Marvel acquisitions, is betting his M&A magic won't run dry on a third multibillion dollar studio deal. On Wednesday, Disney said it plans to unveil a seventh Star Wars movie in 2015.
"The Lucasfilm acquisition follows Disney's very successful acquisitions of Pixar and Marvel, which demonstrated the company's unique ability to fully develop and expand the financial potential of high-quality creative content with compelling characters and storytelling through the application of innovative technology and multiplatform distribution on a truly global basis to create maximum value," Disney said in its press release.
There's good reason to believe Iger and Disney will be successful in breathing new life into Lucasfilm as George Lucas hands over the keys to his
Star Wars
and movie-animation empire.
In a June article,
TheStreet
to executives of former Disney acquisition targets to find out why it has been so successful in buying up studios for billions, while other media giants have fared poorly on M&A.
The consensus is that Disney successfully focuses on acquiring high-grade intellectual property like Pixar and Marvel characters, which can be promoted throughout the company's set of studio, resort and theme-park assets in the U.S. and abroad.
In experiencing Marvel's evolution from a bankrupt comic-book maker into a factory for blockbuster movies like
Iron Man
and
The Avengers
, Peter Cuneo, the company's former chief executive,
TheStreet
that studio M&A rests on intellectual property like characters and technology, two areas where Disney's been a scrupulous buyer.
With Marvel, Cuneo said the company's decision to use motion pictures to breathe new life into its comic-book characters is a reason why Disney is now seeing benefits from its ownership, marked by a record-setting
Avengers
release, and a new set of movie opportunities.
In the case of Lucasfilm,
Star Wars
gives Disney control of internationally recognizable characters to many generations that could fuel growth in non-movie businesses like theme parks, outside of the $4 billion the movie franchise has already earned globally.
Already, by way of licensing agreements,
Star Wars
content can be seen in Disney theme parks in Anaheim, Calif.; Orlando, Fla.; Paris; and Tokyo.
But Disney isn't just getting Star Wars. Lucasfilm's Industrial Light & Magic and Skywalker Sound units are on the cutting edge in live-action film production, animation, visual effects, and audio post production. Disney will also acquire what it calls a "substantial portfolio of cutting-edge entertainment technologies."
Meanwhile, Lucasfilm is being handed off to Disney at a mature stage in its growth, similar to the Pixar and Marvel acquisitions.
"For the past 35 years, one of my greatest pleasures has been to see
Star Wars
passed from one generation to the next," Lucas said in a statement. "It's now time for me to pass
Star Wars
on to a new generation of filmmakers," the filmmaking pioneer added.
When Pixar was sold to Disney, the company's head, Steve Jobs, was free to focus his efforts on turning
Apple
(AAPL) - Get Report
into the most valuable company in the U.S. Meanwhile, as Cuneo of Marvel told
TheStreet
, its thousand-plus portfolio of comic-book characters like
Spiderman
and
The Incredible Hulk
was worth more in the hands of Disney to develop.
While Iger can look at near-record share prices and faster-than-industry-average earnings growth as validation of his tenure as Disney's CEO, buying Lucasfilm at a time when Pixar and Marvel are just beginning to deliver big returns may prove Lucasfilm to be a pivotal deal. Most media CEOs have been bitten by ambition, and there's no reason to think Iger can't be next.
From 2000 to 2009, the largest media conglomerates like Time Warner, News Corp. and Viacom, among others, wrote down $200 billion in assets as a result of bad acquisitions and misguided "strategic" investments, according to
The Curse of the Mogul
, a sweeping study on why an overstretch of C-suite ambition has destroyed shareholder value throughout the industry.
Under Iger, Disney's empire is striking back against those who've written off the media conglomerate and
Star Wars
may complete a trilogy of M&A winners.
Follow @agara2004
-- Written by Antoine Gara in New York