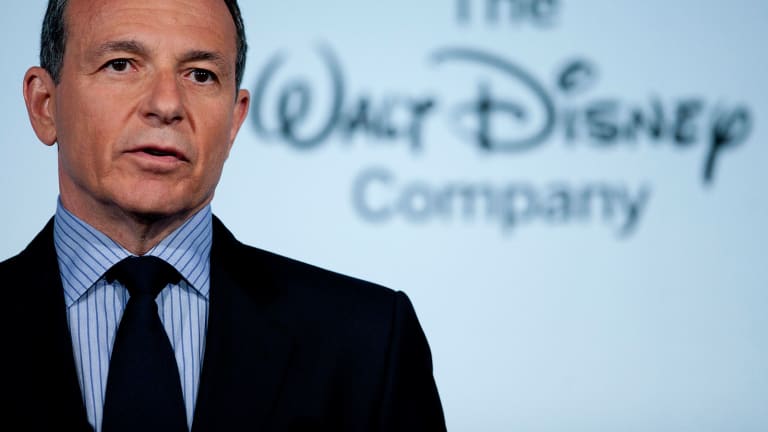 Disney CEO Bob Iger Would Forever Secure His Legacy With Fox Deal
Bob Iger has a chance to leave a lasting imprint on the world's large entertainment company should it acquire most of Rupert Murdoch's Fox.
The notion that Walt Disney Co. (DIS) - Get Walt Disney Company Report  may buy Twenty-First Century Fox Inc.'s (FOXA) - Get Fox Corporation Class A Report television and film studios is all about Netflix Inc. (NFLX) - Get Netflix, Inc. (NFLX) Report , the streaming service that has almost single-handedly shaken the global media business. 
But it's also about Disney CEO Bob Iger.
CNBC on Monday, Nov. 6, reported that Fox has been in talks with Disney to sell its TV production business as well as the 20th Century Fox movie studio along with cable networks such as FX and the National Geographic Channel and international assets including its 39% stake in Sky plc. According to CNBC, the deal wouldn't include the Fox broadcast network, its sports programming group or the Fox News Channel.
Such a transaction would remake both companies, forever changing history's view of Rupert Murdoch. For a man who built a global media empire from his father's modest newspaper in Adelaide, Australia, the sale of much of Fox to a longtime rival would be a chilling epitaph. He also would be leaving sons Lachlan and James with a much smaller empire than might have been expected.
But for Iger, who is scheduled to relinquish his position atop Disney in July 2019, the deal would be as transforming and significant as his ambitious and highly successful acquisitions of Pixar Animation Studios Inc., Marvel Entertainment Inc. and Lucasfilm Ltd. Iger, of course, was promoted to CEO in 2005, succeeding Michael Eisner, who was ousted in a very public shareholder revolt led by Roy E. Disney, the founder's nephew who died in 2009.
Iger arguably has been slow to adjust to cord-cutting and the online distribution model leveraged by Netflix, which recently surpassed 109 million subscribers worldwide. While even smaller rivals such as CBS Corp. (CBS) - Get CBS Corporation Class B Report have rolled out direct-to-consumer streaming services, Disney remained tethered to pay-TV, loath to potentially cannibalize ESPN's position atop the industry. The sports juggernaut costs $7.86 per pay-TV subscriber, SNL Kagan reported in March; the next closest cable network is Time Warner Inc.'s (TWX) TNT at $2.09 per subscriber.
But ESPN has been bleeding subscribers, its rolls having dropped to around 87 million from a peak of more than 100 million in 2011, according to Nielsen NV (NLSN) - Get Nielsen Holdings Plc (NLSN) Report . In year's past, ESPN accounted for more than 50% of the company's net income. But those days are over. 
Before Disney shares rose 2% on the CNBC report on Monday, the stock had fallen 5.4% this year. Meanwhile, the rest of the market has surged; the S&P 500 index has gained 15.7% in 2017.
Shares of Disney increased about 1% on Tuesday.
Though Iger wouldn't admit it, Disney's announcement in August that in 2019 it will launch an entertainment streaming service featuring Disney studios along with Marvel, Lucasfilm and Pixar content is all about catching up with or cutting down Netflix. That Disney needs until 2019 to put such a service together gives credence to the criticism that Iger was caught napping.
As had been expected, Iger in August affirmed that Disney will launch a new ESPN-branded streaming service early next year that will include some 10,000 live events a year. Whether or not such a service convinces some consumers to jettison their much higher priced cable subscription, which also includes ABC and Disney Channel, is unclear.
Yet if CNBC's reporting is correct, it shows that Iger may be willing to spend billions of dollars to acquire a breadth of film and TV content that should be able to counter and perhaps even eclipse Netflix. Owning 20th Century Fox and Fox Searchlight would give Disney a studio that produces the kind of mass-market feature films that Disney abandoned in recent years to focus on franchise blockbusters with worldwide appeal.
Fox's films also win Oscars, as evidenced by "Hidden Figures" and "The Revenant." And Fox owns the Avatar franchise, at the heart of the Disney theme park addition that opened in Orlando in May.
Fox declined to comment on the CNBC report. Disney didn't immediately respond to a request for comment. 
Billionaire media mogul John Malone mused a year ago that Disney should consider selling ESPN, arguing it had become a drag on its finances and stock price. Buying Fox's TV and film assets might not solve all of ESPN's problems, but it would like take much of the pressure off the company's cable TV group. 
For Iger, his time at Disney may finally be coming to a close. Making one last all-encompassing, company-altering deal would be the crowning achievement for one of the most celebrated media executives in recent memory. 
More of What's Trending on TheStreet: