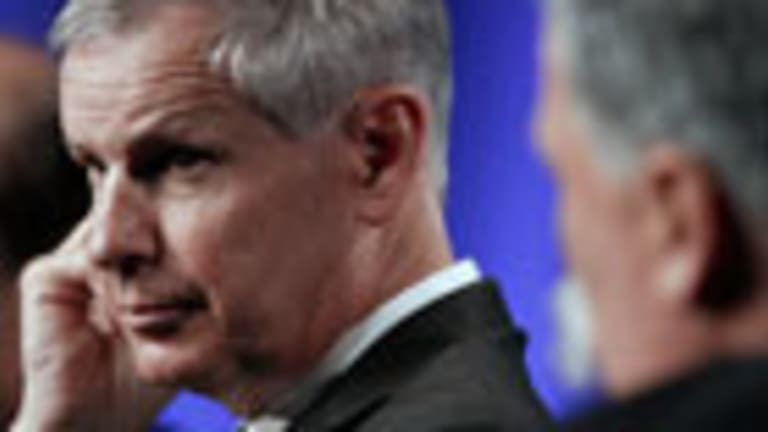 Dish's Wireless Push Could Draw Apple, Google Interest, Says BTIG's Piecyk
Dish Network's risky and ambitious plan to merge with Sprint may draw suitors.
NEW YORK (TheStreet) -- Dish Network's (DISH) debt-laden, $25.5 billion proposal to buy Sprint Nextel (S) and outbid an October offer put forward by SoftBank of Japan may actually make the company attractive for a strategic partner, according to an industry analyst.
Dish's proposal for Sprint, which would merge the satellite TV provider and the third-leading wireless carrier in the U.S., may put the company "in play" for merger or partnership attempts given the ambition and financing attached to its proposal, according to Walter Piecyk, telecom analyst at BTIG.
"Charlie Ergen's latest move not only puts Sprint in play but it might have done the same for Dish," Piecyk writes in a Friday
, referencing the company's chairman and co-founder.
Piecyk highlighted that some partners could be attracted to a deal because of the amount of debt attached to Dish's proposal, while others may want to put cash up to support Ergen's efforts at building the nation's first bundle of unlimited broadband, data and video service.
Apple
(AAPL)
,
Google
(GOOG)
,
NTT Docomo
undefined
,
DirecTV
(DTV)
and
AT&T
(T)
are among the potential suitors cited by Piecyk in his
.
"The disruptive PayTV strategy of Dish combined with Sprint and Clearwire's enabling wireless spectrum depth should cause the rest of the industry to reconsider if they are properly positioned for the future and whether they need to stop Ergen through acquisition," Piecyk wrote.
"It might also attract interest from those that want to aid in Ergen's quest to deliver unlimited broadband data and video everywhere to consumers. If Ergen were to add a strategic cash player into the mix, he could be positioned to leave a lasting mark on the industry. Google or Apple might want to step up before someone derails Ergen's plans."
As Dish Network Chairman Charlie Ergen noted earlier in April when announcing the company's proposal for Sprint, the wireless industry in in the midst of a generational transition to mobile devices, with only a handful of competitive offerings. After spending years building
a portfolio of wireless assets
, Ergen has decided a merger with Sprint is the company's best shot at disrupting telecoms and cable providers.
Ergen said earlier in April that he believes a merged Dish and Sprint could supplant the likes of AT&T with a unique and price competitive offering of bundled unlimited TV, wireless and broadband service.
Dish Network's proposal, however,
such as pro forma debt of up to $45 billion for the merged entity and leverage levels in excess of 4.7 times EBITDA, which would climb over time before falling as a result of synergies.
Piecyk, the BTIG analyst, noted that some in the wireless industry may want Dish's highly leveraged proposal to win out over an earlier proposal by SoftBank to make a $8 billion equity capital infusion into Sprint at $5.25 a share -- and a tender offer for 70% of company's existing shares at $7.30. That deal could revitalize the company's finances and help it complete a multiyear network expansion.
"The wireless industry might prefer Ergen to win over Softbank because Ergen's resulting debt leverage would hamper his ability to invest the necessary capital to be competitive," Piecyk wrote.
Still, given Ergen's streak for innovation and disruption of seemingly high-barrier industries, there are some who would want to support his ambition. Piecyk noted the wireless spectrum Dish brings to a potential deal, in addition to a new nationwide content service that could bolster the growth of streaming services such as
Netflix
(NFLX)
and
HBO Go
.
"Ergen could deliver an integrated package that actually benefits from the content usage of that customer. The industry should fear Ergen more than Softbank and we think he can attract a cash equity partner," wrote Piecyk.
Given NTT DoCoMo's competition with SoftBank and its cash stockpile, DirecTV's prospective competitive disadvantage and AT&T's attempts to bolster its wireless service, Piecyk highlighted all three companies as potential partners.
Apple or Google, which is in the midst of a fiber product launch, could also bankroll Dish's wireless ambition, according to Piecyk's analysis.
Piecyk of BTIG isn't the first to see Dish's well-telegraphed efforts to enter the wireless market as possibly attracting strategic partners.
In August,
TheStreet
highlighted Dish Network as a strong if unconventional candidate for the so-called elephant M&A guns of Warren Buffett-run
Berkshire Hathaway
(BRK.A)
.
-- Written by Antoine Gara in New York.