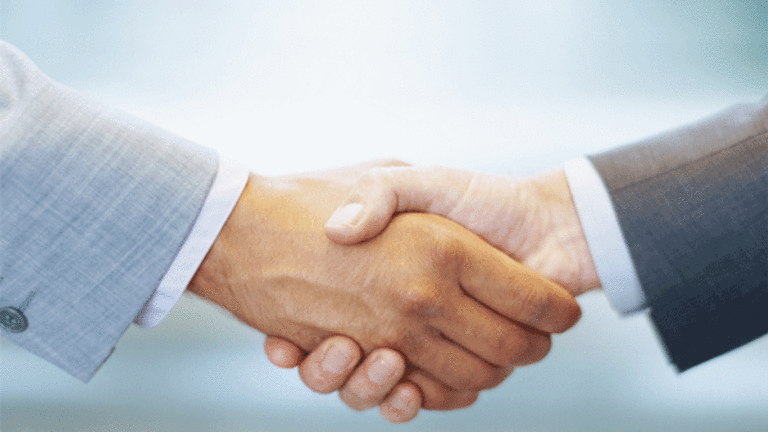 Dish Network's Risky $25.5 Billion Sprint Moonshot
Debt levels may prove the deal's biggest risk.
Updated from 12:22 p.m ET to include Paulson & Co. comments and closing share prices
.
NEW YORK (
) --
Dish Network
(DISH) - Get DISH Network Corporation Class A Report
is offering to buy
Sprint
(S) - Get SENTINELONE, INC. Report
in a deal it says will trump a previous merger agreement between the nation's third leading wireless carrier and
Softbank
of Japan.
The deal, however, may pose a risk to Sprint's recovery from financial instability.
In that sense, Dish Network chairman Charlie Ergen, who has made billions sending satellites into space to challenge cable operators, may be taking a moonshot.
While Softbank is contributing $8 billion in cash to recapitalize Sprint in its
for the company, Dish appears to poised to add significant debt to the combined company's balance sheet.
Already, Sprint's debt ratings are sub-investment grade, while Dish Network's Ba2 rating is now on review for a downgrade, according to Moody's.
Given how investment managers
Paulson & Co.
and
P. Schoenfeld Asset Management
pushed for
in a recent amendment to the proposed tie-up of
T-Mobile USA
and
MetroPCS
(PCS)
, Dish's offer for Sprint may prove risky.
Paulson & Co. will have its chance to
on Monday's proposal, given the hedge fund's 4%-plus stake in Sprint shares, according to year-end
Securities and Exchange Commission
filings.
"Paulson is a large shareholder in Sprint. We think Dish has made a compelling offer and we will be watching closely how things transpire," a spokesperson said on behalf of Paulson & Co.
Englewood, Co.,- based Dish Network is offering $7 a share for Sprint, including $4.76 in cash and about $2.24 in Dish stock. Dish says its bid is superior to Softbank's
. Dish's proposal is a 13% premium to the value Softbank's offer, the company said.
Softbank offered to make a $8 billion equity capital infusion into Sprint at $5.25 a share -- and a tender offer for 70% of company's existing shares at $7.30 - in a move it said would revitalize the company's finances.
Sprint shares rose over 13% in Monday trading to $7.07, while Dish shares fell over 2% to $36.77.
While Dish Network chairman Charlie Ergen claims his firm's bid for Sprint is superior and reflects a unique strategy, the real difference may lie in the amount of leverage that the merged company would carry.
As of year-end 2012, Sprint and Dish appear to hold roughly $35 billion in long-term debt, even before considering the financing needed to complete Monday's proposal. Dish Network also said on an investor call the combined company would hold leverage levels in excess of 4.7 times EBITDA, which would climb over time before falling as a result of synergies.
The company intends to fund the $17.3 billion cash portion of the transaction using $8.2 billion of cash and the remainder will be paid with debt. The deal would be arranged by financial advisor
Barclays
, which has confirmed Dish's ability to raise financing. Dish will pay a further $8.2 billion in stock for Sprint, according to its proposal.
Dish also said in a letter to Sprint, it anticipates that a takeover of debt-laden broadband service
Clearwire
(CLWR)
would also be completed. The deal, however, isn't a necessary part of Dish's offer for Sprint, the company said.
Frost & Sullivan analyst Ronald Gruia projects Dish's proposal for Sprint will result in $45 billion in debt for the combined company.
While Dish makes little mention of the combined company's leverage levels or overall debt stock in a letter sent to Sprint, the satellite TV operator focuses on sizable cost and capital expenditure savings it expects from the deal.
Overall, Dish projects synergies and growth opportunities with a net present value of $37 billion and expects $11 billion in cost savings as part of the merger.
"Sprint shareholders will benefit from a higher price with more cash while also creating the opportunity to participate more meaningfully in a combined DISH/Sprint with a significantly-enhanced strategic position and substantial synergies that are not attainable through the pending SoftBank proposal," said chairman Charlie Ergen, in a statement.
Ergen highlights the unique nature of Dish's proposal and
the company's multi-year strategy
to break into the wireless world with spectrum assets the company has collected through acquisitions.
After acquiring 40 megahertz frequencies from bankrupt industry players DBSD and TerreStarfor a combined $3 billion in recent years, DISH's wireless assets are worth up to an estimated $15.40 a share after tax, according to a mid-2012 analysis from Evercore Partners analyst Bryan Kraft.
Those assets received key
Federal Communications Commission
approvals in late 2012, paving a way for Dish to then think about how to utilize its spectrum holdings.
With Sprint, Dish will be able to combine its extensive spectrum assets helping to build a stronger nationwide wireless network, while also using its satellite TV subscribers to grow out increasing smartphone, broadband and data packages nationally.
Dish's satellite TV business also generates the cash that's allowed Ergen to hunt for spectrum, in recent years.
"A transformative DISH/Sprint merger will create the only company that can offer customers a convenient, fully-integrated, nationwide bundle of in- and out-of-home video, broadband and voice services," said Ergen.
Overland Park, Kan.-based Sprint said its Board of Directors will evaluate Dish's proposal "carefully and consistent with its fiduciary and legal duties."
Dish says with Sprint it will be the only company to offer a bundle of video, broadband and voice services, challenging AT&T and Verizon.
Given recent developments in the telecom sector, Dish and Ergen may appear late in making their play into the wireless industry.
As recently as Friday, Dish was considered a bidder for T-Mobile, according to a
Bloomberg
report. Indeed, T-Mobile may have been a more logical partner for Dish. However, given the company's increasingly probable merger with MetroPCS, Ergen appears to have set his sights on Sprint as the next-best option, according to Jennifer M. Fritzsche, a Wells Fargo telecoms analyst.
"
We believe Sprint management still likely favors dynamics of the
Softbank transaction given Masayoshi Son's experience with wireless and strong record in Japan," wrote Fritzsche, in a Monday client note.
Ergen, however, believes the company's emergence as a disruptor to a telecom sector reshuffle that's likely to reinvigorate competition in the wireless industry has been careful and well planned.
"It has been a long-time coming," Ergen said on a conference call with investors. "This is the culmination of a lot of years of work," he added.
To be seen is whether Ergen's most ambitious move into the wireless world will prove too risky, however, given overall debt levels and a lack of equity financing attached to Monday's proposal.
Sprint already carries among the highest debt levels in the telecom sector, while Dish's proposed deal would put its leverage above the industry average, according to
Bloomberg
data.
Combining the third largest paid TV operator and the nation's third largest wireless carrier might allow the combined company to grab a number one or two position in the wireless industry, Ergen said on the investor call.
In comments made to
TheStreet
some large Sprint shareholders also see the prospect of a
that may further elevate takeover offers.
"We think it's possible that this is not the best andfinal bid by DISH," wrote Piper Jaffray analyst Christopher Larsen, in a client note.
Bob Toews, a Dish spokesperson, wasn't immediately available to answer e-mailed queries about Dish's offer.
-- Written by Antoine Gara in New York